Daily Zohar # 1275 – Pinchas – Will you hide or rejoice
Daily Zohar 1275
Daily Zohar 1275
Zohar Pinchas, Vol. 20 (English)/Vol 15 (Hebrew)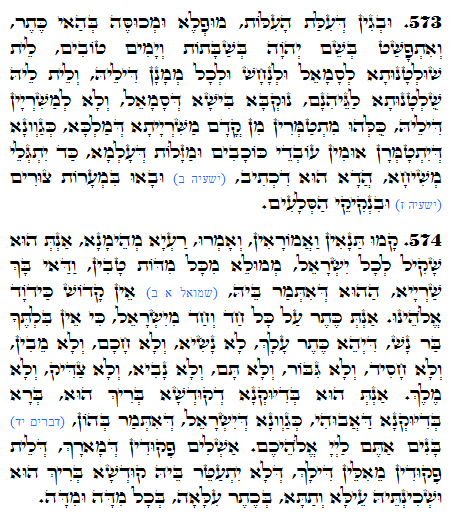 Hebrew translation:
573. וּמִשּׁוּם שֶׁעִלַּת הָעִלּוֹת מֻפְלָא וּמְכֻסֶּה בְּכֶתֶר זֶה, וּמִתְפַּשֵּׁט בְּשֵׁם יְהֹוָה בְּשַׁבָּתוֹת וְיָמִים טוֹבִים, אֵין שִׁלְטוֹן לְסָמָאֵל וּלְנָחָשׁ וּלְכָל הַמְמֻנִּים שֶׁלּוֹ, וְאֵין לוֹ שִׁלְטוֹן לַגֵּיהִנָּם, נְקֵבָה רָעָה שֶׁל סָמָאֵל, וְלֹא לַמַּחֲנוֹת שֶׁלּוֹ. כֻּלָּם נִסְתָּרִים מִלִּפְנֵי מַחֲנֵה הַמֶּלֶךְ, כְּמוֹ שֶׁיִּסְתַּתְּרוּ אֻמּוֹת עוֹבְדֵי כוֹכָבִים וּמַזָּלוֹת שֶׁל הָעוֹלָם כַּאֲשֶׁר יִתְגַּלֶּה הַמָּשִׁיחַ. זֶהוּ שֶׁכָּתוּב (ישעיה ב) וּבָאוּ בִּמְעָרוֹת צֻרִים (שם ז) וּבִנְקִיקֵי הַסְּלָעִים.
574. קָמוּ תַנָּאִים וְאָמוֹרָאִים וְאָמְרוּ, רוֹעֶה נֶאֱמָן, אַתָּה הוּא שֶׁשָּׁקוּל לְכָל יִשְׂרָאֵל, מְמֻלָּא מִכָּל מִדּוֹת טוֹבוֹת, וַדַּאי בְּךָ שׁוֹרֶה זֶה שֶׁנֶּאֱמַר בּוֹ (שמואל-א ב) אֵין קָדוֹשׁ כַּיהֹוָה אֱלֹהֵינוּ. אַתָּה כֶּתֶר עַל כָּל אֶחָד וְאֶחָד מִיִּשְׂרָאֵל, כִּי אֵין בִּלְתְּךָ בֶּן אָדָם שֶׁיִּהְיֶה כֶּתֶר עָלֶיךָ, לֹא נָשִׂיא, וְלֹא חָכָם, וְלֹא מֵבִין, וְלֹא חָסִיד, וְלֹא גִבּוֹר, וְלֹא תָם, וְלֹא נָבִיא, וְלֹא צַדִּיק, וְלֹא מֶלֶךְ. אַתָּה הוּא בִּדְמוּתוֹ שֶׁל הַקָּדוֹשׁ בָּרוּךְ הוּא, בֵּן בִּדְמוּת אָבִיו, כְּמוֹ יִשְׂרָאֵל שֶׁנֶּאֱמַר בָּהֶם (דברים יד) בָּנִים אַתֶּם לַה' אֱלֹהֵיכֶם. הַשְׁלֵם מִצְווֹת שֶׁל אֲדוֹנְךָ, שֶׁאֵין מִצְווֹת מֵאֵלּוּ שֶׁלְּךָ שֶׁלֹּא יִתְעַטֵּר בּוֹ הַקָּדוֹשׁ בָּרוּךְ הוּא וּשְׁכִינָתוֹ מַעְלָה וּמַטָּה בְּכֶתֶר עֶלְיוֹן בְּכָל מִדָּה וּמִדָּה.
Pinchas 573-574
The cause of all causes is a name that the Zohar gives to the Endless Light that comes from the point of Keter and spreads in the name YHVH. That Light spreads out on Shabbat and Holidays and nourishes the whole Tree of Life.
We should know that YHVH was formed by the Endless Light to be a system that governs all the worlds of Atziluth, Beriah, Yetzirah and Asiah (Emanation, Creation, Formation and Action). The cause of all causes doesn't have a name because we cannot define it. It's Endless withour borders or limitations. We can not discuss it because as created beings it is beyond our ability to grasp or comprehend it. The Endless is 'dressed' (revealed himself in a specific form) with the YHVH name to give us access to it and to draw from its light. We explained in previous DZ how to 'climb' the YHVH name.
When this light appears on Shabbat and Holidays the negative side hides from it because darkness disappears when light is revealed. The Zohar quotes Isiah's prophecy and reveals that when the light of Mashiach begins to be revealed in the world, all people that does have the light inside of them will run away and hide.
Isaiah 2:19
"וּבָאוּ בִּמְעָרוֹת צֻרִים, וּבִמְחִלּוֹת עָפָר–מִפְּנֵי פַּחַד יְהוָה, וּמֵהֲדַר גְּאוֹנוֹ, בְּקוּמוֹ, לַעֲרֹץ הָאָרֶץ"
"And men shall go into the caves of the rocks, and into the holes of the earth, from before the terror of YHVH, and from the glory of His majesty, when He ariseth to shake mightily the earth"
Many will hide from fear of being swallowed by the light. Those who built a vessel with affinity to the Light will be in great joy at that time.
{||}