Daily Zohar – Tikunim – #567 – Holy womb
Click here to listen to the Daily Zohar [audio:https://dailyzohar.com/wp-content/uploads/audio/dz567.mp3|titles=Daily Zohar 567]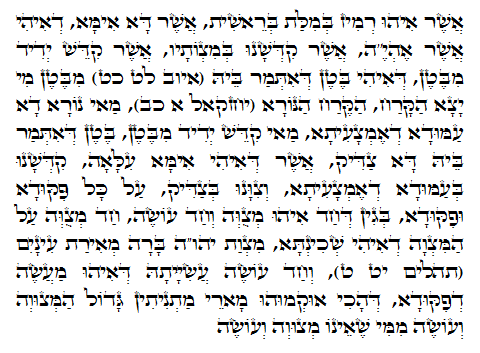 Hebrew translation:
אֲשֶׁר, רֶמֶז הוּא בְּמִלַּת בְּרֵאשִׁית. אֲשֶׁר, זוֹ הָאֵם, שֶׁהִיא אֲשֶׁר אֶהְיֶ"ה, אֲשֶׁר קִדְּשָׁנוּ בְּמִצְוֹתָיו, אֲשֶׁר קִדֵּשׁ יְדִיד מִבֶּטֶן, שֶׁהִיא הַבֶּטֶן שֶׁנֶּאֱמַר בָּהּ מִבֶּטֶן מִי יָצָא הַקָּרַח, הַקֶּרַח הַנּוֹרָא. מַה זֶּה נוֹרָא? זֶה הָעַמּוּד הָאֶמְצָעִי. מַה זֶּה קִדֵּשׁ יְדִיד מִבֶּטֶן? הַבֶּטֶן שֶׁנֶּאֱמַר בּוֹ זֶה צַדִּיק, אֲשֶׁר, שֶׁהִיא הָאֵם הָעֶלְיוֹנָה, קִדְּשָׁנוּ, בָּעַמּוּד הָאֶמְצָעִי, וְצִוָּנוּ, בַּצַּדִּיק עַל כָּל מִצְוָה וּמִצְוָה, מִשּׁוּם שֶׁאֶחָד הוּא מְצֻוֶּה וְאֶחָד עוֹשֶׂה, אֶחָד מְצֻוֶּה עַל הַמִּצְוָה שֶׁהִיא שְׁכִינָה, מִצְוַת יהו"ה בָּרָה מְאִירַת עֵינָיִם, וְאֶחָד עוֹשֶׂה עֲשִׂיָּתָהּ שֶׁהִיא מַעֲשֶׂה שֶׁל מִצְוָה, שֶׁכָּךְ פֵּרְשׁוּהוּ בַּעֲלֵי הַמִּשְׁנָה, גָּדוֹל הַמְצֻוֶּה וְעוֹשֶׂה מִמִּי שֶׁאֵינוֹ מְצֻוֶּה וְעוֹשֶׂה.
Tikkun 30 – 10
אֲשֶׁר, that are the middle letters in ,בְּרֵאשִׁית are the aspect of the Mother as in Exodus 3:14 "אֲשֶׁר אֶהְיֶה" "that i am "
"אֲשֶׁר קִדֵּשׁ יְדִיד מִבֶּטֶן","Who that sanctify a friend from the belly"
These words are from the blessings that are recited after the circumcision and just before giving the child his name. It reveals the connection of the light to the child when he was still in his mother's womb. While in the womb, a child is prepared and given the light he needs for his life. He is sanctified before coming out to the world and he enters the covenant with the circumcision process.
{||}