Click here to listen to the Daily Zohar [audio:https://dailyzohar.com/wp-content/uploads/pinchas/audio/dp-1085.mp3|titles=Daily Zohar 1085]
Mobile devices, please touch here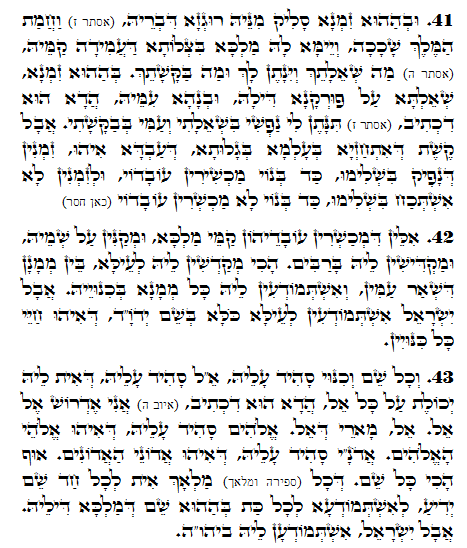 Hebrew translation:
41. וּבְאוֹתוֹ זְמַן עוֹלֶה מִמֶּנּוּ רֹגֶז בְּנוֹ, (אסתר ז) וַחֲמַת הַמֶּלֶךְ שָׁכָכָה, וְיֹאמַר לָהּ הַמֶּלֶךְ בִּתְפִלַּת הָעֲמִידָה לְפָנָיו, (שם ה) מַה שְּׁאֵלָתֵךְ וְיִנָּתֶן לָךְ וּמַה בַּקָּשָׁתֵךְ. בְּאוֹתוֹ זְמַן שׁוֹאֶלֶת עַל גְּאֻלָּתָהּ וּבָנֶיהָ עִמָּהּ, זֶהוּ שֶׁכָּתוּב (שם ז) תִּנָּתֶן לִי נַפְשִׁי בִּשְׁאֵלָתִי וְעַמִּי בְּבַקָּשָׁתִי. אֲבָל קֶשֶׁת שֶׁנִּרְאֵית בָּעוֹלָם בַּגָּלוּת, שֶׁעֶבֶד הוּא, לִפְעָמִים יוֹצֵא בִשְׁלֵמוּת, כְּשֶׁבָּנָיו מַכְשִׁירִים מַעֲשֵׂיהֶם, וְלִפְעָמִים לֹא נִמְצָא בִשְׁלֵמוּת, כְּשֶׁבָּנָיו לֹא מַכְשִׁירִים מַעֲשֵׂיהֶם.
42.[ וְאִם לֹא בִּגְלַל אוֹת יוֹ"ד שֶׁל שַׁדַּ"י שֶׁקִּנֵּא עָלֶיהָ פִּנְחָס שֶׁהֵגֵנָּה עָלָיו מִשִּׁבְטוֹ שֶׁל שִׁמְעוֹן, הָיוּ הוֹרְגִים אוֹתוֹ וּמְאַבְּדִים אוֹתוֹ מִן הָעוֹלָם. וּמִשּׁוּם זֶה, (איוב ד) זְכָר נָא מִי הוּא נָקִי אָבָד – זֶה פִּנְחָס. וְאֵיפֹה רְשָׁעִים נִכְחָדוּ -] אֵלּוּ שֶׁמַּעֲשֵׂיהֶם כְּשֵׁרִים לִפְנֵי הַמֶּלֶךְ וּמְקַנְּאִים עַל שְׁמוֹ וּמְקַדְּשִׁים אוֹתוֹ בָּרַבִּים, כָּךְ מְקַדְּשִׁים אוֹתוֹ לְמַעְלָה בֵּין מְמֻנֵּי שְׁאָר הָעַמִּים, וְנוֹדָעִים לוֹ כָּל מְמֻנֶּה בְּכִנּוּיוֹ. אֲבָל יִשְׂרָאֵל נוֹדָעִים לְמַעְלָה הַכֹּל בְּשֵׁם יְהֹוָ"ה, שֶׁהוּא מְחַיֶּה כָּל הַכִּנּוּיִים.
43. וְכָל שֵׁם וְכִנּוּי מֵעִיד עָלָיו. אֵ"ל מֵעִיד עָלָיו שֶׁיֵּשׁ לוֹ יְכֹלֶת עַל כָּל אֵל, זֶהוּ שֶׁכָּתוּב אֲנִי אֶדְרֹשׁ אֶל אֵל. אֵל – בַּעַל הָאֵל. אֱלֹהִים מֵעִיד עָלָיו שֶׁהוּא אֱלֹהֵי הָאֱלֹהִים. אֲדֹנָ"י מֵעִיד עָלָיו שֶׁהוּא אֲדוֹנֵי הָאֲדוֹנִים. גַּם כָּךְ כָּל שֵׁם. שֶׁלְּכָל (סְפִירָה וּמַלְאָךְ) מַלְאָךְ יֵשׁ שֵׁם יָדוּעַ, לְהוֹדִיעַ לְכָל כַּת בְּאוֹתוֹ שֵׁם שֶׁל מַלְכּוֹ. אֲבָל יִשְׂרָאֵל נוֹדָעִים לוֹ בְּיהו"ה.
Pinchas 41-43
Die siebzig Nationen der Welt haben ihren eigenen Minister die spirituelle Wesen sind, die sie mit einer Verbindung zu dem spirituellen System und Unterhalt versorgen.
Job 5:8 " אוּלָם–אֲנִי, אֶדְרֹשׁ אֶל-אֵל; וְאֶל-אֱלֹהִים, אָשִׂים דִּבְרָתִי"
´´Aber was mich betrifft, ich würde nach Gott suchen und zu Gott würde ich meine Worte verpflichten;
Die Israeliten unterscheiden sich von anderen Nationen weil sie mit YHVH verbunden sind welcher ein Name ist, der über allem ist und für alle Minister der anderen Nationen sorgt. Der YHVH Name kontrolliert die gesamte Schöpfung und erlaubt den Israeliten eine spirituell höhere Verbindung und Fähigkeit zu haben um unbegrenzten Unterhalt auf allen Ebenen zu erhalten, spirituell und materiell.
Während die anderen Nationen den Einfluss der 12 Sternzeichen haben, können die Israeliten darüber hinaus gehen und das Resultat ihres Lebens und Tikkun Prozesses kontrollieren.
Diejenigen Menschen die studieren und ´´eifersüchtig´´ werden (siehe vorherige Artikel) für den YHVH Namen durch das Studium des Zohar, enthüllen die Geheimnisse des YHVH Namens. Diese Studien ermächtigen sie und geben ihnen Schutz des Namens.
{||}