Daily Zohar # 1913 – Ki Tavo – Thus you shall bless…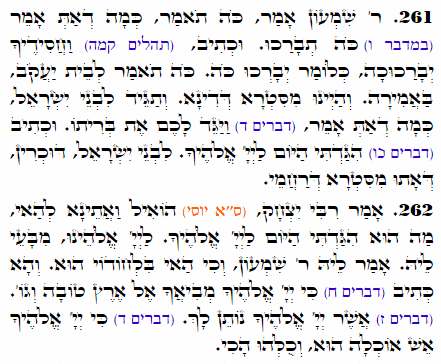 .
Hebrew translation:
261. רַבִּי שִׁמְעוֹן אָמַר, כֹּה תֹאמַר, כְּמוֹ שֶׁנֶּאֱמַר כֹּה תְבָרֲכוּ. וְכָתוּב וַחֲסִידֶיךָ יְבָרֲכוּכָה, כְּלוֹמַר יְבָרְכוּ כֹה. כֹּה תֹאמַר לְבֵית יַעֲקֹב – בַּאֲמִירָה, וְהַיְנוּ מִצַּד הַדִּין. וְתַגֵּיד לְבֵית יִשְׂרָאֵל – כְּמוֹ שֶׁנֶּאֱמַר (דברים ד) וַיַּגֵּד לָכֶם אֶת בְּרִיתוֹ. וְכָתוּב (שם כו) הִגַּדְתִּי הַיּוֹם לַה' אֱלֹהֶיךָ. לִבְנֵי יִשְׂרָאֵל – הַזְּכָרִים, שֶׁבָּאוּ מִצַּד הָרַחֲמִים.
262. אָמַר רַבִּי יִצְחָק, הוֹאִיל וּבָאנוּ לָזֶה, מַה זֶּה הִגַּדְתִּי הַיּוֹם לַה' אֱלֹהֶיךָ? לַה' אֱלֹהֵינוּ הָיָה צָרִיךְ לִהְיוֹת! אָמַר לוֹ רַבִּי שִׁמְעוֹן, וְכִי רַק בִּלְבַדּוֹ הוּא, וַהֲרֵי כָּתוּב (שם ח) כִּי ה' אֱלֹהֶיךָ מְבִיאֲךָ אֶל אֶרֶץ טוֹבָה וְגוֹ', (שם) אֲשֶׁר ה' אֱלֹהֶיךָ נֹתֵן לָךְ, (שם ד) כִּי ה' אֱלֹהֶיךָ אֵשׁ אֹכְלָה הוּא, וְכֻלָּם כָּךְ?
.
Zohar Ki Tavo
The portion of Ki Tavo tells us what to do when we come into the Land that God gave us for inheritance. One of the first things that we are instructed to do is to bring from the first fruits of our work, bring it to the priest in the Holy Temple, and say to him;
Deuteronomy 26:3
" וּבָאתָ, אֶל-הַכֹּהֵן, אֲשֶׁר יִהְיֶה, בַּיָּמִים הָהֵם; וְאָמַרְתָּ אֵלָיו, הִגַּדְתִּי הַיּוֹם לַיהוָה אֱלֹהֶיךָ, כִּי-בָאתִי אֶל-הָאָרֶץ, אֲשֶׁר נִשְׁבַּע יְהוָה לַאֲבֹתֵינוּ לָתֶת לָנוּ."
"And you shall go to the priest who is in office at that time and say to him, 'I declare today to YHVH your God that I have come into the land that YHVH swore to our fathers to give us.'"
The Zohar explains that this is a connection to the blessing of the priests. It comes with the aspect of mercy of the word "כה". The seed of it comes from Numbers 6:23 "דַּבֵּר אֶל-אַהֲרֹן וְאֶל-בָּנָיו לֵאמֹר, כֹּה תְבָרְכוּ אֶת-בְּנֵי יִשְׂרָאֵל: אָמוֹר, לָהֶם"
""Speak to Aaron and his sons, saying, Thus (כֹּה) you shall bless the people of Israel: you shall say to them,"
The word כה represents the Shechina in Malchut that is the source of blessings for us.
Lesson:
Bringing from the fruit of our work to the priest and declaring our connection to the Light draws blessings into our lives. Without sharing our blessings we limit and stop the flow of it in our lives. This action is done on the Holiday of Shavuot in the Holy Temple. Shavuot is the third of the three major holidays (Passover, Sukkot, and Shavuot), and the aspect of the Central column that brings the Light to the world.
Study, Share, tithe and make spiritual connections to maintain flow of blessings in your life.
{||}