Daily Zohar # 2004 – Vayechi – The remnant of Joseph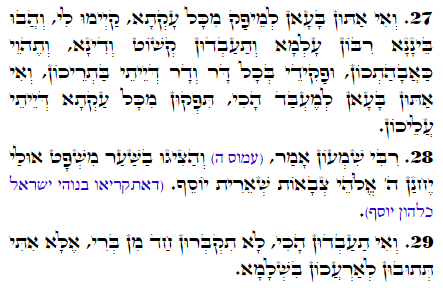 .
Hebrew translation:
27. וְאִם אַתֶּם רוֹצִים לָצֵאת מִכָּל צָרָה, הִשָּׁבְעוּ לִי וּתְנוּ בֵינֵינוּ רִבּוֹן הָעוֹלָם, וְתַעֲשׂוּ אֱמֶת וְדִין, וְתִהְיוּ כַאֲבוֹתֵיכֶם, וְצַוּוּ בְּכָל דּוֹר וָדוֹר שֶׁיֵּלְכוּ אַחֲרֵיהֶם. וְאִם אַתֶּם רוֹצִים לַעֲשׂוֹת כָּךְ, תֵּצְאוּ מִכָּל צָרָה שֶׁתָּבֹא עֲלֵיכֶם.
28. רַבִּי שִׁמְעוֹן אָמַר, (עמוס ה) וְהַצִּיגוּ בַשַּׁעַר מִשְׁפָּט אוּלַי יֶחֱנַן ה' אֱלֹהֵי צְבָאוֹת שְׁאֵרִית יוֹסֵף.
29. וְאִם תַּעֲשׂוּ כָּךְ, לֹא תִקְבְּרוּ אֶחָד מִן בָּנַי, אֶלָּא אִתִּי תָּשׁוּבוּ לְאַרְצְכֶם בְּשָׁלוֹם.
.
Zohar Vayechi
Genesis 47:29 " וַיִּקְרְבוּ יְמֵי-יִשְׂרָאֵל, לָמוּת, וַיִּקְרָא לִבְנוֹ לְיוֹסֵף"
"And when the time drew near for Israel (Jacob) to die, he called his son Joseph"
When Jacob was about to die he called his children to prepare them for the future hardship, long process and the Final Redemption.
Jacob advised them that in order to get out of the future troubles they needed to follow the path of truth and justice of their parents, Abraham, Isaac and Jacob.
Rabbi Shimon explains that even though the Torah says that he called Joseph, it was a call to all his children. He quotes the verse below and says that all the children of Israel are called Joseph.
Amos 5:15 "שִׂנְאוּ-רָע וְאֶהֱבוּ טוֹב, וְהַצִּיגוּ בַשַּׁעַר מִשְׁפָּט; אוּלַי, יֶחֱנַן יְהוָה אֱלֹהֵי-צְבָאוֹת–שְׁאֵרִית יוֹסֵף"
"Hate evil, and love good, and establish justice in the gate; it may be that YHVH, the God of hosts, will be gracious to the remnant of Joseph."
Joseph is Yessod and is called 'all' because it holds all the Sefirot of Zeir Anpin. The Six Sefirot have 12 borders that is the aspect of the 12 tribes of Israel.
{||}