Daily Zohar # 2040 – Mishpatim – Cast out your servant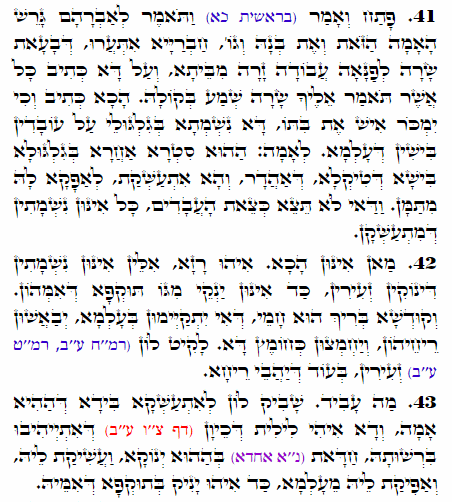 .
Hebrew translation:
41. פָּתַח וְאָמַר, (בראשית כא) וַתֹּאמֶר לְאַבְרָהָם גָּרֵשׁ הָאָמָה הַזֹּאת וְאֶת בְּנָהּ וְגוֹ'. הַחֲבֵרִים הִתְעוֹרְרוּ, שֶׁרָצְתָה שָׂרָה לְפַנּוֹת מִבֵּיתָהּ עֲבוֹדָה זָרָה, וְעַל זֶה כָּתוּב כֹּל אֲשֶׁר תֹּאמַר אֵלֶיךָ שָׂרָה שְׁמַע בְּקֹלָהּ. כָּאן כָּתוּב וְכִי יִמְכֹּר אִישׁ אֶת בִּתּוֹ – זוֹ הַנְּשָׁמָה בְּגִלְגּוּלִים עַל מַעֲשִׂים רָעִים שֶׁבָּעוֹלָם. לְאָמָה – לְאוֹתוֹ הַצַּד הָאַחֵר בְּגִלְגּוּל רַע שֶׁל הַמִּשְׁקָל שֶׁחוֹזֵר, וַהֲרֵי נֶעֶשְׁקָה לְהוֹצִיא אוֹתָהּ מִשָּׁם. וַדַּאי לֹא תֵצֵא כְּצֵאת הָעֲבָדִים, כָּל אוֹתָן נְשָׁמוֹת שֶׁנֶּעֱשָׁקוֹת.
42. מִי הֵן כָּאן? הוּא סוֹד אֵלֶּה אוֹתָן נִשְׁמוֹת הַתִּינוֹקוֹת הַקְּטַנִּים, כְּשֶׁהֵם יוֹנְקִים מִתּוֹךְ תֹּקֶף שֶׁל אִמָּם, וְהַקָּדוֹשׁ בָּרוּךְ הוּא רוֹאֶה שֶׁאִם יִתְקַיְּמוּ בָּעוֹלָם, יִבְאַשׁ רֵיחָם וְיַחֲמִיצוּ כְּמוֹ הַחֹמֶץ הַזֶּה. לוֹקֵחַ אוֹתָם קְטַנִּים, בְּעוֹדָם נוֹתְנִים רֵיחַ.
43. מָה עוֹשֶׂה? מַשְׁאִיר אוֹתָם לְהֵעָשֵׁק בְּיַד אוֹתָהּ הָאָמָה, וְזוֹהִי לִילִי"ת. שֶׁכֵּיוָן שֶׁנִּתְּנוּ בִּרְשׁוּתָהּ, שְׂמֵחָה (אוֹחֶזֶת) בְּאוֹתוֹ תִינוֹק וְעוֹשֶׁקֶת אוֹתוֹ, וּמוֹצִיאָה אוֹתוֹ מִן הָעוֹלָם כְּשֶׁהוּא יוֹנֵק מִכֹּחַ אִמּוֹ.
.
Zohar Mishpatim
The Zohar brings the following story to teach us about the types of souls and correction processes.
Sarah couldn't have children and she gave her Egyptian servant Hagar to her husband, Abraham, so he will have a child. After Sarah received a gift from God to bare her own child, she didn't like the relationship between her son, Isaac, and Ishmael, the son of her servant. She demanded from Abraham to cast out his first son to disconnect Ishmael from Isaac.
Genesis 21:10
"וַתֹּאמֶר, לְאַבְרָהָם, גָּרֵשׁ הָאָמָה הַזֹּאת, וְאֶת-בְּנָהּ: כִּי לֹא יִירַשׁ בֶּן-הָאָמָה הַזֹּאת, עִם-בְּנִי עִם-יִצְחָק"
"So she said to Abraham, "Cast out this slave woman with her son, for the son of this slave woman shall not be heir with my son Isaac."
Abraham was all kindness and love and couldn't see a good reason to follow his wife's demand.
11: "וַיֵּרַע הַדָּבָר מְאֹד, בְּעֵינֵי אַבְרָהָם, עַל, אוֹדֹת בְּנוֹ."
"And the thing was very displeasing to Abraham on account of his son (Ishmael)."
The Zohar explains that Sarah's motive was to protect Isaac from the negative influence that was attached to the son of Hagar, the Egyptian. The Torah tells us that Hagar was Egyptian, to imply connection to the negative side and idol worshiping.
Abraham didn't see what Sarah could until God told him to follow his wife's advice, explaining that his son Isaac was the pure one, that he will continue the blessings God gave him earlier.
12: "וַיֹּאמֶר אֱלֹהִים אֶל-אַבְרָהָם, אַל-יֵרַע בְּעֵינֶיךָ עַל-הַנַּעַר וְעַל-אֲמָתֶךָ–כֹּל אֲשֶׁר תֹּאמַר אֵלֶיךָ שָׂרָה, שְׁמַע בְּקֹלָהּ: כִּי בְיִצְחָק, יִקָּרֵא לְךָ זָרַע."
"But God told Abraham, "Do not be upset over the boy and your servant. Do whatever Sarah tells you, for Isaac is the son through whom your descendants will be counted."
To protect Isaac, Ishmael had to leave. The outcome was that Isaac became pure and Ishmael turned negative.
The Zohar reveals here that there are souls that are taken by the other side. Even though Abraham was pure the vessel of his first son, Ishmael, was impure.
Many souls come to the world without proper preparation of the parents. When consciousness is absent or corrupted the soul of the child could come to be influenced by the negative side.
The Zohar also reveals that if God sees that the child may grow corrupted he takes them back to him while they are still pure to avoid the corruption of their souls.
{||}