Daily Zohar # 1102 – Pinchas – Does God love you?
Click here to listen to the Daily Zohar [audio:https://dailyzohar.com/wp-content/uploads/pinchas/audio/dp-1102.mp3|titles=Daily Zohar 1102]
Mobile devices, please touch here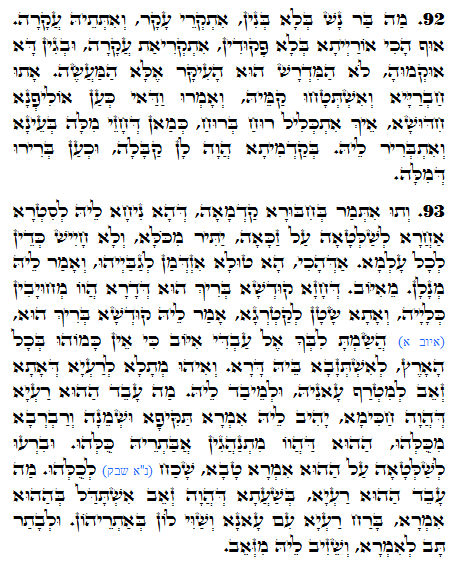 Hebrew translation:
92. מָה אָדָם בְּלִי בָנִים נִקְרָא עָקָר וְאִשְׁתּוֹ עֲקָרָה, גַּם כָּךְ תּוֹרָה בְּלִי מִצְווֹת נִקְרֵאת עֲקָרָה. וְלָכֵן פֵּרְשׁוּהָ, לֹא הַמִּדְרָשׁ הוּא עִקָּר אֶלָּא הַמַּעֲשֶׂה. בָּאוּ הַחֲבֵרִים וְהִשְׁתַּטְּחוּ לְפָנָיו וְאָמְרוּ, כָּעֵת לָמַדְנוּ חִדּוּשׁ אֵיךְ נִכְלֶלֶת רוּחַ בְּרוּחַ, כְּמִי שֶׁרָאָה דָבָר בָּעַיִן וְהֻבְרַר לוֹ. מִקֹּדֶם זֶה הָיָה קַבָּלָה לָנוּ, וְכָעֵת בֵּרוּר הַדָּבָר.
93. וְעוֹד נֶאֱמַר בְּחִבּוּר רִאשׁוֹן, שֶׁהֲרֵי נוֹחַ לוֹ לַסִּטְרָא אַחֲרָא לִשְׁלֹט עַל הַצַּדִּיק יוֹתֵר מֵהַכֹּל, וְלֹא חוֹשֵׁשׁ אָז לְכָל הָעוֹלָם. בֵּין כָּךְ הֲרֵי צֵל הִזְדַּמֵּן לִפְנֵיהֶם, וְאָמַר לוֹ, מִנַּיִן? מֵאִיּוֹב. שֶׁרָאָה הַקָּדוֹשׁ בָּרוּךְ הוּא שֶׁהַדּוֹר מְחֻיָּבִים כְּלָיָה, וּבָא שָׂטָן לְקַטְרֵג, אָמַר לוֹ הַקָּדוֹשׁ בָּרוּךְ הוּא: (איוב ב) הֲשַׂמְתָּ לִבְּךָ אֶל עַבְדִּי אִיּוֹב כִּי אֵין כָּמֹהוּ בָּ[בְּכָל הָ]אָרֶץ, לְהַצִּיל אֶת הַדּוֹר. וְהוּא מָשָׁל לְרוֹעֶה שֶׁבָּא הַזְּאֵב לִטְרֹף אֶת צֹאנוֹ וּלְהַאֲבִידוֹ. מֶה עָשָׂה אוֹתוֹ רוֹעֶה שֶׁהָיָה חָכָם? נָתַן לוֹ תַּיִשׁ חָזָק וְשָׁמֵן וְגָדוֹל מִכֻּלָּם, אוֹתוֹ שֶׁכֻּלָּם נוֹהֲגִים אַחֲרָיו, וּבְרָצוֹן לִשְׁלֹט עַל אוֹתוֹ תַּיִשׁ טוֹב, שָׁכַח (הִשְׁאִיר) אֶת כֻּלָּם. מֶה עָשָׂה אוֹתוֹ רוֹעֶה? בְּשָׁעָה שֶׁהַזְּאֵב הָיָה מִתְעַסֵּק עִם אוֹתוֹ תַּיִשׁ, בָּרַח הָרוֹעֶה עִם הַצֹּאן וְשָׂם אוֹתָם בִּמְקוֹמָם, וְאַחַר כָּךְ שָׁב לַתַּיִשׁ וְהִצִּילוֹ מֵהַזְּאֵב.
Pinchas 92,93
A man without children is called barren, infertile. It is the same when the Torah is left without the actions of the precepts.
The Torah is light that can be revealed when we use it. The precepts are specific actions that reveal different lights and nourish our soul. With these lights we can cleanse our souls and grow spiritually.
The Zohar brings the story of Job and quotes the verse where God 'sends' the Satan against Job.
Job 2:3
"וַיֹּאמֶר יְהוָה אֶל הַשָּׂטָן, הֲשַׂמְתָּ לִבְּךָ אֶל עַבְדִּי אִיּוֹב–כִּי אֵין כָּמֹהוּ בָּאָרֶץ אִישׁ תָּם וְיָשָׁר יְרֵא אֱלֹהִים, וְסָר מֵרָע; וְעֹדֶנּוּ מַחֲזִיק בְּתֻמָּתוֹ, וַתְּסִיתֵנִי בוֹ לְבַלְּעוֹ חִנָּם"
"Then YHVH said to Satan, "Have you considered my servant Job? There is no one on earth like him; he is blameless and upright, a man who fears God and shuns evil. And he still maintains his integrity, though you incited me against him to ruin him without any reason."
Job was righteous and was doing all good things but he avoided fighting negativity. He was the adviser to Pharaoh and when Pharaoh wanted to kill the Israelites, Job suggested not killing them but giving hard work.
God gave him the opportunity to correct himself and elevate to a higher spiritual level. The test came at the time the Israelites were leaving Egypt. God wanted to distract the Satan from going against the Israelites so he engaged Satan to be 'busy' trying to make Job fail. Job saved the generation with his process of suffering and fighting the negativity.
The Zohar gives an example of a shepherd that saw a big wolf coming to attack his herd. He introduced a big and strong goat to the wolf to keep him busy while he took the herd to a safe place.
The lesson is that we can not avoid our Tikun process. We can not do a few good things and ignore other opportunities to fight negativity and grow.
Another lesson is that no matter how harsh our Tikkun is and our sufferings in this life are, they all come from the Light with love and care for our soul.
{||}