Daily Zohar # 1221 – Pinchas – Purify your heart
Daily Zohar 1221
Daily Zohar 1221
Zohar Pinchas, Vol. 20 (English)/Vol 15 (Hebrew)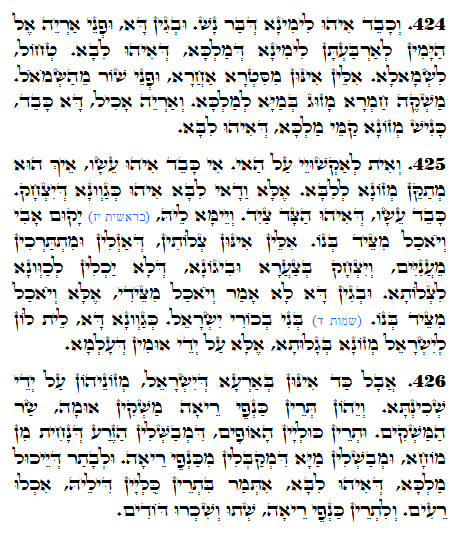 Hebrew translation:
424. וְהַכָּבֵד הוּא לִימִין הַבֶּן אָדָם. וּמִשּׁוּם זֶה, וּפְנֵי אַרְיֵה אֶל הַיָּמִין לְאַרְבַּעְתָּם, לִימִין הַמֶּלֶךְ, שֶׁהוּא הַלֵּב. הַטְּחוֹל לִשְׂמֹאל. אֵלּוּ הֵם מֵהַצַּד הָאַחֵר, וּפְנֵי שׁוֹר מֵהַשְּׂמֹאול. מַשְׁקֵה יַיִן מָזוּג בְּמַיִם לַמֶּלֶךְ. וְאַרְיֵה אוֹכֵל, זֶה כָּבֵד, שֶׁאוֹסֵף מָזוֹן לִפְנֵי הַמֶּלֶךְ, שֶׁהוּא הַלֵּב.
425. וְיֵשׁ לְהַקְשׁוֹת עַל זֶה: אִם כָּבֵד הוּא עֵשָׂו, אֵיךְ הוּא מְתַקֵּן מָזוֹן לַלֵּב? אֶלָּא וַדַּאי הַלֵּב הוּא כְּדֻגְמָתוֹ שֶׁל יִצְחָק. כָּבֵד – עֵשָׂו, שֶׁהוּא הַצָּד צַיִד. וְיֹאמַר לוֹ, (בראשית יז) יָקוּם אָבִי וְיֹאכַל מִצֵּיד בְּנוֹ. אֵלּוּ הֵן הַתְּפִלּוֹת שֶׁהוֹלְכוֹת וּמִתְרַחֲקוֹת מֵעֲנִיִּים, וְיִצְחָק בְּצַעַר וּבְיָגוֹן, שֶׁלֹּא יְכוֹלִים לְכַוֵּן לַתְּפִלָּה. וּמִשּׁוּם זֶה לֹא אָמַר וְיֹאכַל מִצֵּידִי, אֶלָּא וְיֹאכַל מִצֵּיד בְּנוֹ, (שמות ד) בְּנִי בְכֹרִי יִשְׂרָאֵל. כְּמוֹ זֶה אֵין לָהֶם לְיִשְׂרָאֵל מָזוֹן בַּגָּלוּת אֶלָּא עַל יְדֵי אֻמּוֹת הָעוֹלָם.
426. אֲבָל כַּאֲשֶׁר הֵם בְּאֶרֶץ יִשְׂרָאֵל, מְזוֹנוֹתָם עַל יְדֵי הַשְּׁכִינָה. וְיִהְיוּ שְׁתֵּי כַּנְפֵי הָרֵאָה מַשְׁקוֹת אֻמָּה, שַׂר הַמַּשְׁקִים. וּשְׁתֵּי הַכְּלָיוֹת – הָאוֹפִים, שֶׁמְּבַשְּׁלוֹת הַזֶּרַע הַיּוֹרֵד מִן הַמֹּחַ, וּמְבַשְּׁלוֹת מַיִם שֶׁמְּקַבְּלוֹת מִכַּנְפֵי הָרֵאָה. וּלְבַסּוֹף שֶׁיֹּאכַל הַמֶּלֶךְ, שֶׁהוּא הַלֵּב, נֶאֱמַר בִּשְׁתֵּי הַכְּלָיוֹת שֶׁלּוֹ אִכְלוּ רֵעִים. וְלִשְׁתֵּי כַּנְפֵי הָרֵאָה – שְׁתוּ וְשִׁכְרוּ דּוֹדִים.
Pinchas 424-426
Exodus 4:22
" כֹּה אָמַר יְהוָה, בְּנִי בְכֹרִי יִשְׂרָאֵל."
"Thus saith YHVH: Israel is My son, My first-born."
The Zohar raises a question and says that if the Liver is Sama-el and the other side with Lili-th then how come they gather the food nutrition and serve it to the heart?
The explanation that the Zohar brings is that the heart is like Isaac, which is left column, the liver is Esau that does the hunting to get the blessings as it said in Genesis 27:31
" וַיַּעַשׂ גַּם-הוּא מַטְעַמִּים, וַיָּבֵא לְאָבִיו; וַיֹּאמֶר לְאָבִיו, יָקֻם אָבִי וְיֹאכַל מִצֵּיד בְּנוֹ–בַּעֲבֻר, תְּבָרְכַנִּי נַפְשֶׁךָ."
"And he also made savoury food, and brought it unto his father; and he said unto his father: 'Let my father arise, and eat of his son's venison, that thy soul may bless me.'"
The blessings come from the 'son' who is Israel, Jacob, that received the blessings of the father.
The Zohar teaches us that there is a parallel between the food consumption and processing it and spiritual connections.
Our prayers have the desire and hope to receive nourishment to our lives in this world. That is the aspect of food for the body. The liver depends on the heart for its existence and that is why it must serve the heart that spreads the energy throughout the body.
We have dependency in life and like the liver, we need the Light in our lives to continue on living and working. It requires us to work and pray with pure consciousness and heart.
{||}