Daily Zohar # 1629 – Yom Kippur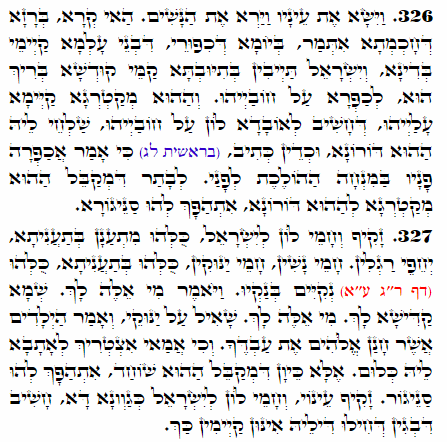 .
The above paragraphs are from Zohar Balak #326-327
Hebrew translation:
326. וַיִּשָּׂא אֶת עֵינָיו וַיַּרְא אֶת הַנָּשִׁים. פָּסוּק זֶה נֶאֱמַר בְּסוֹד הַחָכְמָה, בְּיוֹם הַכִּפּוּרִים, שֶׁבְּנֵי הָעוֹלָם עוֹמְדִים בְּדִין, וְיִשְׂרָאֵל שָׁבִים בִּתְשׁוּבָה לִפְנֵי הַקָּדוֹשׁ בָּרוּךְ הוּא לְכַפֵּר עַל עֲווֹנוֹתֵיהֶם. וְאוֹתוֹ מְקַטְרֵג עוֹמֵד עֲלֵיהֶם, שֶׁחוֹשֵׁב לְאַבֵּד אוֹתָם עַל חֲטָאֵיהֶם, שׁוֹלְחִים לוֹ אוֹתוֹ דּוֹרוֹן, וְאָז כָּתוּב (בראשית לב) כִּי אָמַר אֲכַפְּרָה פָנָיו בַּמִּנְחָה הַהֹלֶכֶת לְפָנָי. אַחַר שֶׁמְּקַבֵּל אוֹתוֹ מְקַטְרֵג הַדּוֹרוֹן, מִתְהַפֵּךְ לָהֶם לְסָנֵגוֹר.
327. מִזְדַּקֵּף וְרוֹאֶה אֶת יִשְׂרָאֵל כֻּלָּם מִתְעַנִּים, יְחֵפֵי רַגְלַיִם. רוֹאֶה נָשִׁים, רוֹאֶה תִינוֹקוֹת, כֻּלָּם בְּתַעֲנִית, כֻּלָּם נְקִיִּים בְּנִקָּיוֹן. וַיֹּאמֶר מִי אֵלֶּה לָּךְ. שֵׁם קָדוֹשׁ לָךְ. מִי אֵלֶּה לָּךְ. שׁוֹאֵל עַל הַתִּינוֹקוֹת, וְאוֹמֵר, הַיְלָדִים אֲשֶׁר חָנַן אֱלֹהִים אֶת עַבְדֶּךָ. וְכִי לָמָּה צָרִיךְ לַהֲשִׁיבוֹ כְלוּם? אֶלָּא כֵּיוָן שֶׁמְּקַבֵּל אוֹתוֹ שֹׁחַד, מִתְהַפֵּךְ לָהֶם לְסָנֵגוֹר. מֵרִים עֵינָיו וְרוֹאֶה אֶת יִשְׂרָאֵל כְּמוֹ זֶה, חוֹשֵׁב שֶׁבִּגְלַל פַּחְדּוֹ הֵם עוֹמְדִים כָּךְ.
.
Zohar Yom Kippur
During the service of Yom Kippur the high priest takes a scapegoat and sends it as a gift to the other side. The Zohar explains that the prosecutor in the upper court sees this action as a gift because it comes from the hands of the high priest. At that time he transforms from prosecutor to advocate. He sees all the Israelites, young and old in fasting, bare feet, and in pure state. If he hurts the pure ones then it takes away from the power of his gift (the scapegoat). Because of that he removes the claims for judgment and the Israelites enjoy the mercy of God.