Daily Zohar # 1708 – Vayechi – Follow the Light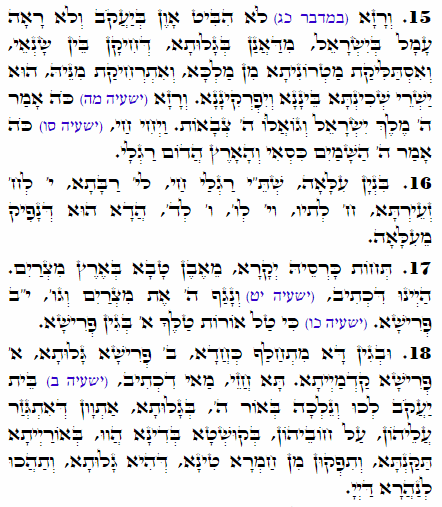 .
Hebrew translation:
15. וְסוֹד (במדבר כג) לֹא הִבִּיט אָוֶן בְּיַעֲקֹב וְלֹא רָאָה עָמָל בְּיִשְׂרָאֵל – מִשֶּׁאָנוּ בַּגָּלוּת דְּחוּקִים בֵּין שׂוֹנְאִים, וְהִסְתַּלְּקָה הַמַּלְכָּה מִן הַמֶּלֶךְ וְהִתְרַחֲקָה מִמֶּנּוּ, הוּא יַשְׁרֶה שְׁכִינָתוֹ בֵּינֵינוּ וְיִגְאָלֵנוּ, וְהַסּוֹד שֶׁל (ישעיה מד) כֹּה אָמַר ה' מֶלֶךְ יִשְׂרָאֵל וְגֹאֲלוֹ ה' צְבָאוֹת. וַיְחִי חַי, כֹּה אָמַר ה' הַשָּׁמַיִם כִּסְאִי וְהָאָרֶץ הֲדוֹם רַגְלָי.
16. בַּבִּנְיָן הָעֶלְיוֹן שְׁתֵּ"י רַגְלַיִם חַי, לְי' גְּדוֹלָה י' לְח' קְטַנָּה, ח' לְתָי"ו, וְי' לְו', ו' לְד', זֶה מַה שֶּׁיּוֹצֵא מֵהָעֶלְיוֹן.
17. תַּחַת כִּסֵּא הַכָּבוֹד מֵאֶבֶן טוֹבָה בְּאֶרֶץ מִצְרַיִם, הַיְנוּ מַה שֶּׁכָּתוּב וְנָגַף ה' אֶת מִצְרַיִם וְגוֹ', שְׁתֵּי חֲלֻקּוֹת. כִּי טַל אוֹרוֹת טַלֶּךָ – מִשּׁוּם חֲלֻקָּה אַחַת.
18. וְלָכֵן מִתְחַלְּפִים כְּאֶחָד. ב' הַפֵּרוּשׁ עַל הַגָּלוּת, א' הַפֵּרוּשׁ הָרִאשׁוֹן. בֹּא רְאֵה מַה שֶּׁכָּתוּב, בֵּית יַעֲקֹב לְכוּ וְנֵלְכָה בְּאוֹר ה', בַּגָּלוּת, הָאוֹתִיּוֹת שֶׁנִּגְזַר עֲלֵיהֶן עַל חֲטָאֵיהֶם, בֶּאֱמֶת בְּדִין הָיוּ. בַּתּוֹרָה יֵשׁ תַּקָּנָה, וְתֵצְאוּ מֵחֹמֶר הַטִּיט, שֶׁהִיא גָלוּת, וְתֵלְכוּ לְאוֹר ה'.
.
Zohar Vayechi
Numbers 23:21
"לֹא-הִבִּיט אָוֶן בְּיַעֲקֹב, וְלֹא-רָאָה עָמָל בְּיִשְׂרָאֵל; יְהוָה אֱלֹהָיו עִמּוֹ, וּתְרוּעַת מֶלֶךְ בּוֹ"
"He has not beheld misfortune in Jacob, nor has he seen trouble in Israel. YHVH their God is with them, and the shout of a king is among them."
This verse from the 'blessings' of Balaam, who realized that God is protecting the nation of Israel. He saw the lower level that is called 'Jacob' and the higher level, called 'Israel'. He didn't see the opening to curse the Israelites from the lower level or the higher level.
When the Israelites are still in the exile and the correction process, they are called the 'house of Jacob'. To come to the higher level and merit the Final Redemption the prophet tells us
Isaiah 2:5 ( I Suggest reading the entire prophecy of the end of days in the chapter)
"בֵּית, יַעֲקֹב–לְכוּ וְנֵלְכָה, בְּאוֹר יְהוָה"
"O house of Jacob, come, let us walk in the light of YHVH."
Only if we walk in the Light of YHVH we can live without fear and merit the blessings of the world to come at the end of the exile.
Isaiah 2:19,20
"Men will go into caves of the rocks And into holes of the ground Before the terror of YHVH And the splendor of His majesty, When He arises to make the earth tremble."
"In that day mankind will cast away their idols of silver and their idols of gold, which they made for themselves to worship, to the moles and to the bats,"
Exile = is the state of distance from the Light.
---
Today is the first day of the New Year and the world share the consciousness of new beginnings. It is a good time to join this energy and set spiritual goals like study daily or weekly, do acts of sharing, tithing, remove bread of shame, work on our personal corrections and reveal light to help in the correction of the entire world.
Encourage your friends to subscribe to the Daily Zohar and Unity Zohar joining thousands of people around the world adding light and improve their souls and lives.
---
{||}