Daily Zohar # 2240 – Stand before God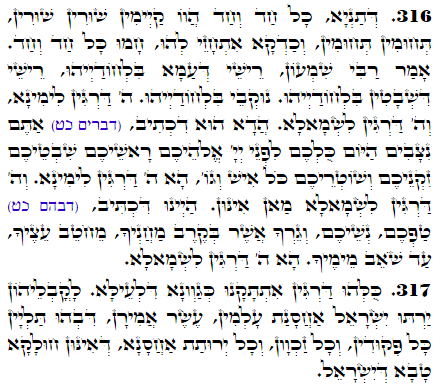 .
Hebrew translation:
316. שֶׁשָּׁנִינוּ, כָּל אֶחָד וְאֶחָד הָיוּ עוֹמְדִים שׁוּרוֹת שׁוּרוֹת, תְּחוּמִים תְּחוּמִים, וּכְמוֹ שֶׁרָאוּי לָהֶם רָאוּ כָּל אֶחָד וְאֶחָד. אָמַר רַבִּי שִׁמְעוֹן, רָאשֵׁי הָעָם לְבַדָּם, רָאשֵׁי הַשְּׁבָטִים לְבַדָּם. הַנְּקֵבוֹת לְבַדָּן. חָמֵשׁ דְּרָגוֹת לְיָמִין, וְחָמֵשׁ דְּרָגוֹת לִשְׂמֹאל. זֶהוּ שֶׁכָּתוּב (דברים כט) אַתֶּם נִצָּבִים הַיּוֹם כֻּלְּכֶם לִפְנֵי ה' אֱלֹהֵיכֶם רָאשֵׁיכֶם שִׁבְטֵיכֶם זִקְנֵיכֶם וְשֹׁטְרֵיכֶם כֹּל אִישׁ וְגוֹ'. הֲרֵי חָמֵשׁ דְּרָגוֹת לְיָמִין. וְחָמֵשׁ דְּרָגוֹת לִשְׂמֹאל מַה הֵן? הַיְנוּ שֶׁכָּתוּב טַפְּכֶם, נְשֵׁיכֶם, וְגֵרְךָ אֲשֶׁר בְּקֶרֶב מַחֲנֶיךָ, מֵחֹטֵב עֵצֶיךָ, עַד שֹׁאֵב מֵימֶיךָ. הֲרֵי חָמֵשׁ דְּרָגוֹת לִשְׂמֹאל.
317. כָּל הַדְּרָגוֹת הִתְתַּקְּנוּ כְּמוֹ שֶׁלְּמַעְלָה. כְּנֶגְדָּם יָרְשׁוּ יִשְׂרָאֵל יְרֻשַּׁת עוֹלָמִים, עֶשֶׂר אֲמִירוֹת, שֶׁבָּהֶן תְּלוּיוֹת כָּל הַמִּצְווֹת וְכָל הַזְּכֻיּוֹת וְכָל יְרֻשַּׁת נַחֲלָה, שֶׁהֵם הַחֵלֶק הַטּוֹב שֶׁל יִשְׂרָאֵל.
.
The paragraphs are from Zohar Yitro #316, 317
Deuteronomy 29:9
"אַתֶּם נִצָּבִים הַיּוֹם כֻּלְּכֶם, לִפְנֵי יְהוָה אֱלֹהֵיכֶם: רָאשֵׁיכֶם שִׁבְטֵיכֶם, זִקְנֵיכֶם וְשֹׁטְרֵיכֶם, כֹּל, אִישׁ יִשְׂרָאֵל."
"You are standing today all of you before YHVH your God: the heads of your tribes, your elders, and your officers, all the men of Israel,"
The Zohar explains that this verse describes ten categories of the Israelites when they were about to receive the Tablets with the Ten Commandments. Five categories for the right and five for the left. That enabled the Israelites to connect and inherit the Light of the Torah on all levels.
When the Torah was revealed on Mount Sinai the Israelites could see the voices and the wonders of the Light with more clarity than the vision of heaven that saw the prophet Ezekiel (Ezekiel 1).
Lesson: The Israelites are scattered all over the world. Uniting the Israelites together will create a wonderful connection and draw awesome Light to the world. The Zohar is the most important tool that we have to create such unity in the connection to the Torah. Study Zohar daily to bring more Israelites souls into this circle, and stand with joy and love before God.
Read/scan Zohar together with other people around the world.
Unity Zohar

http://youtu.be/tyuib3o1cSM
{||}