Daily Zohar # 3138 – Vaetchanan – Dress yourself with protection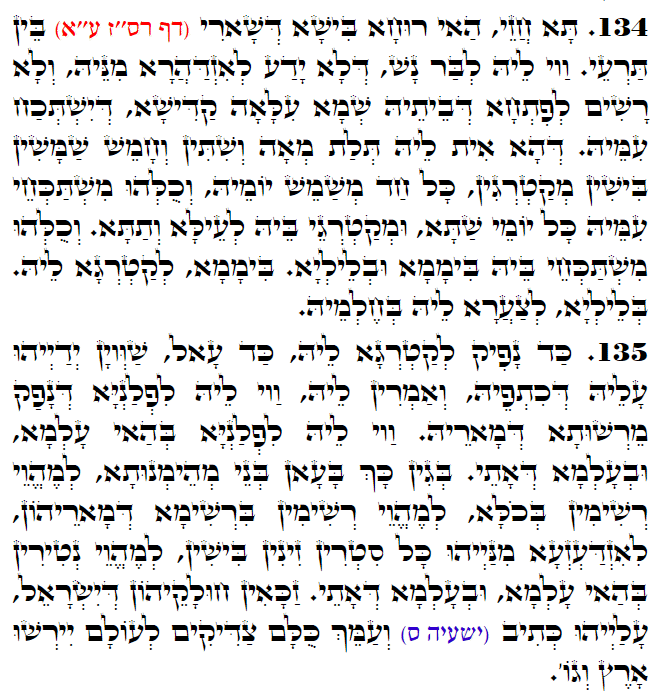 .
Hebrew translation:
134. בֹּא וּרְאֵה, הָרוּחַ הָרָעָה הַזּוֹ שֶׁשְּׁרוּיָה בֵּין הַשְּׁעָרִים, אוֹי לוֹ לָאָדָם שֶׁלֹּא יוֹדֵעַ לְהִזָּהֵר מִמֶּנּוּ וְלֹא רוֹשֵׁם עַל פֶּתַח בֵּיתוֹ אֶת הַשֵּׁם הָעֶלְיוֹן הַקָּדוֹשׁ שֶׁיִּמָּצֵא עִמּוֹ, שֶׁהֲרֵי יֵשׁ לוֹ שְׁלֹשׁ מֵאוֹת שִׁשִּׁים וַחֲמִשָּׁה שַׁמָּשִׁים רָעִים שֶׁמְּקַטְרְגִים, כָּל אֶחָד מְשַׁמֵּשׁ בְּיוֹמוֹ, וְכֻלָּם נִמְצָאִים עִמּוֹ כָּל יְמוֹת הַשָּׁנָה וּמְקַטְרְגִים עָלָיו לְמַעְלָה וּלְמַטָּה, וְכֻלָּם נִמְצָאִים עִמּוֹ בַּיּוֹם וּבַלַּיְלָה. בַּיּוֹם לְקַטְרֵג לוֹ, בַּלַּיְלָה לְצַעֵר אוֹתוֹ בַּחֲלוֹמוֹ.
135. כְּשֶׁיּוֹצֵא לְקַטְרֵג עָלָיו, כְּשֶׁנִּכְנָס, שָׂמִים יְדֵיהֶם עַל כְּתֵפוֹ וְאוֹמְרִים לוֹ: אוֹי לוֹ לִפְלוֹנִי שֶׁיָּצָא מֵרְשׁוּת אֲדוֹנוֹ! אוֹי לוֹ לִפְלוֹנִי בָּעוֹלָם הַזֶּה וּבָעוֹלָם הַבָּא! מִשּׁוּם כָּךְ צְרִיכִים בְּנֵי הָאֱמוּנָה לִהְיוֹת רְשׁוּמִים בַּכֹּל, לִהְיוֹת רְשׁוּמִים בָּרֹשֶׁם שֶׁל רִבּוֹנָם, שֶׁיִּזְדַּעְזְעוּ מֵהֶם כָּל הַצְּדָדִים הַמִּינִים הָרָעִים, שֶׁיִּהְיוּ שְׁמוּרִים בָּעוֹלָם הַזֶּה וּבָעוֹלָם הַבָּא. אַשְׁרֵי חֶלְקָם שֶׁל יִשְׂרָאֵל, עֲלֵיהֶם כָּתוּב (ישעיה ס) וְעַמֵּךְ כֻּלָּם צַדִּיקִים לְעוֹלָם יִירְשׁוּ אָרֶץ וְגוֹ'.
.
Zohar Vaetchanan
#134
Without a Mezuzah at the door with the Holy Name that gives protection, 365 evil entities take over the opening and bring judgment on the person during the day and give him sorry and bad dreams at night. Each demon controls a different day of the year so the presence of the demons exists all year round.
#135
When a demon comes to pass judgment, he puts his hands on the person's shoulders and says; woe to this person that is out of the protection of his master. Woe to him in this world and in the world to come.
For that reason, people with the faith should follow the positive actions of Torah precepts to have the impression of the holy name on them.
When the negative entities of the other-side see the holy names that protect the person they stay away. The ability to connect to the holy name through the Torah, lead the Israelites to the state of righteousness.
Isaiah 60:21
"וְעַמֵּךְ כֻּלָּם צַדִּיקִים לְעוֹלָם יִירְשׁוּ אָרֶץ נֵצֶר מַטָּעַי מַעֲשֵׂה יָדַי לְהִתְפָּאֵר."
"Your people shall be all righteous; they shall inherit the land forever; the branch of My planting, the work of My hands, wherein I glory."
Lesson;
The other side would go after the people of faith to take from their energy when they are not protected. Those without faith are strongly connected to this world and doesn't have much light so they are left alone.
An Israelite must follow a path of growth by continuously increasing the positive actions to dress himself in larger spiritual garments to add protection to his growing vessel.
Do good and avoid evil.
{||}