Daily Zohar # 3498 – Toldot – Why Jacob made a red red stew
Daily Zohar 3498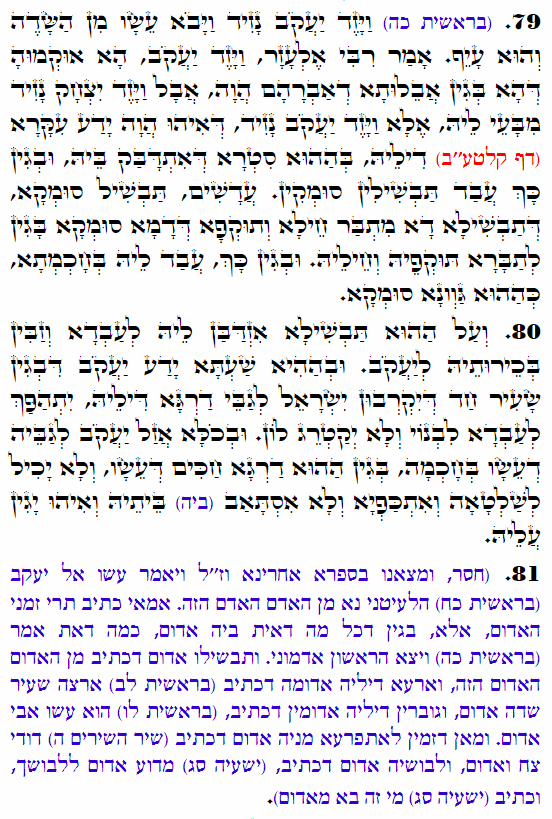 .
Hebrew translation:
79. וַיָּזֶד יַעֲקֹב נָזִיד וַיָּבֹא עֵשָׂו מִן הַשָּׂדֶה וְהוּא עָיֵף. אָמַר רַבִּי אֶלְעָזָר, וַיָּזֶד יַעֲקֹב – הִנֵּה פֵּרְשׁוּהָ שֶׁהֲרֵי בִּשְׁבִיל הָאֵבֶל שֶׁל אַבְרָהָם זֶה הָיָה, אֲבָל וַיָּזֶד יִצְחָק נָזִיד הָיָה צָרִיךְ לִהְיוֹת! אֶלָּא וַיָּזֶד יַעֲקֹב נָזִיד, שֶׁהוּא הָיָה יוֹדֵעַ אֶת הַשֹּׁרֶשׁ שֶׁלּוֹ בְּאוֹתוֹ צַד שֶׁנִּדְבַּק בּוֹ, מִשּׁוּם כָּךְ עָשָׂה תַבְשִׁילִים אֲדֻמִּים, עֲדָשִׁים תַּבְשִׁיל אָדֹם, שֶׁהַתַּבְשִׁיל הַזֶּה מְשַׁבֵּר אֶת הַכֹּחַ וְהַחֹזֶק שֶׁל הַדָּם הָאָדֹם כְּדֵי לִשְׁבֹּר אֶת חָזְקוֹ וְכֹחוֹ, וּמִשּׁוּם כָּךְ עָשָׂה לוֹ בְּחָכְמָה כְּמוֹ אוֹתוֹ הַצֶּבַע הָאָדֹם.
80. וְעַל הַתַּבְשִׁיל הַהוּא נִמְכַּר לוֹ לְעֶבֶד וּמָכַר בְּכוֹרָתוֹ לְיַעֲקֹב, וּבַשָּׁעָה הַהִיא יָדַע יַעֲקֹב, שֶׁבִּשְׁבִיל שָׂעִיר אֶחָד שֶׁיַּקְרִיבוּ יִשְׂרָאֵל לַדַּרְגָּה שֶׁלּוֹ, יִתְהַפֵּךְ לְעֶבֶד לְבָנָיו וְלֹא יְקַטְרֵג לָהֶם. וּבַכֹּל הָלַךְ יַעֲקֹב עִם עֵשָׂו בְּחָכְמָה, מִשּׁוּם אוֹתָהּ הַדַּרְגָּה שֶׁל עֵשָׂו הֶחָכָם, וְלֹא יָכֹל לִשְׁלֹט, וְנִכְנַע וְלֹא נִטְמָא [בֹוֹ] בֵיתוֹ, וְהוּא יָגֵן עָלָיו.
81. [וַיֹּאמֶר עֵשָׂו אֶל יַעֲקֹב הַלְעִיטֵנִי נָא מִן הָאָדֹם הָאָדֹם הַזֶּה. לָמָּה כָּתוּב פַּעֲמַיִם הָאָדֹם? אֶלָּא מִשּׁוּם שֶׁכָּל מַה שֶּׁיֵּשׁ בּוֹ – אָדֹם, כְּמוֹ שֶׁנֶּאֱמַר וַיֵּצֵא הָרִאשׁוֹן אַדְמוֹנִי. וְתַבְשִׁילוֹ אָדֹם, שֶׁכָּתוּב מִן הָאָדֹם הָאָדֹם הַזֶּה. וְאַרְצוֹ אֲדֻמָּה, שֶׁכָּתוּב אַרְצָה שֵׂעִיר שְׂדֵה אֱדוֹם. וַאֲנָשָׁיו אֲדֻמִּים, שֶׁכָּתוּב הוּא עֵשָׂו אֲבִי אֱדוֹם. וּמִי שֶׁעָתִיד לְהִפָּרַע מִמֶּנּוּ אָדֹם, שֶׁכָּתוּב דּוֹדִי צַח וְאָדוֹם. וּלְבוּשׁוֹ אָדֹם, שֶׁכָּתוּב מַדּוּעַ אָדֹם לִלְבוּשֶׁךָ. וְכָתוּב מִי זֶה בָּא מֵאֱדוֹם.]
.
Zohar Toldot
#79
Genesis 25:29
"וַיָּזֶד יַעֲקֹב נָזִיד וַיָּבֹא עֵשָׂו מִן הַשָּׂדֶה וְהוּא עָיֵף."
"Now Jacob cooked a stew, and Esau came in from the field, and he was weary."
Rabbi Elazar says that there are explanations that the stew was made because Abraham died on that day. It should have been properly said, "And Isaac cooked a stew" because he is the mourner, not Jacob.
Jacob made the stew with red lentils because he knew the root force of Esau if from the Left.
Genesis 25:25
"וַיֵּצֵא הָרִאשׁוֹן אַדְמוֹנִי כֻּלּוֹ כְּאַדֶּרֶת שֵׂעָר וַיִּקְרְאוּ שְׁמוֹ עֵשָׂו."
"And the first came out red. He was like a hairy garment all over; so they called his name Esau."
The red lentil stew was made to break the force of Esau, who was red. Esau drew his force from the Left that is the aspect of red. If the stew was not red, he wouldn't accept it.
By accepting the red stew from Jaco, he despised his birthright., and surrendered under Jacob.
#80
And for that stew, Esau sold himself, and his birthright to Jacob as a servant. At that time Jacob knew that for one goat (שָׂעִיר) that Israel would sacrifice on Yom Kippur to the level of Esau, he would become a slave to his children, that is, he would turn to be an advocate for them. And with the same level of wisdom as Esau, Jacob could make Esau surrender to him.
#81
Genesis 25:30
"וַיֹּאמֶר עֵשָׂו אֶל יַעֲקֹב הַלְעִיטֵנִי נָא מִן הָאָדֹם הָאָדֹם הַזֶּה כִּי עָיֵף אָנֹכִי עַל כֵּן קָרָא שְׁמוֹ אֱדוֹם."
"And Esau said to Jacob, "Please feed me with that red red stew, for I am weary." Therefore his name was called Edom (red)."
Why does it say twice red? Because everything in him is red. As it is written "And the first came out red", his stew is red, and his land is red (Genesis 32:4) "Esau, who was living in the region of Seir in the land of Edom (Red)", his people are red (Genesis 36:9) "family line of Esau the father of the Edomites (red)".
The one that will uproot Esau's force would be also red, as we read in Songs 5:10 "My beloved (YHVH) is white and ruddy (Red)", wearing red (Isaiah 63:2) "Why are your garments red", and coming from 'red', (Isaiah 63:1) "Who is this coming from Edom (Red)".
Lesson;
Esau was fed from the red that is the force of the Left. To transform the red of the left to positive, the Zohar reveals that the Light needs to be red too.
The cure for the desire for the self that is Left and aspect of red, is to transform the desire for the self (Red) to the desire to share (White).
When the time comes to purify the world from selfish desires, YHVH will 'wear' garments of red to nullify the red and reveal the 'white' as we read above 'My beloved is white and ruddy'.
{||}