Daily Zohar # 3606 – Tzav – Priest, Levite, and Israel for happiness
Daily Zohar 3606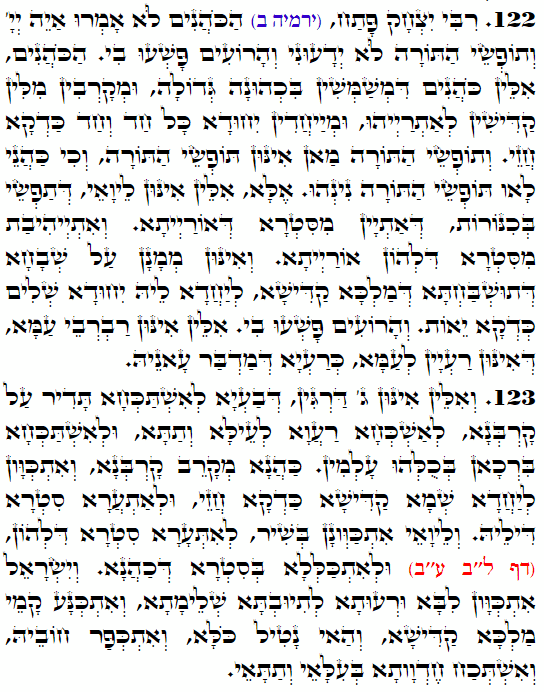 Hebrew translation:
122. רַבִּי יִצְחָק פָּתַח, (ירמיה ב) הַכֹּהֲנִים לֹא אָמְרוּ אַיֵּה ה' וְתֹפְשֵׂי הַתּוֹרָה לֹא יְדָעוּנִי וְהָרֹעִים פָּשְׁעוּ בִי. הַכֹּהֲנִים – אֵלּוּ הַכֹּהֲנִים שֶׁמְּשַׁמְּשִׁים בִּכְהֻנָּה גְּדוֹלָה, וּמַקְרִיבִים דְּבָרִים קְדוֹשִׁים לִמְקוֹמָם, וּמְיַחֲדִים הַיִּחוּד כָּל אֶחָד וְאֶחָד כָּרָאוּי. וְתֹפְשֵׂי הַתּוֹרָה, מִי הֵם תֹּפְשֵׂי הַתּוֹרָה? וְכִי כֹהֲנִים אֵינָם תּוֹפְשֵׂי הַתּוֹרָה? אֶלָּא אֵלּוּ הֵם הַלְוִיִּם שֶׁתּוֹפְשִׂים אֶת הַכִּנּוֹרוֹת, שֶׁבָּאִים מִצַּד שֶׁל הַתּוֹרָה, וְהַתּוֹרָה נִתְּנָה מֵהַצַּד שֶׁלָּהֶם, וְהֵם מְמֻנִּים עַל הַשֶּׁבַח שֶׁל תִּשְׁבַּחְתּוֹ שֶׁל הַמֶּלֶךְ הַקָּדוֹשׁ לְיַחֵד אוֹתוֹ יִחוּד שָׁלֵם כָּרָאוּי. וְהָרֹעִים פָּשְׁעוּ בִי – אֵלֶּה הֵם גְּדוֹלֵי הָעַמִּים, שֶׁהֲרֵי רוֹעִים אֶת הָעָם כְּמוֹ רוֹעֶה שֶׁמַּנְהִיג אֶת צֹאנוֹ.
123. וְאֵלֶּה הֵם שָׁלֹשׁ דְּרָגוֹת שֶׁצְּרִיכוֹת תָּמִיד לְהִמָּצֵא עַל הַקָּרְבָּן לִמְצֹא רָצוֹן לְמַעְלָה וּלְמַטָּה וְשֶׁיִּמָּצְאוּ בְרָכוֹת בְּכָל הָעוֹלָמוֹת. הַכֹּהֵן מַקְרִיב קָרְבָּן, וּמִתְכַּוֵּן לְיַחֵד אֶת הַשֵּׁם הַקָּדוֹשׁ כָּרָאוּי וּלְעוֹרֵר אֶת הַצַּד שֶׁלּוֹ, וְהַלְוִיִּם מִתְכַּוְּנִים בַּשִּׁיר לְעוֹרֵר אֶת הַצַּד שֶׁלָּהֶם וּלְהִכָּלֵל בְּצִדּוֹ שֶׁל הַכֹּהֵן, וְיִשְׂרָאֵל מְכַוֵּן לִבּוֹ וּרְצוֹנוֹ לִתְשׁוּבָה שְׁלֵמָה וְנִכְנָע לִפְנֵי הַמֶּלֶךְ הַקָּדוֹשׁ, וְזֶה נוֹטֵל הַכֹּל וּמִתְכַּפֵּר חֶטְאוֹ, וְנִמְצֵאת שִׂמְחָה בָּעֶלְיוֹנִים וּבַתַּחְתּוֹנִים.
.
Zohar Tzav
#122
Jeremiah 2:8
"הַכֹּהֲנִים לֹא אָמְרוּ אַיֵּה יְהוָה וְתֹפְשֵׂי הַתּוֹרָה לֹא יְדָעוּנִי וְהָרֹעִים פָּשְׁעוּ בִי וְהַנְּבִיאִים נִבְּאוּ בַבַּעַל וְאַחֲרֵי לֹא יוֹעִלוּ הָלָכוּ."
"The priests did not say, 'Where is YHVH?' And those who handle the law (Torah) did not know Me; The rulers also transgressed against Me; The prophets prophesied by Baal, And walked after things that did not profit."
Rabbi Yitzchak quotes this verse and explains that the priests are those who serve the great priesthood. They bring the holiness to its place and make the proper unifications for everything they do.
'Those who handle the law (Torah)' are the Levites that play the musical instruments from the side of the Torah. The Torah was given from the side of the Levite, which is Left. they praise the Holy King to make proper unifications.
'The shepherds also transgressed against Me' are the rulers of the people that lead them like a shepherd leads his flock.
#123
For the offering to be accepted above the sacrifice should be connected to the Right, Left, and Center columns so blessings can come down to the world.
The priest brings the sacrifice and meditates to unify the Holy Name with his Right side which is Chessed. The Levites with their singing, awaken their side that is the Left, Gevurah, and connect to the priests on the Right.
Israel is the shepherds, on the Center, Tiferet, set their minds and hearts to have complete repentance. They submit to the Holy King that takes everything and their transgression is atoned. This brings happiness to the upper and lower worlds.
{||}