Daily Zohar # 4074 – Beresheet – The garden of nuts
Daily Zohar 4074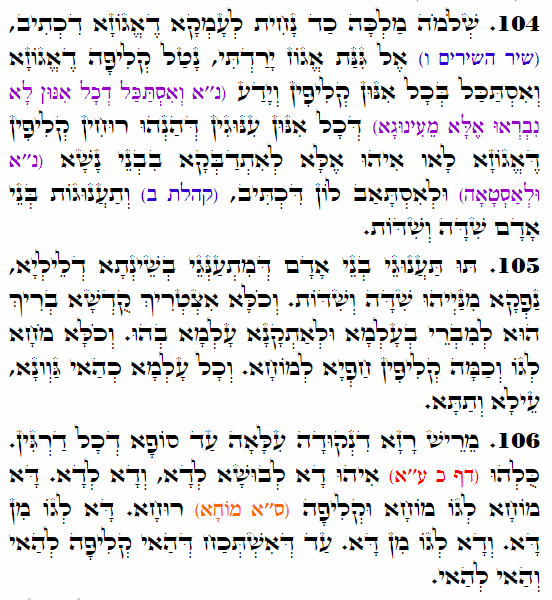 Hebrew translation:
104. שְׁלֹמֹה הַמֶּלֶךְ, כְּשֶׁיָּרַד לְעֹמֶק הָאֱגוֹז, שֶׁכָּתוּב (שיר ו) אֶל גִּנַּת אֱגוֹז יָרַדְתִּי, לָקַח קְלִפַּת אֱגוֹז וְהִסְתַּכֵּל בְּכָל אוֹתָן קְלִפּוֹת, וְיָדַע [נ"א וְהִסְתַּכֵּל שֶׁכָּל אוֹתָם לֹא נִבְרְאוּ אֶלָּא מֵעִנּוּג] שֶׁכָּל אוֹתָם עִנּוּגִים שֶׁל אוֹתָם רוּחוֹת קְלִפּוֹת הָאֱגוֹז אֵינוֹ אֶלָּא רַק לְהִדָּבֵק בִּבְנֵי אָדָם [נ"א וְלַהֲסִיתָם] וּלְטַמֵּא אוֹתָם, שֶׁכָּתוּב (קהלת ב) וְתַעֲנֻגוֹת בְּנֵי הָאָדָם שִׁדָּה וְשִׁדּוֹת.
105. עוֹד, תַּעֲנוּגֵי בְּנֵי אָדָם שֶׁמִּתְעַנְּגִים בִּשְׁנַת הַלַּיְלָה יוֹצֵא מֵהֶם שִׁדָּה וְשִׁדּוֹת, וְהַכֹּל הִצְטָרֵךְ הַקָּדוֹשׁ בָּרוּךְ הוּא לִבְרֹא בָּעוֹלָם וּלְהַתְקִין בָּהֶם אֶת הָעוֹלָם, וְהַכֹּל מֹחַ מִבִּפְנִים, וְכַמָּה קְלִפּוֹת חוֹפוֹת עַל הַמֹּחַ. וְכָל עוֹלָם כְּמוֹ זֶה, מַעְלָה וּמַטָּה.
106. מֵרֹאשׁ סוֹד הַנְּקֻדָּה הָעֶלְיוֹנָה עַד סוֹף כָּל הַדְּרָגוֹת. כֻּלָּם הֵם זֶה לְבוּשׁ לָזֶה, וְזֶה לָזֶה. זֶה מֹחַ לְתוֹךְ מֹחַ וּקְלִפָּה רוּחַ. זֶה לִפְנִים מִזֶּה, וְזֶה לִפְנִים מִזֶּה, עַד שֶׁנִּמְצָא שֶׁזֶּה קְלִפָּה לָזֶה וְזֶה לָזֶה.
.
Zohar Beresheet
Continued from previous DZ
#104
Songs 6:11
"אֶל גִּנַּת אֱגוֹז יָרַדְתִּי לִרְאוֹת בְּאִבֵּי הַנָּחַל לִרְאוֹת הֲפָרְחָה הַגֶּפֶן הֵנֵצוּ הָרִמֹּנִים."
"I went down to the garden of nuts To see the verdure of the valley, To see whether the vine had budded And the pomegranates had bloomed."
When King Solomon went down to the depth of the secret of the garden of nuts אגוז, he took a nut's shell (literally קליפה Klipa) and looked at all the shells (Kilpot) in it. He could see the spirits in the nut shells (Klipot) that were made from demons clinging to and drawing pleasure from humans. They do that by infecting and defiling people.
The scripture is written in a way that is translated incorrectly, but the Zohar tells us the way to read this verse.
Ecclesiastes 2:8 "וְתַעֲנוּגֹת בְּנֵי הָאָדָם שִׁדָּה וְשִׁדּוֹת" "the pleasures of demons come from humans".
#105
The interpretation of the scripture tells that during the night's sleep, the unholy pleasures of men cause demons to be born.
The Holy One, Blessed be He, created everything in the world, including the Klipot mentioned above, to use them for the corrections of the world.
Everything is like a nut, its essence is inside, and many shells surround it. Similarly, all the worlds are in this way, and like the nut, the essence is inner and the Klipot surrounding it, above and below, meaning the same way in the supernal worlds and in our world.
#106
From the secret beginning of the highest point, which is Arich Anpin, to the bottom of all the levels, they are all, one inside the other, and we find that each is a Klipa (Shell) for the other. Klipa, Shell, means exteriority and clothing, like the shell/skin that covers the fruit.
{||}