Daily Zohar – Tikunim – #578 – And there was evening and there was morning, one day
Click here to listen to the Daily Zohar [audio:https://dailyzohar.com/wp-content/uploads/audio/dz578.mp3|titles=Daily Zohar 578]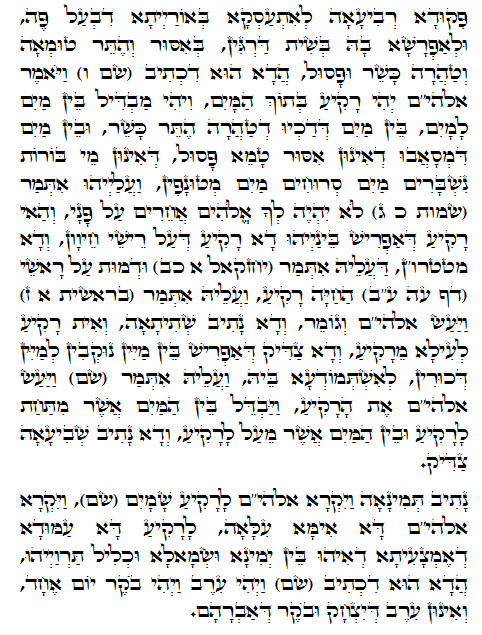 Hebrew translation:
מִצְוָה רְבִיעִית – לְהִתְעַסֵּק בַּתּוֹרָה שֶׁבְּעַל פֶּה וּלְהַפְרִיד בָּהֶם בְּשֵׁשׁ דְּרָגוֹת, בְּאִסּוּר וְהֶתֵּר, טֻמְאָה וְטָהֳרָה, כָּשֵׁר וּפָסוּל. זֶהוּ שֶׁכָּתוּב וַיֹּאמֶר אֱלֹהִי"ם יְהִי רָקִיעַ בְּתוֹךְ הַמָּיִם וִיהִי מַבְדִּיל בֵּין מַיִם לָמָיִם, בֵּין מַיִם שֶׁל טָהֳרָה הֶתֵּר כָּשֵׁר, וּבֵין מַיִם שֶׁל טֻמְאָה, שֶׁהֵם אָסוּר טָמֵא פָּסוּל, שֶׁהֵם מֵי בוֹרוֹת נִשְׁבָּרִים, מַיִם סְרוּחִים, מַיִם מְטֻנָּפִים, וַעֲלֵיהֶם נֶאֱמַר לֹא יִהְיֶה לְךָ אֱלֹהִים אֲחֵרִים עַל פָּנָי, וְהָרָקִיעַ הַזֶּה שֶׁמַּבְדִּיל בֵּינֵיהֶם, זֶה הָרָקִיעַ שֶׁעַל רָאשֵׁי הַחַיּוֹת, וְזֶה מטטרו"ן, שֶׁעָלָיו נֶאֱמַר וּדְמוּת עַל רָאשֵׁי הַחַיָּה רָקִיעַ, וְעָלָיו נֶאֱמַר וַיַּעַשׂ אֱלֹהִי"ם וְגוֹמֵר, וְזֶה הַנָּתִיב הַשִּׁשִּׁי, וְיֵשׁ רָקִיעַ מֵעַל לָרָקִיעַ, וְזֶה הַצַּדִּיק שֶׁמַּפְרִיד בֵּין מַיִם נְקֵבִיִּים לְמַיִם זְכָרִיִּים לְהִוָּדַע בּוֹ, וְעָלָיו נֶאֱמַר וַיַּעַשׂ אֱלֹהִי"ם אֶת הָרָקִיעַ, וַיַּבְדֵּל בֵּין הַמַּיִם אֲשֶׁר מִתַּחַת לָרָקִיעַ וּבֵין הַמַּיִם אֲשֶׁר מֵעַל לָרָקִיעַ, וְזֶה הַנָּתִיב הַשְּׁבִיעִי – צַדִּיק.
הַנָּתִיב הַשְּׁמִינִי, וַיִּקְרָא אֱלֹהִי"ם לָרָקִיעַ שָׁמָיִם. וַיִּקְרָא אֱלֹהִי"ם – זוֹ הָאֵם הָעֶלְיוֹנָה, לָרָקִיעַ – זֶה הָעַמּוּד הָאֶמְצָעִי, שֶׁהוּא בֵּין יָמִין וּשְׂמֹאל וְכוֹלֵל אֶת שְׁנֵיהֶם. זֶהוּ שֶׁכָּתוּב וַיְהִי עֶרֶב וַיְהִי בֹקֶר יוֹם אֶחָד, וְהֵם הָעֶרֶב שֶׁל יִצְחָק וְהַבֹּקֶר שֶׁל אַבְרָהָם.
Tikkun 30 – 21
Studying the deeper levels of the Torah gives us the ability to understand the differences between good and bad. This is the aspect of what is said in Genesis 1:7
"וַיַּעַשׂ אֱלֹהִים, אֶת-הָרָקִיעַ, וַיַּבְדֵּל בֵּין הַמַּיִם אֲשֶׁר מִתַּחַת לָרָקִיעַ, וּבֵין הַמַּיִם אֲשֶׁר מֵעַל לָרָקִיעַ; "
"And God made the firmament, and divided the waters which were under the firmament from the waters which were above the firmament;"
The righteous actions of separating right from wrong, pure from impure, give us the ability to ascend spiritually and reach levels of understanding above the physical levels.
This binds the right and left columns in balance and brings unity and completion as it said in Genesis 1:5 "וַיְהִי-עֶרֶב וַיְהִי-בֹקֶר, יוֹם אֶחָד "
"And there was evening and there was morning, one day"
Evening is the aspect of Isaac and the Left Column, morning is Abraham and the Right Column. Together they are "One Day", which represents the whole system as one.
{||}