Daily Zohar – Tikunim – #596 – And there was evening and there was morning, one thousand years
Click here to listen to the Daily Zohar [audio:https://dailyzohar.com/wp-content/uploads/audio/dz596.mp3|titles=Daily Zohar 596]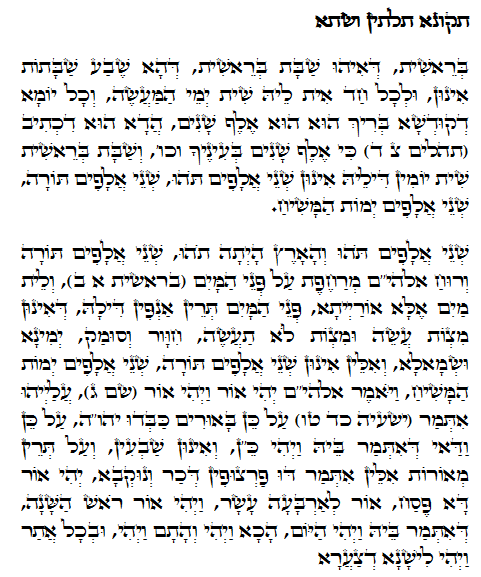 Hebrew translation:
תִּקּוּן שְׁלֹשִׁים וְשִׁשָּׁה
בְּרֵאשִׁית, שֶׁהוּא שַׁבַּת בְּרֵאשִׁית, שֶׁהֲרֵי שֶׁבַע שַׁבָּתוֹת הֵן, וּלְכָל אַחַת יֵשׁ לוֹ שִׁשָּׁה יְמֵי הַמַּעֲשֶׂה, וְכָל יוֹם שֶׁל הַקָּדוֹשׁ בָּרוּךְ הוּא הוּא אֶלֶף שָׁנִים, זֶהוּ שֶׁכָּתוּב כִּי אֶלֶף שָׁנִים בְּעֵינֶיךָ וְכוּ'. וְשַׁבַּת בְּרֵאשִׁית שֵׁשֶׁת הַיָּמִים שֶׁלּוֹ הֵם שְׁנֵי אֲלָפִים תֹּהוּ, שְׁנֵי אֲלָפִים תּוֹרָה, שְׁנֵי אֲלָפִים יְמוֹת הַמָּשִׁיחַ.
שְׁנֵי אֲלָפִים תֹּהוּ – וְהָאָרֶץ הָיְתָה תֹהוּ, שְׁנֵי אֲלָפִים תּוֹרָה – וְרוּחַ אֱלֹהִי"ם מְרַחֶפֶת עַל פְּנֵי הַמָּיִם, וְאֵין מַיִם אֶלָּא תוֹרָה, פְּנֵי הַמָּיִם – שְׁנֵי הַפָּנִים שֶׁלָּהּ, שֶׁהֵן מִצְווֹת עֲשֵׂה וּמִצְווֹת לֹא תַעֲשֶׂה, לָבָן וְאָדֹם, יָמִין וּשְׂמֹאל, וְאֵלֶּה הֵם שְׁנֵי אֲלָפִים תּוֹרָה, שְׁנֵי אֲלָפִים יְמוֹת הַמָּשִׁיחַ. וַיֹּאמֶר אֱלֹהִי"ם יְהִי אוֹר וַיְהִי אוֹר, עֲלֵיהֶם נֶאֱמַר עַל כֵּן בָּאוּרִים כַּבְּדוּ יהו"ה, עַל כֵּן וַדַּאי, שֶׁנֶּאֱמַר בּוֹ וַיְהִי כֵ"ן, וְהֵם שִׁבְעִים, וְעַל שְׁנֵי הַמְּאוֹרוֹת הַלָּלוּ נֶאֱמַר דּוּ פַּרְצוּפִים זָכָר וּנְקֵבָה. יְהִי אוֹר – זֶה פֶּסַח, אוֹר לְאַרְבָּעָה עָשָׂר, וַיְהִי אוֹר – רֹאשׁ הַשָּׁנָה, שֶׁנֶּאֱמַר בּוֹ וַיְהִי הַיּוֹם, כָּאן וַיְהִי וְשָׁם וַיְהִי, וּבְכָל מְקוֹם וַיְהִי לְשׁוֹן צַעַר.
Tikkun 36 – 1
בְּרֵאשִׁית, "In the Beginning", is the first Shabbat
Psalms 90:4
"כִּי אֶלֶף שָׁנִים, בְּעֵינֶיךָ כְּיוֹם אֶתְמוֹל, כִּי יַעֲבֹר "
"For a thousand years in your eyes are but as yesterday when it is past "
Every day of the Holy One, Bless be He, is considered as thousand years. The first six days of Creation are divided as two thousands years of 'unformed' as the aspect of "Now the earth was unformed " from Genesis 1:2 . The next two thousand are Torah and the aspect of "And the spirit of God hovered over the face of the waters ". The fifth and six thousand are days of Mashiach and the aspect of "And God said: 'Let there be light.' And there was light " (Genesis 1:3).
{||}