Daily Zohar – Tikunim – # 624 – The sun of righteousness
Click here to listen to the Daily Zohar [audio:https://dailyzohar.com/wp-content/uploads/audio/dz624.mp3|titles=Daily Zohar 624]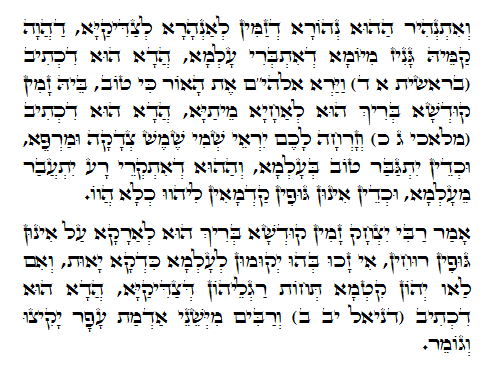 Hebrew translation:
וּמֵאִיר אוֹתוֹ הָאוֹר שֶׁעָתִיד לְהָאִיר לַצַּדִּיקִים, שֶׁהָיָה גָנוּז לְפָנָיו מִיּוֹם שֶׁנִּבְרָא הָעוֹלָם, זֶהוּ שֶׁכָּתוּב וַיַּרְא אֱלֹהִים אֶת הָאוֹר כִּי טוֹב, בּוֹ עָתִיד הַקָּדוֹשׁ בָּרוּךְ הוּא לְהַחֲיוֹת מֵתִים, זֶהוּ שֶׁכָּתוּב וְזָרְחָה לָכֶם יִרְאֵי שְׁמִי שֶׁמֶשׁ צְדָקָה וּמַרְפֵּא, וְאָז יִתְגַּבֵּר הַטּוֹב בָּעוֹלָם, וְאוֹתוֹ שֶׁנִּקְרָא רָע יַעֲבֹר מִן הָעוֹלָם, וְאָז אוֹתָם גּוּפוֹת רִאשׁוֹנִים יִהְיוּ כְלֹא הָיוּ.
אָמַר רַבִּי יִצְחָק: עָתִיד הַקָּדוֹשׁ בָּרוּךְ הוּא לְהָרִיק עַל אוֹתָם גּוּפוֹת רוּחוֹת. אִם זָכוּ בָהֶם, יָקוּמוּ לְעוֹלָם כָּרָאוּי, וְאִם לֹא, יִהְיוּ אֵפֶר תַּחַת רַגְלֵי הַצַּדִּיקִים. זֶהוּ שֶׁכָּתוּב וְרַבִּים מִיְּשֵׁנֵי אַדְמַת עָפָר יָקִיצוּ וְגוֹמֵר.
Tikkun 40 – 10
(continue from previous Daily zohar)
Malachi 3:20
"וְזָרְחָה לָכֶם יִרְאֵי שְׁמִי, שֶׁמֶשׁ צְדָקָה, וּמַרְפֵּא, בִּכְנָפֶיהָ "
"But unto you that fear (with awe) My name shall the sun of righteousness arise with healing in its wings…"
This verse describes the light that will bring the resurrection and healing in the time of the Final Redemption. The Zohar tells us that the light that will shine on the worthy people will be the one that was revealed and concealed on the day of Creation. It is hidden in the verse (Genesis 1:4) "וַיַּרְא אֱלֹהִים אֶת-הָאוֹר, כִּי-טוֹב ", "And God saw the light that it was good."
That pure light will increase in the world and all negativity will be removed. All the bodies that were used for negativity without being corrected will become as if they did not exist.
Daniel 12:2,3 "וְרַבִּים, מִיְּשֵׁנֵי אַדְמַת-עָפָר יָקִיצוּ; אֵלֶּה לְחַיֵּי עוֹלָם, וְאֵלֶּה לַחֲרָפוֹת לְדִרְאוֹן עוֹלָם "
"And many of them that sleep in the dust of the earth shall awake, some to everlasting life, and some to reproaches and everlasting abhorrence"
The righteous people are considered as 'sleepers in the dust' because they will wake up in the resurrection time.
"וְהַמַּשְׂכִּלִים–יַזְהִרוּ, כְּזֹהַר הָרָקִיעַ; וּמַצְדִּיקֵי, הָרַבִּים, כַּכּוֹכָבִים, לְעוֹלָם וָעֶד "
"And they that are wise shall shine as the brightness (Zohar) of the firmament; and they that turn the many to righteousness as the stars for ever and ever."
The Kabbalists are considered as the wise. The word for Zohar in Hebrew appears twice in this verse.
The level above the people that follow the Zohar are those "that turn the many to righteousness".
Keep studying and sharing the Zohar.
{||}