Daily Zohar – Tikunim – # 648 – Shabbat – What do you wish for?
Click here to listen to the Daily Zohar [audio:https://dailyzohar.com/wp-content/uploads/audio/dz648.mp3|titles=Daily Zohar 648]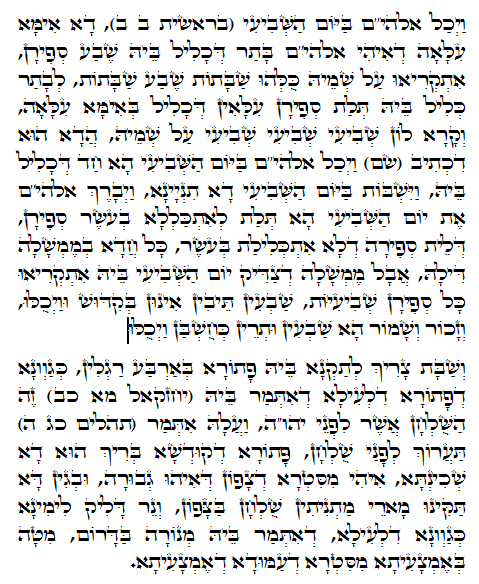 Hebrew translation:
וַיְכַל אֱלֹהִי"ם בַּיּוֹם הַשְּׁבִיעִי, זוֹ הָאֵם הָעֶלְיוֹנָה שֶׁהִיא אֱלֹהִי"ם. אַחַר שֶׁכָּלַל בּוֹ שֶׁבַע סְפִירוֹת, נִקְרְאוּ עַל שְׁמוֹ כָּל הַשַּׁבָּתוֹת שֶׁבַע שַׁבָּתוֹת, אַחַר כָּךְ כּוֹלֵל בּוֹ שָׁלֹשׁ סְפִירוֹת עֶלְיוֹנוֹת שֶׁכְּלוּלוֹת בָּאֵם הָעֶלְיוֹנָה, וְקוֹרֵא לָהֶם שְׁבִיעִי שְׁבִיעִי שְׁבִיעִי עַל שְׁמוֹ. זֶהוּ שֶׁכָּתוּב וַיְכַל אֱלֹהִי"ם בַּיּוֹם הַשְּׁבִיעִי, הִנֵּה אֶחָד שֶׁכָּלוּל בּוֹ, וַיִּשְׁבּוֹת בַּיּוֹם הַשְּׁבִיעִי – זֶה הַשֵּׁנִי, וַיְבָרֶךְ אֱלֹהִי"ם אֶת יוֹם הַשְּׁבִיעִי – הֲרֵי שָׁלֹשׁ, לְהִכָּלֵל בְּעֶשֶׂר סְפִירוֹת, שֶׁאֵין סְפִירָה שֶׁלֹּא נִכְלֶלֶת בָּעֶשֶׂר, כָּל אַחַת בְּמֶמְשַׁלְתָּהּ, אֲבָל מֶמְשֶׁלֶת הַצַּדִּיק הַיּוֹם הַשְּׁבִיעִי, בּוֹ נִקְרְאוּ כָּל הַסְּפִירוֹת הַשְּׁבִיעִיּוֹת, שִׁבְעִים תֵּבוֹת הֵן בַּקִּדּוּשׁ וּוַיְכֻלּוּ, וְזָכוֹר וְשָׁמוֹר הֲרֵי שִׁבְעִים וּשְׁתַּיִם כְּחֶשְׁבּוֹן וַיְכֻלּוּ.
וּבְשַׁבָּת צָרִיךְ לְתַקֵּן שֻׁלְחָן עִם אַרְבַּע רַגְלַיִם, כְּמוֹ הַשֻּׁלְחָן שֶׁלְּמַעְלָה, שֶׁנֶּאֱמַר בּוֹ זֶה הַשֻּׁלְחָן אֲשֶׁר לִפְנֵי יהו"ה, וְעָלֶיהָ נֶאֱמַר תַּעֲרֹךְ לְפָנַי שֻׁלְחָן, שֻׁלְחָנוֹ שֶׁל הַקָּדוֹשׁ בָּרוּךְ הוּא זוֹ הַשְּׁכִינָה, הִיא מִצַּד הַצָּפוֹן שֶׁהוּא גְבוּרָה, וּמִשּׁוּם זֶה תִּקְּנוּ בַּעֲלֵי הַמִּשְׁנָה שֻׁלְחָן בַּצָּפוֹן, וְנֵר דּוֹלֵק לְיָמִין כְּמוֹ שֶׁלְּמַעְלָה, שֶׁנֶּאֱמַר בּוֹ מְנוֹרָה בַדָּרוֹם, מִטָּה בָאֶמְצַע מִצַּד הָעַמּוּד הָאֶמְצָעִי.
Tikkun 47 – 9
Genesis 2:2
"וַיְכַל אֱלֹהִים בַּיּוֹם הַשְּׁבִיעִי, מְלַאכְתּוֹ אֲשֶׁר עָשָׂה; וַיִּשְׁבֹּת בַּיּוֹם הַשְּׁבִיעִי, מִכָּל-מְלַאכְתּוֹ אֲשֶׁר עָשָׂה "
"And on the seventh day God finished His work which He had made; and He rested on the seventh day from all His work which He had made "
This verse describes the completion of the process on the seventh day and the establishment of the seven Sefirot.
Genesis 2:3
"וַיְבָרֶךְ אֱלֹהִים אֶת-יוֹם הַשְּׁבִיעִי, וַיְקַדֵּשׁ אֹתוֹ: כִּי בוֹ שָׁבַת מִכָּל-מְלַאכְתּוֹ, אֲשֶׁר-בָּרָא אֱלֹהִים לַעֲשׂוֹת"
"And God blessed the seventh day, and hallowed it; because that in it He rested from all His work which God in creating had made. "
With the blessing of the Seventh day, God connected the lower seven Sefirot with the upper three to give us a complete connection to the Ten Sefirot on Shabbat.
Everything we do on Shabbat affects the coming week. The important actions that we should do on the seventh day are receiving the Shabbat on Friday Night, listening to the Torah on Shabbat morning and in the afternoon, eating three meals and studying Zohar.
Studying the Zohar on Shabbat for one hour has the value of thousand hours of study during the weekdays. The highest level is on Shabbat afternoon. It is the time when God decided to create the world. The Zohar is the ultimate tool that connects us to the spiritual opening on that time.
All personal wishes that have the purpose and benefit for others can be injected in your meditation at this time. You can also ask Rabbi Shimon to help you with understanding the spiritual system and your personal tikkun.
{||}