Click here to listen to the Daily Zohar [audio:https://dailyzohar.com/wp-content/uploads/audio/dz673.mp3|titles=Daily Zohar 673]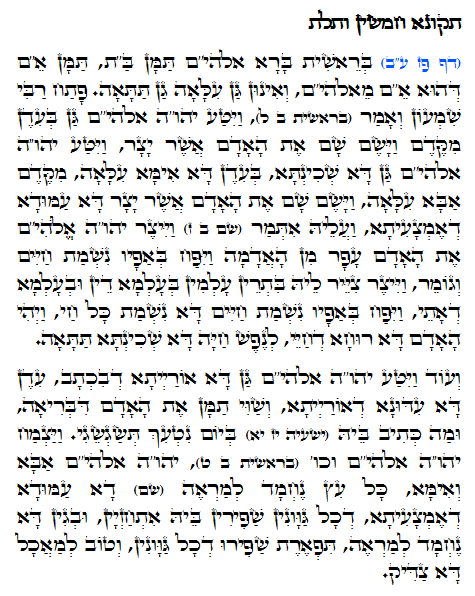 Hebrew translation:
תִּקּוּן חֲמִשִּׁים וּשְׁלֹשָׁה
בְּרֵאשִׁית בָּרָא אֱלֹהִי"ם שָׁם בַּ"ת, שָׁם אֵ"ם, שֶׁהוּא אֵ"ם מֵאֱלֹהִי"ם, וְהֵם הַגָּן הָעֶלְיוֹן וְהַגָּן הַתַּחְתּוֹן. פָּתַח רַבִּי שִׁמְעוֹן וְאָמַר: וַיִּטַּע יהו"ה אֱלֹהִי"ם גַּן בְּעֵדֶן מִקֶּדֶם וַיָּשֶׂם שָׁם אֶת הָאָדָם אֲשֶׁר יָצָר. וַיִּטַּע יהו"ה אֱלֹהִי"ם גַּן – זוֹ הַשְּׁכִינָה, בְּעֵדֶן – זוֹ הָאֵם הָעֶלְיוֹנָה, מִקֶּדֶם – הָאָב הָעֶלְיוֹן, וַיָּשֶׂם שָׁם אֶת הָאָדָם אֲשֶׁר יָצָר – זֶה הָעַמּוּד הָאֶמְצָעִי, וְעָלָיו נֶאֱמַר וַיִּיצֶר יהו"ה אֱלֹהִי"ם אֶת הָאָדָם עָפָר מִן הָאֲדָמָה וַיִּפַּח בְּאַפָּיו נִשְׁמַת חַיִּים וְגוֹמֵר. וַיִּיצֶר, צִיֵּר אוֹתוֹ בִּשְׁנֵי עוֹלָמוֹת, בָּעוֹלָם הַזֶּה וּבָעוֹלָם הַבָּא, וַיִּפַּח בְּאַפָּיו נִשְׁמַת חַיִּים – זוֹ נִשְׁמַת כָּל חַי, וַיְהִי הָאָדָם – זוֹ רוּחַ הַחַיִּים, לְנֶפֶשׁ חַיָּה – זוֹ הַשְּׁכִינָה הַתַּחְתּוֹנָה.
וְעוֹד, וַיִּטַּע יהו"ה אֱלֹהִי"ם גַּן – זוֹ תּוֹרָה שֶׁבִּכְתָב, עֵדֶן – זֶה עִדּוּן הַתּוֹרָה, וְשָׂם שָׁם אֶת הָאָדָם שֶׁל בְּרִיאָה, וּמַה כָּתוּב בּוֹ? בְּיוֹם נִטְעֵךְ תְּשַׂגְשֵׂגִי. וַיַּצְמַח יהו"ה אֱלֹהִי"ם וְכוּ', יהו"ה אֱלֹהִי"ם – אָב וָאֵם, כָּל עֵץ נֶחְמָד לְמַרְאֶה – זֶה הָעַמּוּד הָאֶמְצָעִי, שֶׁכָּל הַגְּוָנִים הַיָּפִים נִרְאִים בּוֹ, וּמִשּׁוּם זֶה נֶחְמָד לְמַרְאֶה, תִּפְאֶרֶת – הַיֹּפִי שֶׁל כָּל הַגְּוָנִים, וְטוֹב לְמַאֲכָל – זֶה צַדִּיק.
Tikkun 53 – 1
In בְּרֵאשִׁית בָּרָא אֱלֹהִי"ם, "In the beginning God created…" we find בת ו אם, the letters for Daughter and mother.
The beginning of Creation started with the Shechina at the lower levels and the Supernal Mother, which is Binah. Both share the letter Hה from the name as a vessel to carry the light and continue it.
Genesis 2:7
"וַיִּיצֶר יְהוָה אֱלֹהִים אֶת-הָאָדָם, עָפָר מִן-הָאֲדָמָה, וַיִּפַּח בְּאַפָּיו, נִשְׁמַת חַיִּים; וַיְהִי הָאָדָם, לְנֶפֶשׁ חַיָּה"
"Then YHVH God formed man of the dust of the ground, and breathed into his nostrils the breath of life; and man became a living soul."
God formed the man on two levels: spiritual, which is upper and physical, which is lower. The spiritual is the image of God as the Tree of Life system and the physical appearance is what is held together and maintained by the blood system.
The Garden of Eden was created for man as connection between the spiritual and physical. It is the aspect of the Torah that keeps the two aspects of existence together.
{||}