Daily Zohar – Tikunim – # 880 – It's all good
Click here to listen to the Daily Zohar [audio:https://dailyzohar.com/wp-content/uploads/audio/dz880.mp3|titles=Daily Zohar 880]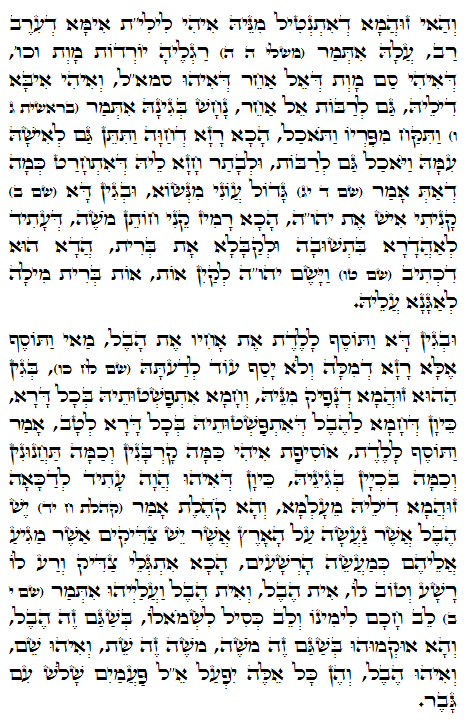 Hebrew translation:
וְהַזֻּהֲמָה הַזּוֹ שֶׁנִּטְּלָה מִמֶּנּוּ הִיא לִילִי"ת, אִמָּם שֶׁל הָעֵרֶב רַב, עָלֶיהָ נֶאֱמַר רַגְלֶיהָ יֹרְדוֹת מָוֶת וְכוּ', שֶׁהִיא סַם הַמָּוֶת שֶׁל אֵל אַחֵר שֶׁהוּא סמא"ל, וְהִיא הַפְּרִי שֶׁלּוֹ, גַּם – לְרַבּוֹת אֵל אַחֵר, הַנָּחָשׁ, בִּגְלָלָהּ נֶאֱמַר וַתִּקַּח מִפִּרְיוֹ וַתֹּאכַל. כָּאן הַסּוֹד שֶׁל חַוָּה, וַתִּתֵּן גַּם לְאִישָׁהּ עִמָּהּ וַיֹּאכַל, גַּם – לְרַבּוֹת, וְאַחַר כָּךְ רָאָה אוֹתוֹ שֶׁהִתְחָרֵט, כְּמוֹ שֶׁנֶּאֱמַר גָּדוֹל עֲוֹנִי מִנְּשׂוֹא, וּבִשְׁבִיל זֶה קָנִיתִי אִישׁ אֶת יהו"ה. כָּאן רֶמֶז קֵינִי חוֹתֵן מֹשֶׁה שֶׁעָתִיד לַחֲזֹר בִּתְשׁוּבָה וּלְקַבֵּל אוֹת הַבְּרִית. זֶהוּ שֶׁכָּתוּב וַיָּשֶׂם יהו"ה לְקַיִן אוֹת, אוֹת בְּרִית מִילָה לְהָגֵן עָלָיו.
וּמִשּׁוּם זֶה וַתּוֹסֶף לָלֶדֶת אֶת אָחִיו אֶת הָבֶל, מַה זֶּה וַתּוֹסֶף? אֶלָּא סוֹד הַדָּבָר – וְלֹא יָסַף עוֹד לְדַעְתָּהּ, בִּגְלַל אוֹתָהּ זֻהֲמָה שֶׁיָּצְאָה מִמֶּנּוּ, וְרָאָה הִתְפַּשְּׁטוּתוֹ בְּכָל דּוֹר. כֵּיוָן שֶׁרָאָה אֶת הֶבֶל, שֶׁהִתְפַּשְּׁטוּתוֹ בְּכָל דּוֹר לְטוֹב, אָמַר וַתּוֹסֶף לָלֶדֶת, הִיא הוֹסִיפָה כַּמָּה קָרְבָּנוֹת וְכַמָּה תַחֲנוּנִים וְכַמָּה בְכִיּוֹת בִּשְׁבִילוֹ, כֵּיוָן שֶׁהוּא הָיָה עָתִיד לְטַהֵר אֶת הַזֻּהֲמָה שֶׁלּוֹ מִן הָעוֹלָם, וַהֲרֵי קֹהֶלֶת אָמַר יֶשׁ הֶבֶל אֲשֶׁר נַעֲשָׂה עַל הָאָרֶץ אֲשֶׁר יֵשׁ צַדִּיקִים אֲשֶׁר מַגִּיעַ אֲלֵיהֶם כְּמַעֲשֵׂה הָרְשָׁעִים. כָּאן הִתְגַּלָּה צַדִּיק וְרַע לוֹ רָשָׁע וְטוֹב לוֹ, יֵשׁ הֶבֶל וְיֵשׁ הֶבֶל, וַעֲלֵיהֶם נֶאֱמַר לֵב חָכָם לִימִינוֹ וְלֵב כְּסִיל לִשְׂמֹאלוֹ, בְּשַׁגַּם זֶה הֶבֶל, וַהֲרֵי פֵּרְשׁוּהוּ בְּשַׁגַּם זֶה מֹשֶׁה, מֹשֶׁה זֶה שֵׁת, וְהוּא שֵׁם, וְהוּא הֶבֶל, וְהֶן כָּל אֵלֶּה יִפְעַל אֵ"ל פַּעֲמַיִם שָׁלוֹשׁ עִם גָּבֶר.
Tikkun 69 – 120
Esther 4:1
"וּמָרְדֳּכַי, יָדַע אֶת-כָּל-אֲשֶׁר נַעֲשָׂה "
"And Mordecai knew all that was done…"
The Zohar explains that there is another aspect of 'Knowledge' and it is the light that is given to see events beyond time and space.
Adam Knew Eve and could see the future generations. Mordechai, with his higher and pure connection, knew what was Haman's plan and prepared himself for it.
When Adam 'knew' Eve he saw the future generations. He saw Cain corrected in the reincarnation of Jethro when he came to Moses and converted. He saw that Abel will correct all of his (Adam's) sins.
Abel being killed by Cain revealed the aspect of "Righteous and suffer, evil and live in good"
Ecclesiastes 8:14
" יֶשׁ-הֶבֶל, אֲשֶׁר נַעֲשָׂה עַל-הָאָרֶץ, אֲשֶׁר יֵשׁ צַדִּיקִים אֲשֶׁר מַגִּיעַ אֲלֵהֶם כְּמַעֲשֵׂה הָרְשָׁעִים, וְיֵשׁ רְשָׁעִים שֶׁמַּגִּיעַ אֲלֵהֶם כְּמַעֲשֵׂה הַצַּדִּיקִים: אָמַרְתִּי, שֶׁגַּם-זֶה הָבֶל"
"There is a vanity (הבל Light) which is done upon the earth: that there are righteous men, unto whom it happeneth according to the work of the wicked; again, there are wicked men, to whom it happeneth according to the work of the righteous–I said that this also is vanity (הבל Light). "
King Solomon, who is Ecclesiastes, shares his wisdom with us and teaches us that everything happening in this world follows a bigger plan. If a righteous person suffers in this life time then it is for a good reason. We may not see it now, but it affects the outcome of the future that is always on the path of becoming good.
{||}