Click here to listen to the Daily Zohar [audio:https://dailyzohar.com/wp-content/uploads/audio/dz931.mp3|titles=Daily Zohar 931]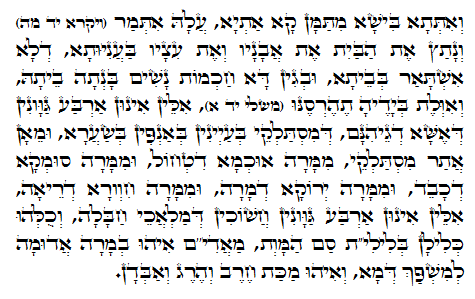 Hebrew translation:
Sorry Hebrew translation is missing from my original files.
Tikkun 70 – 36
Lilith é a fêmea do outro lado que seduz homens e drena a luz de seu vaso. Ela afeta sua casa, relacionamento e saúde.
Levítico 14:45
"וְנָתַץ אֶת – הַבַּיִת, אֶת – אֲבָנָיו וְאֶת – עֵצָיו, וְאֵת, כָּל – עֲפַר הַבָּיִת; וְהוֹצִיא אֶל – מִחוּץ לָעִיר, אֶל – מָקוֹם טָמֵא. "
"E ela derrubará a casa, as pedras, a sua madeira, e todo o reboco da casa, assim levará ela tudo para fora da cidade, num lugar imundo"
Quando o outro lado tem forte influência sobre o vaso, então a única solução para remover a negatividade é quebrá-lo. Um vaso quebrado é considerado puro, porque o vazio libera a negatividade e permite que a pessoa o reconstrua sem a negatividade que anteriormente "habitou" nele.
A impureza nos vasos afeta quatro principais órgãos do corpo, que estão relacionados com o sangue do sistema, baço, fígado, pulmões e bílis. Cada um deles está representado com uma cor diferente.
O Baço contribui com a cor preta, o Fígado com a cor vermelha, a Bile traz o verde e os Pulmões têm a cor branca.
O sistema arterial é o primeiro a ser afetado pelo lado negativo, uma vez que suporta o menor nível da alma chamado Nefesh. Desejos físicos impactam o sangue antes do cumprimento real. Isso significa que, antes de comer um alimento desejado, ou antes, de unir-se a um ente querido, temos uma reação no organismo. Controlando nossos desejos e limitando-os a ações puras traz resultados que mantêm o nosso sangue e alma em equilíbrio.