Daily Zohar – Tikunim – # 1005 -¿Hasta dónde puede brillar?
Click here to listen to the Daily Zohar [audio:https://dailyzohar.com/wp-content/uploads/audio/dz1005.mp3|titles=Daily Zohar 1005]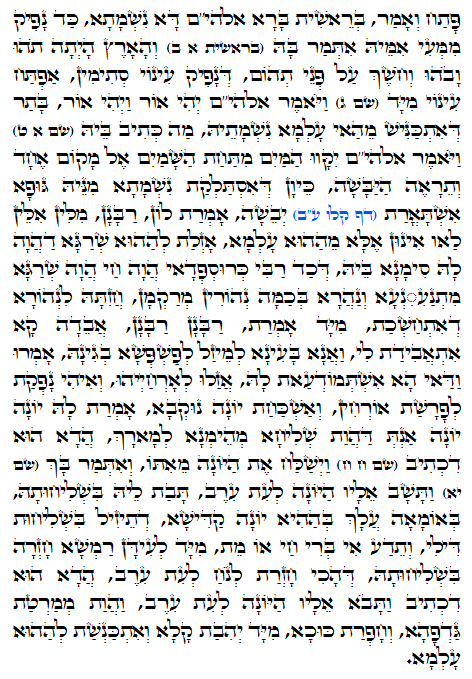 Traduccion Sebastian Palen
Tikun 70-110
(Continua desde el anterior DZ)
En la lección anterior hemos leído una historia en el Zohar sobre el rabino Shimon y amigos que vinieron a casa de la madre del rabino Kruspedai. Ella preparó la comida y velas para que estudien Torá. Se dieron cuenta de que ella no tenía conocimiento de que su hijo falleció en otro lugar y que no querían decirle y convertirse en la causa de su muerte, que podría provenir de noticias tristes.
Ella les sirvió comida y les animó a decir palabras de la Torá, ya que es parte importante de la comida. El estudio de la Torá durante la comida y antes de la bendición de la comida transforma el alimento físico en energía espiritual.
Dado que el estudio de Torá es un acto gozoso, no se permite en un lugar de luto, a menos que sea sobre el alma.
Rabí Shimon abre el estudio sobre la primera palabra de la Torá y nos revela nuevos aspectos de la misma.
"בְּרֵאשִׁית, בָּרָא אֱלֹהִים, אֵת הַשָּׁמַיִם, וְאֵת הָאָרֶץ"
"En el principio creó Dios los cielos y la tierra."
El Zohar nos dice que la palabra בְּרֵאשִׁית, (bereshit)"En el principio", es el aspecto del alma que estaba en el vientre de la madre, que es Bina, antes de la creación de los mundos inferiores.
1:2 "וְהָאָרֶץ, הָיְתָה תֹהוּ וָבֹהוּ, וְחֹשֶׁךְ, עַל – פְּנֵי תְהוֹם"
"Y la tierra estaba desolada y vacía, y las tinieblas estaban sobre la faz del abismo"
Cuando el niño nace, está en tinieblas y sin capacidad de ver el mundo que le rodea.
1:3 "וַיֹּאמֶר אֱלֹהִים, יְהִי אוֹר; וַיְהִי – אוֹר"
"Y dijo Dios: Sea la luz." Y se hizo la luz"
Entonces el niño abre los ojos y ve la luz en este mundo.
1:9 "וַיֹּאמֶר אֱלֹהִים, יִקָּווּ הַמַּיִם מִתַּחַת הַשָּׁמַיִם אֶל – מָקוֹם אֶחָד, וְתֵרָאֶה, הַיַּבָּשָׁה"
Y dijo Dios "Que se reunan las aguas que están debajo de los cielos en un lugar y que aparezca lo seco" y asi fue.
Cuando el alma abandona el mundo, es el aspecto del encuentro del agua en un lugar, dejando atrás la tierra firme, que es un estado de no vida.
Cuando la madre de Rabí Kruspedai escuchó la discusión sobre el alma, comprendió que su hijo no podía estar vivo. Ella les dijo que las velas encendidas que por lo general tienen un alcance más más amplio y brillante y de colores de la luz, ahora se apagaron.
Rabí Shimon y sus amigos se fueron, pero continuó la historia. Ella salió, encontró una paloma y la ataron con palabras sagradas de la historia del diluvio y la paloma de Noé ir y comprobar si su hijo estaba vivo o muerto. La paloma regresó en la noche tirando de sus alas y haciendo una excavación como una tumba. La madre vio que gritó de dolor y su alma abandonó el mundo.
Donde descansa Rabi Kruspedai:
[frame type="raised"]https://dailyzohar.com/wp-content/uploads/2012/09/kruspedai.jpg[/frame]
Rabí Kruspedai era un alma elevada y una gran persona justa que la luz que él revela no tuvo límites. Su madre podía decir acerca de su hijo de la luz de las velas iluminaban.
El Zohar menciona en la parte de Shelach Lejá que el rabino Kruspedai era un gran canal para la Sefirá de Yesod y se acercó a leer la Torá sólo por la lectura Sexta (Yesod) del Shabat.
Estamos muy lejos de ser justos como Rabí Kruspedai pero debemos recordar que nuestras almas tienen la habilidad de brillar a mayores distancias de que podamos imaginar. Todas nuestras acciones deben ser puras, incluso si suceden dentro a puertas cerradas.
{||}