Daily Zohar # 1109 – Pinchas – Pain or gain, who cares?
Click here to listen to the Daily Zohar [audio:https://dailyzohar.com/wp-content/uploads/pinchas/audio/dp-1109.mp3|titles=Daily Zohar 1109]
Mobile devices, please touch here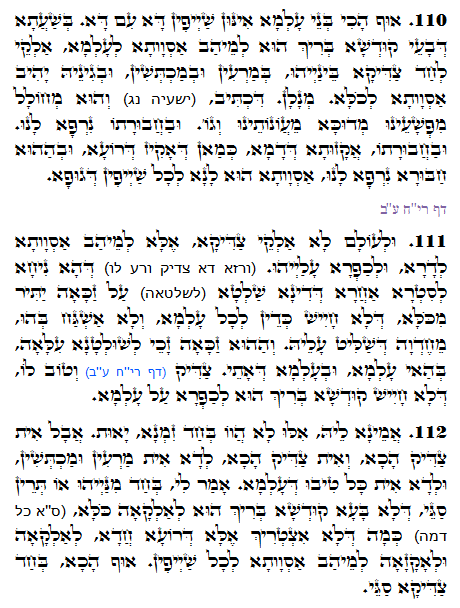 Hebrew translation:
110. גַּם כָּךְ בְּנֵי הָעוֹלָם הֵם אֵיבָרִים זֶה עִם זֶה. בְּשָׁעָה שֶׁרוֹצֶה הַקָּדוֹשׁ בָּרוּךְ הוּא לָתֵת רְפוּאָה לָעוֹלָם, מַלְקֶה צַדִּיק אֶחָד בֵּינֵיהֶם בְּמַחֲלוֹת וּמַכּוֹת, וּבִגְלָלוֹ נוֹתֵן רְפוּאָה לַכֹּל. מִנַּיִן לָנוּ? שֶׁכָּתוּב (ישעיה נג) וְהוּא מְחֹלָל מִפְּשָׁעֵינוּ מְדֻכָּא מֵעֲוֹנֹתֵינוּ וְגוֹ', וּבַחֲבֻרָתוֹ נִרְפָּא לָנוּ. וּבַחֲבֻרָתוֹ – הַקָּזַת דָּם, כְּמוֹ מִי שֶׁמַּקִּיז זְרוֹעַ, וּבְאוֹתָהּ חֲבוּרָה נִרְפָּא לָנוּ, רְפוּאָה הוּא לָנוּ לְכָל אֵיבְרֵי הַגּוּף.
111. וּלְעוֹלָם לֹא מַלְקֶה צַדִּיק, אֶלָּא כְּדֵי לָתֵת רְפוּאָה לַדּוֹר וּלְכַפֵּר עֲלֵיהֶם, (וְסוֹד זֶה צַדִּיק וְרַע לוֹ) שֶׁזֶּה נוֹחַ לַצַּד הָאַחֵר שֶׁהַדִּין שׁוֹלֵט (לִשְׁלֹט) עַל הַצַּדִּיק יוֹתֵר מֵהַכֹּל, שֶׁלֹּא חוֹשֵׁשׁ אָז לְכָל הָעוֹלָם וְלֹא מַשְׁגִּיחַ בָּהֶם מֵהַשִּׂמְחָה שֶׁהוּא שׁוֹלֵט עָלָיו. וְאוֹתוֹ צַדִּיק זוֹכֶה לְשִׁלְטוֹן עֶלְיוֹן בָּעוֹלָם הַזֶּה וּבָעוֹלָם הַבָּא. צַדִּיק וְטוֹב לוֹ, שֶׁלֹּא חוֹשֵׁשׁ הַקָּדוֹשׁ בָּרוּךְ הוּא לְכַפֵּר עַל הָעוֹלָם.
112. אָמַרְתִּי לוֹ, אִלּוּ לֹא הָיוּ בִּזְמַן אֶחָד – יָפֶה. אֲבָל כָּאן יֵשׁ צַדִּיק, וְכָאן יֵשׁ צַדִּיק. לָזֶה יֵשׁ מַחֲלוֹת, וְלָזֶה יֵשׁ אֶת כָּל טוֹב הָעוֹלָם. אָמַר לִי, בְּאֶחָד מֵהֶם אוֹ בִשְׁנַיִם מַסְפִּיק, שֶׁהַקָּדוֹשׁ בָּרוּךְ הוּא לֹא רוֹצֶה לְהַלְקוֹת הַכֹּל, (ס"א כָּל עוֹד) כְּמוֹ שֶׁלֹּא צָרִיךְ אֶלָּא זְרוֹעַ אַחַת לְהַלְקוֹת וּלְהַקִּיז לָתֵת רְפוּאָה לְכָל הָאֵיבָרִים. גַּם כָּאן, בְּצַדִּיק אֶחָד מַסְפִּיק.
Pinchas 110-112
Isaiah 53:5
" וְהוּא מְחֹלָל מִפְּשָׁעֵנוּ, מְדֻכָּא מֵעֲו‍ֹנֹתֵינוּ; מוּסַר שְׁלוֹמֵנוּ עָלָיו, וּבַחֲבֻרָתוֹ נִרְפָּא-לָנוּ. "
"But he (The righteous, Tzaddik) was wounded because of our transgressions, he was crushed because of our iniquities: the chastisement of our welfare was upon him, and with his stripes we were healed. "
This verse testifies that by the merit of the righteous we are healed. The Zohar tells us that we are all parts of one body. The healer makes incision for bloodletting in order to release the negativity and bring healing to the whole body. Similarly God uses the Tzaddikim (righteous) for the same purpose to heal the world.
Ecclesiastes 8:14
" יֶשׁ-הֶבֶל, אֲשֶׁר נַעֲשָׂה עַל-הָאָרֶץ, אֲשֶׁר יֵשׁ צַדִּיקִים אֲשֶׁר מַגִּיעַ אֲלֵהֶם כְּמַעֲשֵׂה הָרְשָׁעִים, וְיֵשׁ רְשָׁעִים שֶׁמַּגִּיעַ אֲלֵהֶם כְּמַעֲשֵׂה הַצַּדִּיקִים: אָמַרְתִּי, שֶׁגַּם-זֶה הָבֶל."
"There is a vanity which is done upon the earth: that there are righteous men, unto whom it happeneth according to the work of the wicked; again, there are wicked men, to whom it happeneth according to the work of the righteous–I said that this also is vanity."
The aspect of "Righteous and suffers" is not new and the Zohar explains it to us.
Sometimes the suffering or death of one Tzadik is enough to balance the world. Some of them may suffer through their entire life time to protect the world from destruction and the rest of the righteous people are left to continue their work without pain.
Pain or gain is not a consideration for them when they are doing the work.
{||}