Daily Zohar # 1108 – Pinchas – Accepting death as a reward
Click here to listen to the Daily Zohar [audio:https://dailyzohar.com/wp-content/uploads/pinchas/audio/dp-1108.mp3|titles=Daily Zohar 1108]
Mobile devices, please touch here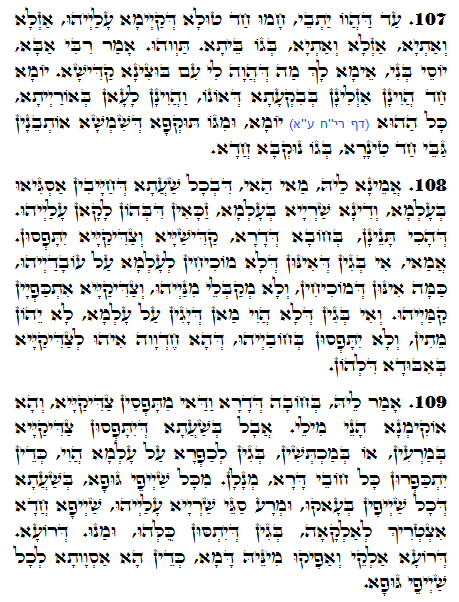 Hebrew translation:
107. עַד שֶׁיָּשְׁבוּ, רָאוּ צֵל שֶׁעוֹמֵד עֲלֵיהֶם, הוֹלֵךְ וּבָא, הוֹלֵךְ וּבָא בְּתוֹךְ הַבַּיִת. תָּמְהוּ. אָמַר רַבִּי אַבָּא, יוֹסֵי בְּנִי, אֹמַר לְךָ מֶה הָיָה לִי עִם הַמְּנוֹרָה הַקְּדוֹשָׁה. יוֹם אֶחָד הָיִינוּ הוֹלְכִים בְּבִקְעַת אוֹנוֹ, וְהָיִינוּ עוֹסְקִים בַּתּוֹרָה כָּל אוֹתוֹ יוֹם, וּמִתּוֹךְ חֹזֶק הַשֶּׁמֶשׁ יָשַׁבְנוּ לְיַד סֶלַע אֶחָד בְּתוֹךְ נֶקֶב אֶחָד.
108. אָמַרְתִּי לוֹ, מַה זֶּה שֶׁבְּכָל שָׁעָה שֶׁמִּתְרַבִּים הָרְשָׁעִים בָּעוֹלָם וְהַדִּין שָׁרוּי בָּעוֹלָם, צַדִּיקִים שֶׁבָּהֶם לוֹקִים עֲלֵיהֶם?! שֶׁכָּךְ שָׁנִינוּ, בְּחֵטְא הַדּוֹר, קְדוֹשִׁים וְצַדִּיקִים יִתָּפְסוּ. לָמָּה? אִם מִשּׁוּם שֶׁהֵם לֹא מוֹכִיחִים אֶת הָעוֹלָם עַל מַעֲשֵׂיהֶם – כַּמָּה הֵם שֶׁמּוֹכִיחִים וְלֹא מְקַבְּלִים מֵהֶם, וְהַצַּדִּיקִים כְּפוּפִים לִפְנֵיהֶם. וְאִם מִשּׁוּם שֶׁאֵין מִי שֶׁיָּגֵן עַל הָעוֹלָם – לֹא יָמוּתוּ וְלֹא יִתָּפְסוּ בַחֲטָאֵיהֶם, שֶׁהֲרֵי חֶדְוָה הִיא לַצַּדִּיקִים בְּאִבּוּדָם.
109. אָמַר לוֹ, בְּוַדַּאי בְּחֵטְא הַדּוֹר נִתְפָּסִים הַצַּדִּיקִים, וַהֲרֵי בֵּאַרְנוּ דְבָרִים אֵלּוּ. אֲבָל בְּשָׁעָה שֶׁנִּתְפָּסִים הַצַּדִּיקִים בֶּחֳלָאִים אוֹ בְמַכּוֹת, זֶה בִּשְׁבִיל לְכַפֵּר עַל הָעוֹלָם, וְאָז יִתְכַּפְּרוּ כָּל חֲטָאֵי הַדּוֹר. מִנַּיִן לָנוּ? מִכָּל אֵיבְרֵי הַגּוּף. בְּשָׁעָה שֶׁכָּל הָאֵיבָרִים בִּמְצוּקָה וְחֹלִי גָדוֹל שׁוֹרֶה עֲלֵיהֶם, אֵיבָר אֶחָד צָרִיךְ לִלְקוֹת כְּדֵי שֶׁיִּתְרַפְּאוּ כֻלָּם. וּמִיהוּ? הַזְּרוֹעַ. הַזְּרוֹעַ לוֹקָה וּמוֹצִיאִים מִמֶּנָּה דָּם, וְאָז הֲרֵי רְפוּאָה לְכָל אֵיבְרֵי הַגּוּף.
Pinchas 107-109
The Zohar continues the discussion about the suffering of the righteous people.
When judgment is spread in the world because of the increase of evil actions then the righteous are held responsible for that. One reason is for not speaking out and teaching the people to follow the righteous path. The righteous still need to suffer and die so the wicked people can stay alive and have more opportunities to make corrections.
For most people it doesn't make sense but from the righteous point of view, this is one of the greatest rewards God is giving them.
On the individual levels we work hard, accepting physical pain and/or mental stress in order to achieve some goal. It could be for a better pay at the end of month. It could be hard work and pinching pennies to save for a new house, car or a dream vacation.
The righteous see the correction of the world as part of their responsibility and adopt it as their Tikkun process. Physical suffering and death is only indication that their work is accepted and have positive spiritual effect on the world. Death is the reward and release from the Tikun process. It is like getting out of a hard labor camp.
When a righteous passes away, this event is called 'Hillulah', meaning 'celebration'. Spiritually it is like a wedding ceremony where their soul comes in unification with the Light. There is nothing that gives the soul greater joy than that.
One of our highest prayers is the Shema Israel. The Holy Ari tells us that before we recite the prayer we should meditate to accept on ourselves the four types of death
י – א – סקילה – Stoning – Chokmah
ה – ד – שריפה – Burning – Binah
ו – נ – הרג – Sword – Zeir Anpin
ה – י – חנק – Choking – Malchut
We also should meditate to fuse our soul as one with Adam that is the source of all Israelites souls.
Names and meditation scanning for the Shema Israel (Thanks to Al Z.)
https://dailyzohar.com/wp-content/uploads/2010/09/4mitot-dz.pdf
{||}