Daily Zohar # 1233 – Pinchas – Push it away
Daily Zohar 1233
Daily Zohar 1233
Zohar Pinchas, Vol. 20 (English)/Vol 15 (Hebrew)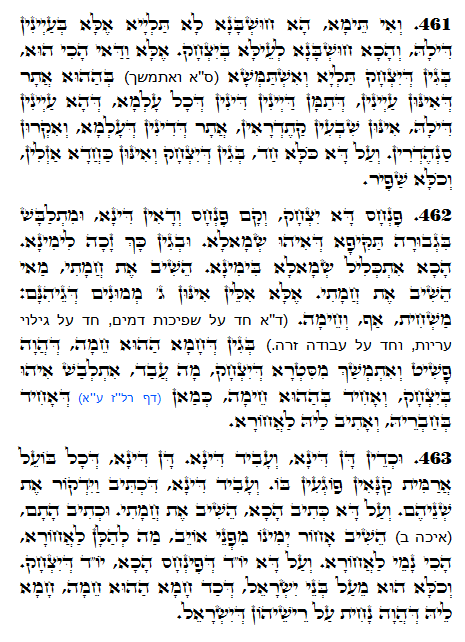 Hebrew translation:
461. וְאִם תֹּאמַר, חֶשְׁבּוֹן זֶה לֹא תָלוּי אֶלָּא בָּעֵינַיִם שֶׁלָּהּ, וְכָאן הַחֶשְׁבּוֹן לְמַעְלָה בְּיִצְחָק – אֶלָּא וַדַּאי כָּךְ הוּא, מִשּׁוּם שֶׁיִּצְחָק תָּלוּי וּמִשְׁתַּמֵּשׁ (וְנִמְשָׁךְ) בְּאוֹתוֹ מָקוֹם שֶׁהֵם עֵינַיִם, שֶׁשָּׁם דָּנִים דִּינִים שֶׁל כָּל הָעוֹלָם, שֶׁהֲרֵי הָעֵינַיִם שֶׁלָּהּ הֵם שִׁבְעִים כִּסְאוֹת, מְקוֹם דִּינֵי הָעוֹלָם, וְנִקְרָאִים סַנְהֶדְרִין. וְעַל כֵּן הַכֹּל אֶחָד, מִשּׁוּם שֶׁיִּצְחָק וְאֵלּוּ הוֹלְכִים כְּאֶחָד, וְהַכֹּל יָפֶה.
462. פִּנְחָס זֶה יִצְחָק, וְעָמַד פִּנְחָס וְדָן דִּין, וּמִתְלַבֵּשׁ בִּגְבוּרָה חֲזָקָה, שֶׁהוּא שְׂמֹאל. וּמִשּׁוּם זֶה זָכָה לְיָמִין. כָּאן נִכְלָל שְׂמֹאל בְּיָמִין. הֵשִׁיב אֶת חֲמָתִי, מַהוּ הֵשִׁיב אֶת חֲמָתִי? אֶלָּא אֵלּוּ הֵם שְׁלֹשָׁה מְמֻנִּים שֶׁל הַגֵּיהִנָּם: מַשְׁחִית, אַף, וְחֵמָה. (אֶחָד עַל שְׁפִיכוּת דָּמִים, אֶחָד עַל גִּלּוּי עֲרָיוֹת, וְאֶחָד עַל עֲבוֹדָה זָרָה). מִשּׁוּם שֶׁרָאָה אוֹתוֹ חֵמָה שֶׁהָיָה מִתְפַּשֵּׁט וְנִמְשָׁךְ מִצִּדּוֹ שֶׁל יִצְחָק, מֶה עָשָׂה? הִתְלַבֵּשׁ הוּא בְּיִצְחָק, וְאָחַז בְּאוֹתָהּ חֵמָה כְּמִי שֶׁאוֹחֵז בַּחֲבֵרוֹ וְהֵשִׁיב אוֹתוֹ לַאֲחוֹרָיו.
463. וְאָז דָּן דִּין, וְעָשָׂה דִּין. דָּן דִּין – שֶׁכָּל בּוֹעֵל אֲרַמִּית קַנָּאִים פּוֹגְעִים בּוֹ. וְעָשָׂה דִּין – שֶׁכָּתוּב וַיִּדְקֹר אֶת שְׁנֵיהֶם. וְעַל זֶה כָּתוּב כָּאן, הֵשִׁיב אֶת חֲמָתִי. וְכָתוּב שָׁם (איכה ב) הֵשִׁיב אָחוֹר יְמִינוֹ מִפְּנֵי אוֹיֵב. מַה שָּׁם לַאֲחוֹרָיו, כָּךְ גַּם כָּאן לַאֲחוֹרָיו. וְעַל זֶה אוֹת יוֹ"ד שֶׁל פִּינְחָס כָּאן, יוֹ"ד שֶׁל יִצְחָק. וְהַכֹּל הוּא מֵעַל בְּנֵי יִשְׂרָאֵל. שֶׁכַּאֲשֶׁר רָאָה אוֹתוֹ חֵמָה, רָאָה אוֹתוֹ שֶׁהָיָה יוֹרֵד עַל רָאשֵׁיהֶם שֶׁל יִשְׂרָאֵל.
Pinchas 461-463
The Zohar reveals that when Pinchas rose to stop the negativity, he faced the judgment of the left column, which is the aspect of Isaac.
When the letter Yod was added to his name פינחס became equal to יצחק, Isaac. Both names have the same numerical value of 208. With that balance he could stop the plague that spread among the Israelites.
Numbers 25:11
" פִּינְחָס בֶּן-אֶלְעָזָר בֶּן-אַהֲרֹן הַכֹּהֵן, הֵשִׁיב אֶת-חֲמָתִי מֵעַל בְּנֵי-יִשְׂרָאֵל, בְּקַנְאוֹ אֶת-קִנְאָתִי, בְּתוֹכָם; וְלֹא-כִלִּיתִי אֶת-בְּנֵי-יִשְׂרָאֵל, בְּקִנְאָתִי."
" 'Phinehas, the son of Eleazar, the son of Aaron the priest, hath turned My wrath away from the children of Israel, in that he was very jealous for My sake among them, so that I consumed not the children of Israel in My jealousy."
"The wrath of God" is the aspect of the judgment that is expressed out when there is a disconnection between right and left column. The Zohar says that there are three appointees that bring the death on the people and their names are משחית, 'Destroyer', אף,'Anger' and חימה, 'Rage'. Pinchas saw them spreading out from the root of the Left column so with his action he pushed them back. That is the deeper meaning of "has turned my wrath away" from the verse above.
The Zohar adds that Pinchas didn't remove the negativity but pushed it back.
Only Mashiach will remove the negativity from the world and introduce a new and pure spiritual system. Until then we need to work hard to push the negativity away from us.
{||}