Daily Zohar # 1232 – Pinchas – The power of a little letter
Daily Zohar 1232
Daily Zohar 1232
Zohar Pinchas, Vol. 20 (English)/Vol 15 (Hebrew)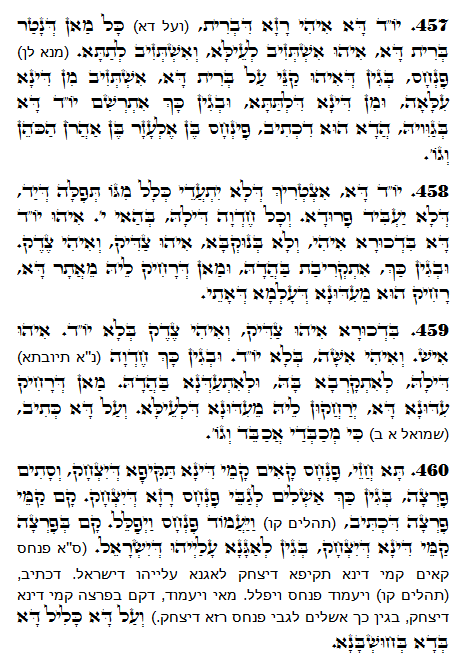 Hebrew translation:
457. יוֹ"ד זֶהוּ סוֹד הַבְּרִית, (וְעַל זֶה) כָּל מִי שֶׁשּׁוֹמֵר בְּרִית זוֹ, הוּא נִשְׁמָר לְמַעְלָה, וְנִשְׁמָר לְמַטָּה. (מִנַּיִן לָנוּ?) מִפִּנְחָס, מִשּׁוּם שֶׁהוּא קִנֵּא עַל בְּרִית זוֹ, נִצּוֹל מִן הַדִּין הָעֶלְיוֹן וּמִן הַדִּין שֶׁלְּמַטָּה, וּמִשּׁוּם זֶה נִרְשְׁמָה אוֹת יוֹ"ד זוֹ בְּתוֹכוֹ. זֶהוּ שֶׁכָּתוּב פִּינְחָס בֶּן אֶלְעָזָר בֶּן אַהֲרֹן הַכֹּהֵן וְגוֹ'.
458. יוֹ"ד זוֹ צָרִיךְ שֶׁלֹּא תֻפְרַד כְּלָל מִתּוֹךְ תְּפִלָּה שֶׁל יָד, שֶׁלֹּא תַעֲשֶׂה פֵּרוּד. וְכָל שִׂמְחָה שֶׁלָּהּ הִיא בְּזוֹ הָאוֹת יוֹ"ד. יוֹ"ד זוֹ הִיא בְּזָכָר, וְלֹא בִּנְקֵבָה. הוּא צַדִּיק, וְהִיא צֶדֶק. וּמִשּׁוּם זֶה מִתְקָרֶבֶת אֶצְלָהּ, וּמִי שֶׁמַּרְחִיק אוֹתוֹ מִמָּקוֹם זֶה, רָחוֹק הוּא מֵהָעֹנֶג שֶׁל הָעוֹלָם הַבָּא.
459. בְּזָכָר הוּא צַדִּיק, וְהִיא צֶדֶק בְּלִי אוֹת יוֹ"ד. הוּא אִישׁ, וְהִיא אִשָּׁה, בְּלִי יוֹ"ד. וּמִשּׁוּם זֶה שִׂמְחָה (תְּשׁוּבָה) שֶׁלָּהּ לְהִתְקָרֵב אֵלֶיהָ וּלְהִתְעַנֵּג עִמָּהּ. מִי שֶׁמְּרַחֵק עֹנֶג זֶה, יַרְחִיקוּ אוֹתוֹ מֵעֹנֶג שֶׁל מַעְלָה. וְעַל זֶה כָּתוּב, (שמואל-א ב) כִּי מְכַבְּדַי אֲכַבֵּד וְגוֹ'.
460. בֹּא וּרְאֵה, פִּנְחָס עָמַד בִּפְנֵי דִין תַּקִּיף שֶׁל יִצְחָק, וְסָתַם פִּרְצָה, בִּגְלַל זֶה הִשְׁלִים לְגַבֵּי פִּנְחָס סוֹד שֶׁל יִצְחָק. עָמַד בִּפְנֵי פִרְצָה, שֶׁכָּתוּב (תהלים קו) וַיַּעֲמֹד פִּינְחָס וַיְפַלֵּל. עָמַד בְּפִרְצָה לִפְנֵי דִין שֶׁל יִצְחָק כְּדֵי לְהָגֵן עַל יִשְׂרָאֵל. (פִּנְחָס עָמַד בִּפְנֵי דִין הַתַּקִּיף שֶׁל יִצְחָק לְהָגֵן עֲלֵיהֶם עַל יִשְׂרָאֵל, שֶׁכָּתוּב (תהלים קו) וַיַּעֲמֹד פִּינְחָס וַיְפַלֵּל. מַהוּ וַיַּעֲמֹד? שֶׁעָמַד בַּפֶּרֶץ בִּפְנֵי דִין שֶׁל יִצְחָק, בִּגְלַל זֶה הִשְׁלִים לְפִנְחָס סוֹד שֶׁל יִצְחָק). וְעַל זֶה כָּלוּל זֶה בָּזֶה בְּחֶשְׁבּוֹן.
Pinchas 457-460
The letter י Yod, is the secret of the covenant. It represents Keter and Chokmah whose essence is channeled down through the Sefira of Yessod. Pinchas protected the covenant by killing the people that corrupted the connection of the Israelites to Yessod and drained the energy. He stopped that loss of light that killed 24000 people. For his heroic and righteous act, he received the letter Yod added to his name פינחס and gained immortality.
(Read https://dailyzohar.com/between-heaven-and-earth-revealing-the-secrets-of-pinchas/)
Male righteous is צדיק and female is צדק, which is lacking the Yod. Man is Zeir Anpin and has the channel of Yessod, woman is Malchut and as a vessel she receives the Light that is the aspect of the letter Yod channeled through the man.
When man comes to his wife for unification he should meditate on channeling the Yod to the woman and she needs to meditate on accepting it. Pure thoughts activate the process that draw the Yod down through the spine to the testicles where it is boiled and manifested to matter that is transferred into the vessel. Proper unification draws abundance of pleasure to the world and manifests the light in a couple's life and the world around them.
A person with the Light inside affects the world around him on the subconscious level. Positive people feel better around them and it helps them change just by the physical proximity to a righteous person.
{||}