Daily Zohar # 1248 – Pinchas – Can you see the 'Image' of God
Daily Zohar 1248
Daily Zohar 1248
Zohar Pinchas, Vol. 20 (English)/Vol 15 (Hebrew)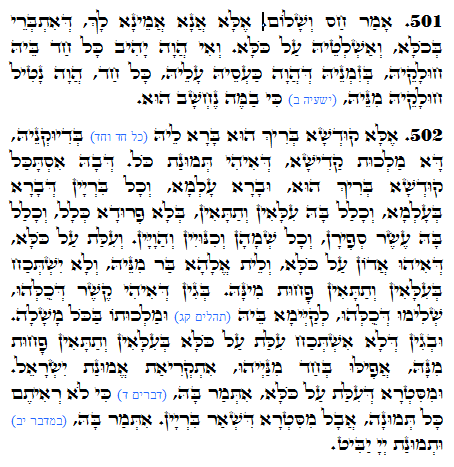 Hebrew translation:
501. אָמַר, חַס וְשָׁלוֹם! אֶלָּא אֲנִי אָמַרְתִּי לְךָ, שֶׁנִּבְרָא בַּכֹּל וְהִשְׁלִיטוֹ עַל הַכֹּל. וְאִם הָיָה נוֹתֵן כָּל אֶחָד בּוֹ חֶלְקוֹ בִּזְמַן שֶׁהָיָה כּוֹעֵס עָלָיו, כָּל אֶחָד הָיָה נוֹטֵל חֶלְקוֹ מִמֶּנּוּ, (ישעיה ב) כִּי בַמֶּה נֶחְשָׁב הוּא.
502. אֶלָּא הַקָּדוֹשׁ בָּרוּךְ הוּא בָּרָא אוֹתוֹ (כָּל אֶחָד וְאֶחָד) בְּצוּרָתוֹ, זוֹ הַמַּלְכוּת הַקְּדוֹשָׁה שֶׁהִיא תְּמוּנַת כֹּל, שֶׁבָּהּ הִסְתַּכֵּל הַקָּדוֹשׁ בָּרוּךְ הוּא וּבָרָא אֶת הָעוֹלָם וְכָל הַבְּרִיּוֹת שֶׁבָּרָא בָּעוֹלָם, וְכָלַל בָּהּ עֶלְיוֹנִים וְתַחְתּוֹנִים בְּלִי פֵרוּד כְּלָל, וְכָלַל בָּהּ עֶשֶׂר סְפִירוֹת וְכָל שֵׁמוֹת וְכִנּוּיִים וַהֲוָיוֹת. וְהָעֶלְיוֹן עַל הַכֹּל, שֶׁהוּא אָדוֹן עַל הַכֹּל, וְאֵין אֱלוֹהַּ חוּץ מִמֶּנּוּ, וְאֵין נִמְצָא בְּעֶלְיוֹנִים וְתַחְתּוֹנִים פָּחוֹת מִמֶּנּוּ. מִשּׁוּם שֶׁהוּא קֶשֶׁר שֶׁל כֻּלָּם, שְׁלֵמוּת שֶׁל כֻּלָּם, לְקַיֵּם בּוֹ (תהלים קג) וּמַלְכוּתוֹ בַּכֹּל מָשָׁלָה. וּמִשּׁוּם שֶׁלֹּא נִמְצָא עֶלְיוֹן עַל הַכֹּל בָּעֶלְיוֹנִים וְתַחְתּוֹנִים פָּחוֹת מִמֶּנּוּ, אֲפִלּוּ בְּאֶחָד מֵהֶם, נִקְרֵאת אֱמוּנַת יִשְׂרָאֵל. וּמִצִּדּוֹ שֶׁל הָעֶלְיוֹן עַל הַכֹּל נֶאֱמַר בָּהּ (דברים ד) כִּי לֹא רְאִיתֶם כָּל תְּמוּנָה. אֲבָל מִצַּד שֶׁל שְׁאָר הַבְּרִיּוֹת נֶאֱמַר בָּהּ (במדבר יב) וּתְמוּנַת ה' יַבִּיט.
Pinchas 501-502
The Zohar explains that God did not use the angles to be part of the Man's energy because some of them objected to the creation of man. Since man was given freedom to choose, it comes with the risk of choosing wrong. The angles didn't want to be part of this. God knew that they would take their part away from him when he would sin and God didn't want that to happen.
Man was created to go through 'tests' with more options to fail. That would lead him to the correction process and earning the final planned rewards.
Psalms 103:19
"יְהוָה–בַּשָּׁמַיִם, הֵכִין כִּסְאוֹ; וּמַלְכוּתוֹ, בַּכֹּל מָשָׁלָה "
"and His kingdom ruleth over all "
God's plans are in the upper levels but everything is reflected in the lower levels.
Numbers 12:8 " פֶּה אֶל-פֶּה אֲדַבֶּר-בּוֹ, וּמַרְאֶה וְלֹא בְחִידֹת, וּתְמֻנַת יְהוָה, יַבִּיט "
"With him I speak mouth to mouth, clearly, and not in riddles, and he can see the image of YHVH"
The image of YHVH is what God created in Malchut. The system of the Tree of Life can be seen in everything created in Malchut. The righteous people can see that because everything follows the rules established at the time of Creation.
Deuteronomy 4:15
" וְנִשְׁמַרְתֶּם מְאֹד, לְנַפְשֹׁתֵיכֶם: כִּי לֹא רְאִיתֶם, כָּל-תְּמוּנָה, בְּיוֹם דִּבֶּר יְהוָה אֲלֵיכֶם בְּחֹרֵב, מִתּוֹךְ הָאֵשׁ"
"So watch your souls carefully, since you did not see any image on the day YHVH spoke to you at Horeb from the midst of the fire"
In the last teachings and prophecy Moses gave the people before he was taken away by God, he warned them to watch their souls carefully because they were not able to understand the revelation of God.
We learn from this Zohar that the study of the spiritual system opens our souls to the 'Image' of God. It is the system of the Tree of Life that we are lucky to study and receive protection for our souls.
{||}