Daily Zohar # 1276 – Pinchas – When can you see the light
Daily Zohar 1276
Daily Zohar 1276
Zohar Pinchas, Vol. 20 (English)/Vol 15 (Hebrew)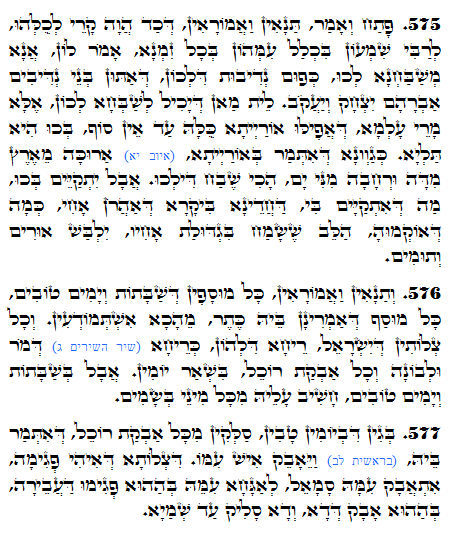 Hebrew translation:
575. פָּתַח וְאָמַר, תַּנָּאִים וְאָמוֹרָאִים, שֶׁכַּאֲשֶׁר הָיָה קוֹרֵא לְכֻלָּם, לְרַבִּי שִׁמְעוֹן בִּכְלַל עִמָּהֶם בְּכָל זְמַן, אֱמֹר לָהֶם, אֲנִי מְשַׁבֵּחַ לָכֶם כְּפִי נְדִיבוּת שֶׁלָּכֶם, שֶׁאַתֶּם בְּנֵי נְדִיבִים אַבְרָהָם יִצְחָק וְיַעֲקֹב. אֵין מִי שֶׁיָּכוֹל לְשַׁבֵּחַ לָכֶם אֶלָּא אֲדוֹן הָעוֹלָם, שֶׁאֲפִלּוּ הַתּוֹרָה כֻּלָּהּ עַד אֵין סוֹף בָּכֶם הִיא תְּלוּיָה, כְּמוֹ מַה שֶּׁנֶּאֱמַר בַּתּוֹרָה, (איוב יא) אֲרֻכָּה מֵאֶרֶץ מִדָּהּ וּרְחָבָה מִנִּי יָם. כָּךְ הַשֶּׁבַח שֶׁלָּכֶם. אֲבָל יִתְקַיֵּם בָּכֶם מַה שֶּׁהִתְקַיֵּם בִּי, שֶׁשָּׂמַחְתִּי בִּכְבוֹדוֹ שֶׁל אַהֲרֹן אָחִי, כְּמוֹ שֶׁבֵּאֲרוּהוּ, הַלֵּב שֶׁשָּׂמַח בִּגְדֻלַּת אָחִיו, יִלְבַּשׁ אוּרִים וְתֻמִּים.
576. וְתַנָּאִים וְאָמוֹרָאִים, כָּל מוּסָפִים שֶׁל שַׁבָּתוֹת וְיָמִים טוֹבִים, כָּל מוּסָף שֶׁאוֹמְרִים בּוֹ כֶּתֶר – מִכָּאן נוֹדָעִים. וְכָל תְּפִלּוֹת שֶׁל יִשְׂרָאֵל, רֵיחָן כְּרֵיחַ שֶׁל (שיר השירים ג) מוֹר וּלְבוֹנָה וְכֹל אַבְקַת רוֹכֵל, בִּשְׁאָר יָמִים. אֲבָל בְּשַׁבָּתוֹת וְיָמִים טוֹבִים חָשׁוּב עָלָיו מִינֵי בְשָׂמִים.
577. מִשּׁוּם שֶׁבְּיָמִים טוֹבִים עוֹלִים מִכֹּל אַבְקַת רוֹכֵל, שֶׁנֶּאֱמַר בּוֹ (בראשית לב) וַיֵּאָבֵק אִישׁ עִמּוֹ. שֶׁתְּפִלָּה שֶׁהִיא פְּגוּמָה, נֶאֱבָק עִמָּהּ סָמָאֵל, לְהִלָּחֵם עִמָּהּ בְּאוֹתוֹ פְּגָם שֶׁל עֲבֵרָה שֶׁבְּאוֹתוֹ אָבָק, שֶׁזֶּה וָזֶה עוֹלֶה עַד הַשָּׁמַיִם.
Pinchas 575-577
Song of Songs 3:6
"מִי זֹאת, עֹלָה מִן-הַמִּדְבָּר, כְּתִימְרוֹת, עָשָׁן: מְקֻטֶּרֶת מֹר וּלְבוֹנָה, מִכֹּל אַבְקַת רוֹכֵל"
"Who is this that cometh up out of the wilderness like pillars of smoke, perfumed with myrrh and frankincense, with all powders of the merchant"
On Shabbats and Holidays we have the prayer of Musaf and connections to Keter of Zeir Anpin. The effect of the prayers is considered as aspect of scent that goes up. On the special days that we recite Keter of the Musaf, the 'scent' is stronger and pleases God more than any other scent in the world.
The 'Faithful Shepherd', who is Moses, praises Rabbi Shimon and his students for their study and channeling the light of the Torah and its secrets. He tells them that the Holy One praises and blesses them without measure and that the Torah revelation depends on them all the way to the Endless.
Why does the Torah depend on them?
I will explain this with an example.
Imagine a beam of light crossing in front of us in darkness or light. We can not see it until someone or something stops it and pushes it away (reflects it). Only then we can see and follow the light to its source.
That is what Rabbi Shimon and his students were doing when studying the Torah and its secrets. Each time they studied a secret, they revealed the source of light. They paved for us many paths of light that reveal the entire tree of Life.
God is like a good father that is happy when his children find ways to benefit from him.
Every Israelite soul has a root in the Torah and the Zohar helps us find ours easily.
{||}