Daily Zohar # 1311 – Pinchas – New moons
Daily Zohar 1311
Daily Zohar 1311
Zohar Pinchas, Vol. 20 (English)/Vol 15 (Hebrew)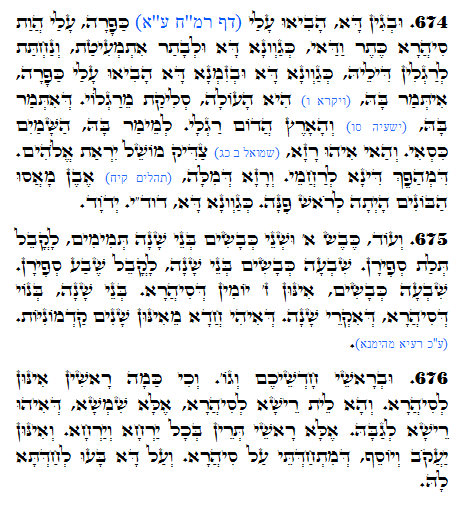 Hebrew translation:
<
674. וּמִשּׁוּם זֶה נֶאֱמַר הָבִיאוּ עָלַי כַּפָּרָה. עָלַי – הָיְתָה הַלְּבָנָה כֶּתֶר וַדַּאי, כְּדֻגְמַת זֶה ֒, וּלְבַסּוֹף הִתְמַעֲטָה וְיָרְדָה לְרַגְלָיו כְּדֻגְמַת זֶה ֶ, וּבִזְמַן זֶה נֶאֱמַר הָבִיאוּ עָלַי כַּפָּרָה, שֶׁנֶּאֱמַר בָּהּ (שם ו) הִיא הָעֹלָה, עוֹלָה מֵרַגְלָיו, שֶׁנֶּאֱמַר בָּהּ (ישעיה סו) וְהָאָרֶץ הֲדֹם רַגְלָי, לוֹמַר בָּהּ הַשָּׁמַיִם כִּסְאִי. וְזֶהוּ סוֹד (שמואל-ב כג) צַדִּיק מוֹשֵׁל יִרְאַת אֱלֹהִים. שֶׁמְּהַפֵּךְ דִּין לְרַחֲמִים. וְסוֹד הַדָּבָר – (תהלים קיח) אֶבֶן מָאֲסוּ הַבּוֹנִים הָיְתָה לְרֹאשׁ פִּנָּה. כְּדֻגְמַת זֶה הוה"י, יְהֹוָה.
675. וְעוֹד, כֶּבֶשׂ אֶחָד וּשְׁנֵי כְבָשִׂים בְּנֵי שָׁנָה תְמִימִים – כְּנֶגֶד שָׁלֹשׁ סְפִירוֹת. שִׁבְעָה כְבָשִׂים בְּנֵי שָׁנָה – כְּנֶגֶד שֶׁבַע סְפִירוֹת. שִׁבְעָה כְבָשִׂים – הֵם שִׁבְעָה יָמִים שֶׁל הַלְּבָנָה. בְּנֵי שָׁנָה – בְּנֵי הַלְּבָנָה שֶׁנִּקְרֵאת שָׁנָה, שֶׁהִיא אַחַת מֵאוֹתָן שָׁנִים קַדְמוֹנִיּוֹת. (ע"כ
רעיא מהימנא
).
676. וּבְרָאשֵׁי חָדְשֵׁיכֶם וְגוֹ'. וְכִי כַּמָּה רָאשִׁים יֵשׁ לַלְּבָנָה? וַהֲרֵי אֵין רֹאשׁ לַלְּבָנָה אֶלָּא הַשֶּׁמֶשׁ, שֶׁהוּא רֹאשׁ בִּשְׁבִילָהּ. אֶלָּא רָאשֵׁי – שְׁנַיִם, בְּכָל חֹדֶשׁ וְחֹדֶשׁ, וְהֵם יַעֲקֹב וְיוֹסֵף שֶׁמִּתְחַדְּשִׁים עַל הַלְּבָנָה, וְעַל זֶה רָצוּ לְחַדֵּשׁ אוֹתָהּ.
Pinchas 674- 676
Numbers 28:11
" וּבְרָאשֵׁי, חָדְשֵׁיכֶם–תַּקְרִיבוּ עֹלָה, לַיהוָה: פָּרִים בְּנֵי-בָקָר שְׁנַיִם וְאַיִל אֶחָד, כְּבָשִׂים בְּנֵי-שָׁנָה שִׁבְעָה תְּמִימִם"
" And in your new moons you shall present a burnt-offering unto YHVH: two young bullocks, and one ram, seven he-lambs of the first year without blemish"
On the day of the new moons the offerings were one Ram and two young bulls connecting to the upper three Sefirot. Seven lambs is for the seven Sefirot from Chessed to Malchut. This process renews the connection to the Tree of Life at the beginning of the month.
The word for month in Hebrew is חדש with meaning of 'new' and 'renew'. The offered lams had to be one year old to represent the entire year of 12 months.
Moon is the aspect of Malchut that receives the Light from 'Head' that is Zeir Anpin and the aspect of the Sun. The special monthly sacrifices renew the connection and guaranteed continuous flow of light from Zeir Anpin to Malchut during the month.
On the day of the new moon, 'Rosh Chodesh', we read the Torah section from Numbers 28 that describes the monthly sacrifices. With that we make a similar connection to the process that was done in the Holy Temple.
{||}