Daily Zohar # 1327 – Pinchas – The palace of Light
Zohar Pinchas, Vol. 20 (English)/Vol 15 (Hebrew)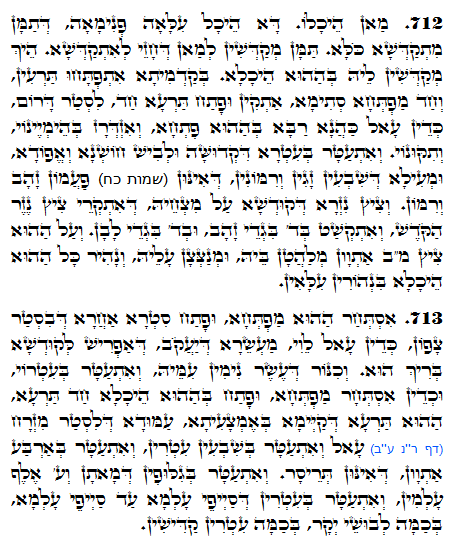 Hebrew translation:
712. מִיהוּ הֵיכָלוֹ? זֶה הַהֵיכָל הָעֶלְיוֹן הַפְּנִימִי שֶׁשָּׁם מִתְקַדֵּשׁ הַכֹּל. שָׁם מְקַדְּשִׁים לְמִי שֶׁרָאוּי לְהִתְקַדֵּשׁ. אֵיךְ מְקַדְּשִׁים אוֹתוֹ בְּאוֹתוֹ הֵיכָל? בָּרִאשׁוֹנָה נִפְתָּחִים שְׁעָרִים, וּמַפְתֵּחַ אֶחָד סָתוּם מְתַקֵּן וּפוֹתֵחַ שַׁעַר אֶחָד, לְצַד דָּרוֹם, וְאָז נִכְנָס הַכֹּהֵן הַגָּדוֹל בְּאוֹתוֹ פֶּתַח וּמִזְדָּרֵז לַחְגֹּר אַבְנֵטוֹ וּמַלְבּוּשָׁיו, וּמִתְעַטֵּר בַּעֲטָרָה שֶׁל קְדֻשָּׁה, וְלוֹבֵשׁ חֹשֶׁן וְאֵפוֹד, וּמְעִיל שֶׁל שִׁבְעִים פַּעֲמוֹנִים וְרִמּוֹנִים, שֶׁהֵם (שמות כח) פַּעֲמוֹן זָהָב וְרִמּוֹן. וְצִיץ נֵזֶר הַקֹּדֶשׁ עַל מִצְחוֹ, וְנִקְרָא צִיץ נֵזֶר הַקֹּדֶשׁ, וּמִתְקַשֵּׁט בְּאַרְבָּעָה בִּגְדֵי זָהָב וּבְאַרְבָּעָה בִּגְדֵי לָבָן. וְעַל אוֹתוֹ צִיץ יֵשׁ מ"ב אוֹתִיּוֹת שֶׁלּוֹהֲטוֹת בּוֹ וְנוֹצְצוֹת עָלָיו, וּמֵאִיר כָּל אוֹתוֹ הֵיכָל בְּאוֹרוֹת עֶלְיוֹנִים.
713. מִסְתּוֹבֵב אוֹתוֹ מַפְתֵּחַ וּפוֹתֵחַ צַד אַחֵר שֶׁבְּצַד צָפוֹן, וְאָז נִכְנָס לֵוִי, מַעֲשֵׂר שֶׁל יַעֲקֹב שֶׁהִפְרִישׁ לְהַקָּדוֹשׁ בָּרוּךְ הוּא. וְכִנּוֹר שֶׁל עֲשָׂרָה נִימִים עִמּוֹ, וּמִתְקַשֵּׁט בְּקִשּׁוּטָיו, וְאָז סוֹבֵב הַמַּפְתֵּחַ, וּפוֹתֵחַ בְּאוֹתוֹ הֵיכָל שַׁעַר אֶחָד, אוֹתוֹ שַׁעַר שֶׁעוֹמֵד בָּאֶמְצַע. עַמּוּד שֶׁלְּצַד מִזְרָח עוֹלֶה וּמִתְקַשֵּׁט בְּשִׁבְעִים עִטּוּרִים, וּמִתְקַשֵּׁט בְּאַרְבַּע אוֹתִיּוֹת, שֶׁהֵם שְׁתֵּים עֶשְׂרֵה. וּמִתְקַשֵּׁט בַּחֲקִיקוֹת שֶׁל מָאתַיִם וְשִׁבְעִים אֶלֶף עוֹלָמוֹת, וּמִתְקַשֵּׁט בְּקִשּׁוּטִים שֶׁל סוֹף הָעוֹלָם עַד סוֹף הָעוֹלָם בְּכַמָּה מַלְבּוּשֵׁי כָבוֹד, בְּכַמָּה קִשּׁוּטִים קְדוֹשִׁים.
Pinchas 712-713
Psalms 29:9
"וּבְהֵיכָלוֹ כֻּלּוֹ, אֹמֵר כָּבוֹד"
"and in His temple all say: 'Honor'"
The Zohar asks, 'What is his Temple?' and answers that it is the inner palace where everything is sanctified and turns Holy. It is the level of Binah that High Priest enters in the process of drawing light to the world on Yom Kippur. He opens a gate to the south, which is the aspect of the Right column and Chessed as the High Priest himself. He wears four pieces of garments against the four letters of אדני ADNY that is the aspect of Malchut.
Then he wears breast plate and the top garment with 70 bells and decorations. On his head is a special 'crown' 'Tzitz' ציץ נזר הקודש , which is the aspect of the letter Y י of the YHVH name. The first four garments are white and the additional four are garments of gold. The eight garments represent the letters of the upper יהוה YHVH and the lower אדני ADNY name. When he is fully dressed his 'Tzitz', 'crown', shines with 42 letters that we know as the initials of the Ana B'Koach
אבגיתץקרעשטןנגדיכשבטרצתגחקבטנעיגלפזקשקוצית.
From the gate of the north side that represents the left column, Gevurah, enters Levy. The Zohar explains that Jacob dedicated his son, Levy as a Ma'aser to serve in the Holy.
In the east of the palace there is another gate that is the aspect of the central column. The High Priest enters through the gate and receives 70 'crowns' that is the secret of the 72 names. (There are only 70 unique names in the table). When he passes through the eastern gate the High Priest completes the unification of the right and left into central column and the Light spreads out and fills up Malchut.
{||}