Daily Zohar # 1335 – Pinchas – The power of the Matzah
Zohar Pinchas, Vol. 20 (English)/Vol 15 (Hebrew)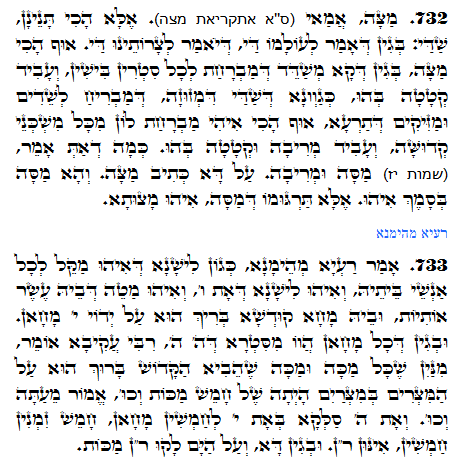 Hebrew translation:
732. מַצָּה, מַדּוּעַ (נִקְרֵאת מַצָּה)? אֶלָּא כָּךְ שָׁנִינוּ, שַׁדַּי – מִשּׁוּם שֶׁאָמַר לְעוֹלָמוֹ דַּי, שֶׁיֹּאמַר לְצָרוֹתֵינוּ דַּי. אַף כָּךְ מַצָּה, מִשּׁוּם שֶׁהִיא מְשַׁדֶּדֶת וּמַבְרִיחָה לְכָל צְדָדִים רָעִים וְעוֹשָׂה קְטָטָה בֵּינֵיהֶם כְּדֻגְמַת שֵׁם שַׁדַּי שֶׁבַּמְּזוּזָה, שֶׁמַּבְרִיחַ לְשֵׁדִים וּמַזִּיקִים שֶׁבַּשַּׁעַר – אַף כָּךְ הִיא מַבְרִיחָה אוֹתָם מִכָּל מִשְׁכְּנֵי הַקְּדֻשָּׁה, וְעוֹשָׂה מְרִיבָה וּקְטָטוֹת בָּהֶם, כְּמוֹ שֶׁנֶּאֱמַר (שמות יז) מַסָּה וּמְרִיבָה. וְעַל זֶה כָּתוּב מַצָּה, וַהֲרֵי מַסָּה נִכְתֶּבֶת בָּאוֹת סָמֶ"ךְ? אֶלָּא תַּרְגּוּם שֶׁל מַסָּה הוּא מַצּוּתָא.
רַעְיָא מְהֵימְנָא
733. אָמַר הָרוֹעָה הַנֶּאֱמָן, כְּמוֹ לָשׁוֹן שֶׁהוּא מַקֵּל לְכָל אַנְשֵׁי בֵיתוֹ, וְהוּא לָשׁוֹן צוּרַת אוֹת ו', וְהוּא מַטֶּה שֶׁבּוֹ עֶשֶׂר אוֹתִיּוֹת, וּבוֹ הִכָּה הַקָּדוֹשׁ בָּרוּךְ הוּא עַל יָדוֹ עֶשֶׂר מַכּוֹת. וּמִשּׁוּם שֶׁכָּל הַמַּכּוֹת הָיוּ מִצַּד שֶׁל ה' ה', אָמַר רַבִּי עֲקִיבָא, מִנַּיִן שֶׁכָּל מַכָּה וּמַכָּה שֶׁהֵבִיא הַקָּדוֹשׁ בָּרוּךְ הוּא עַל הַמִּצְרִים בְּמִצְרַיִם הָיְתָה שֶׁל חָמֵשׁ מַכּוֹת וְכוּ', אֱמֹר מֵעַתָּה וְכוּ'. וְאוֹת ה' עוֹלָה בְּאוֹת י' לַחֲמִשִּׁים מַכּוֹת. חָמֵשׁ פְּעָמִים חֲמִשִּׁים הֵם מָאתַיִם וַחֲמִשִּׁים. וּמִשּׁוּם זֶה נֶאֱמַר, וְעַל הַיָּם לָקוּ מָאתַיִם וַחֲמִשִּׁים מַכּוֹת.
Pinchas 732-733
The Zohar asks why the Matzah מצה is called by that name and answers that Matzah pushes away the negative side and creates conflicts among them.
Exodus 17:7
" וַיִּקְרָא שֵׁם הַמָּקוֹם, מַסָּה וּמְרִיבָה: עַל-רִיב בְּנֵי יִשְׂרָאֵל"
"And the name of the place was called Massah (Test), and Meribah (Arguing), because of the striving of the children of Israel"
The word מַסָּה, Massah is like Matzah מצה where the letter ס is replaced with צ. The Zohar explains that the Aramaic word for it is מַצּוּתָא Matzutah and it connects to the inner energy of the work.
Matzah is also like the name שדי, which is a name of God that we put on the Mezuzah מזוזה. It has the power to block the negative side from entering our homes. This name separates and protects the gate to the upper three Sefirot by blocking all negativity from reaching higher levels. No negativity can reach or 'contaminate' the purity of the upper three.
The Matzah, like the name שדי will stop the negative and bring freedom to the world when the Final Redemption comes because the process will be similar to the one that took us out of Egypt.
Michah 7:15
"כִּימֵי צֵאתְךָ, מֵאֶרֶץ מִצְרָיִם, אַרְאֶנּוּ, נִפְלָאוֹת"
""As in the days when you came out from the land of Egypt, I will show you miracles.""
The sages tell us "בניסן נגאלו ובניסן עתידים להיגאל", "In the month of Nissan we redeemed and in Nissan will be redeemed".
The opportunity to break the negativity is available to us in this month because we had this 'event' before (as explained in previous DZ). All we need is to follow the instructions of the Torah and connect to that energy.
The Torah is valid until God nullifies it and brings a new one to replace it. Since it hasn't happened yet we should cling to it and the Zohar that reveals its secrets and gives us the deeper meaning of the Torah codes.
{||}