Daily Zohar # 1345 – Pinchas – Holy furnace
Zohar Pinchas, Vol. 20 (English)/Vol 15 (Hebrew)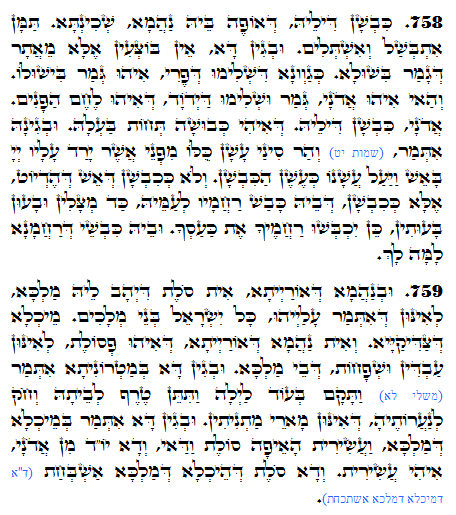 Hebrew translation:
758. הַכִּבְשָׁן שֶׁלּוֹ שֶׁאוֹפֶה בּוֹ לֶחֶם הִיא הַשְּׁכִינָה, שֶׁשָּׁם מִתְבַּשֵּׁל וְנִשְׁלָם. וּמִשּׁוּם זֶה אֵין בּוֹצְעִים אֶלָּא מִמָּקוֹם שֶׁנִּגְמָר בִּשּׁוּלוֹ. כְּדֻגְמַת שְׁלֵמוּת הַפְּרִי, שֶׁהוּא גְּמַר בִּשּׁוּלוֹ. וְזֶהוּ שֵׁם אֲדֹנָי, גְּמַר וּשְׁלֵמוּת שֵׁם יְהֹוָה, שֶׁהוּא לֶחֶם הַפָּנִים. אֲדֹנָי הוּא הַכִּבְשָׁן שֶׁלּוֹ. שֶׁהִיא כְּבוּשָׁה תַּחַת בַּעְלָהּ. וּבִגְלָלָהּ נֶאֱמַר, (שמות יט) וְהַר סִינַי עָשַׁן כֻּלּוֹ מִפְּנֵי אֲשֶׁר יָרַד עָלָיו ה' בָּאֵשׁ וַיַּעַל עֲשָׁנוֹ כְּעֶשָׁן הַכִּבְשָׁן. וְלֹא כְּמוֹ כִּבְשָׁן שֶׁל אֵשׁ הֶדְיוֹט, אֶלָּא כְּמוֹ כִּבְשָׁן שֶׁבּוֹ כּוֹבֵשׁ רַחֲמָיו עַל עַמּוֹ כַּאֲשֶׁר מִתְפַּלְלִים וּמְבַקְשִׁים בַּקָּשׁוֹת, כֵּן יִכְבְּשׁוּ רַחֲמֶיךָ אֶת כַּעַסְךָ. וּבוֹ, דְּבָרִים הַכְּבוּשִׁים שֶׁל הַקָּדוֹשׁ בָּרוּךְ הוּא, לָמָּה לָךְ לַחְקֹר?
759. וּבְלֶחֶם הַתּוֹרָה יֵשׁ סֹלֶת שֶׁנָּתַן לוֹ הַמֶּלֶךְ לְאוֹתָם שֶׁנֶּאֱמַר עֲלֵיהֶם, כָּל יִשְׂרָאֵל בְּנֵי מְלָכִים. מַאֲכַל הַצַּדִּיקִים. וְיֵשׁ לֶחֶם שֶׁל הַתּוֹרָה שֶׁהוּא פְּסֹלֶת לְאוֹתָם עֲבָדִים וּשְׁפָחוֹת שֶׁל בֵּית הַמֶּלֶךְ. וּמִשּׁוּם זֶה בַּמַּלְכָּה נֶאֱמַר, (משלי לא) וַתָּקָם בְּעוֹד לַיְלָה וַתִּתֵּן טֶרֶף לְבֵיתָהּ וְחֹק לְנַעֲרֹתֶיהָ, שֶׁהֵם בַּעֲלֵי מִשְׁנָה. וּמִשּׁוּם זֶה נֶאֱמַר בַּמַּאֲכָל שֶׁל הַמֶּלֶךְ, וַעֲשִׂירִית הָאֵיפָה סֹלֶת, וַדַּאי. וְזוֹ יוֹ"ד מֵאֲדֹנָי, שֶׁהִיא עֲשִׂירִית. וְזֶה סֹלֶת שֶׁל הֵיכַל הַמֶּלֶךְ, וּמִשְׁתַּבַּחַת (שֶׁל מַאֲכַל הַמֶּלֶךְ נִמְצֵאת).
Pinchas 758-759
The bread is the bread of man, אדם and represents the 12 'faces' of Zeir Anpin. Each Sefirah has a 'side' and there are 12 lines connecting them to each other. Imagine a cube with six sides. There are 12 points of connection between the 'walls'. The secret of the bread is in the name of Zeir Anpin, יוד-הא-ואו-הא, numerical value 45 as אדם, 'man'. The 12 also refers to the three columns, each with the YHVH name, bringing together 12 letters.
The table in the Holy Temple had 12 breads arranged on top of it. That was the aspect of connecting Zeir Anpin (The breads) and Malchut (the table).
The Zohar reveals to us that GOD's 'furnace' כבשן for 'baking' his bread is the Shechina because this is where the light manifests itself. The Zohar warns us from giving the 'furnace' the physical meaning of oven with fire. The word for furnace, כבשן, has the root כבש that means 'conquer'. Zeir Anpin 'conquers' Malchut and brings Light of Mercy. This is not a conquer that takes away freedom but one that removes judgments and brings mercy and fulfillment.
Exodus 19:18
"וְהַר סִינַי, עָשַׁן כֻּלּוֹ, מִפְּנֵי אֲשֶׁר יָרַד עָלָיו יְהוָה, בָּאֵשׁ; וַיַּעַל עֲשָׁנוֹ כְּעֶשֶׁן הַכִּבְשָׁן, וַיֶּחֱרַד כָּל-הָהָר מְאֹד"
"Now Mount Sinai was all in smoke because YHVH descended upon it in fire; and its smoke ascended like the smoke of a furnace (כִּבְשָׁן) , and the whole mountain quaked"
When the Torah was revealed on Mount Sinai, the 'furnace' brought out the attributes of God's mercy.
During the morning prayer we read the section of the Torah describing the binding of Isaac. He represents the left column. This connection helps us 'bind' the left column and remove judgments from our path on that day. After reading it we continue with the following part of it used by the High Priest in the Holy Temple.
"רִבּונו שֶׁל עולָם כְּמו שֶׁכָּבַשׁ אַבְרָהָם אָבִינוּ אֶת רַחֲמָיו לַעֲשות רְצונְךָ בְּלֵבָב שָׁלֵם. כֵּן יִכְבְּשׁוּ רַחֲמֶיךָ אֶת כַּעַסְךָ מֵעָלֵינוּ וְיָגלּוּ רַחֲמֶיךָ עַל מִדּותֶיךָ. וְתִתְנַהֵג עִמָּנוּ ה' אֱלהֵינוּ בְּמִדַּת הַחֶסֶד וּבְמִדַּת הָרַחֲמִים. וּבְטוּבְךָ הַגָּדול יָשׁוּב חֲרון אַפְּךָ מֵעַמְּךָ וּמֵעִירְךָ וּמֵאַרְצְךָ וּמִנַּחֲלָתֶךָ:"
"Master of the world, just as Abraham our father 'conquered' his mercy to do your will whole-heartedly, so too may your mercy conquer your anger from us, and may your mercy reveal above your attributes. And treat us, YHVH our God, with the attribute of loving-kindness and the attribute of mercy. And may your great goodness turn back your wrath from your people and your city and your land and your dwellings."
The Zohar adds that the bread of the Torah has purity that is given to the Israelites who are considered as 'sons of God'. We explained in previous commentary that the 'sons of God' are those who are connected strongly to the elevated study of the Torah.
Proverbs 31:15
"וַתָּקָם, בְּעוֹד לַיְלָה–וַתִּתֵּן טֶרֶף לְבֵיתָהּ; וְחֹק, לְנַעֲרֹתֶיהָ"
"She rises also while it is still night And gives food to her household And portions to her maidens"
When Malchut (us) wakes up after midnight to the light, she (we) gets Light and spreads it to those who deserve it.
{||}