Daily Zohar # 1363 – Pinchas – Why five?
Zohar Pinchas, Vol. 20 (English)/Vol 15 (Hebrew)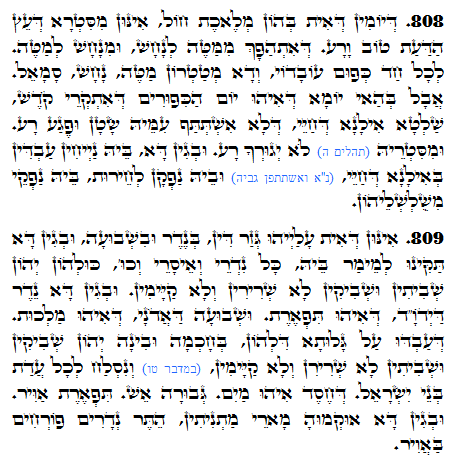 Hebrew translation:
808. שֶׁיָּמִים שֶׁיֵּשׁ בָּהֶם מְלָאכָה שֶׁל חֹל, הֵם מִצַּד שֶׁל עֵץ הַדַּעַת טוֹב וָרָע. שֶׁהִתְהַפֵּךְ מִמַּטֶּה לְנָחָשׁ, וּמִנָּחָשׁ לְמַטֶּה, לְכָל אֶחָד כְּפִי מַעֲשָׂיו. וְזֶה מְטַטְרוֹן מַטֶּה, נָחָשׁ, סָמָאֵל. אֲבָל בְּיוֹם זֶה, שֶׁהוּא יוֹם הַכִּפּוּרִים שֶׁנִּקְרָא קֹדֶשׁ, שׁוֹלֵט עֵץ הַחַיִּים, שֶׁלֹּא מִשְׁתַּתֵּף עִמּוֹ שָׂטָן וּפֶגַע רָע. וּמִצִּדּוֹ (תהלים ה) לֹא יְגֻרְךָ רָע. וּמִשּׁוּם זֶה יֵשׁ בּוֹ מְנוּחָה לַעֲבָדִים בְּעֵץ הַחַיִּים, (וּמִשְׁתַּתְּפִים אֶצְלוֹ) וּבוֹ יוֹצְאִים לַחֵרוּת, בּוֹ יוֹצְאִים מִשַּׁלְשְׁלוֹתֵיהֶם.
809. אֵלּוּ שֶׁיֵּשׁ עֲלֵיהֶם גְּזַר דִּין בְּנֶדֶר וּבִשְׁבוּעָה, וּמִשּׁוּם זֶה הִתְקִינוּ לוֹמַר בּוֹ: כָּל נְדָרִים וְאִסּוּרִים וְכוּ', כֻּלָּם יִהְיוּ מֻשְׁבָּתִים וַעֲזוּבִים בְּלִי תֹקֶף וְלֹא קַיָּמִים. וּמִשּׁוּם זֶה נֶדֶר שֶׁל שֵׁם יְהֹוָ"ה, שֶׁהִיא תִּפְאֶרֶת. וּשְׁבוּעָה – שֶׁל אֲדֹנָי, שֶׁהִיא מַלְכוּת. שֶׁעָשׂוּ עַל גָּלוּת שֶׁלָּהֶם, בְּחָכְמָה וּבִינָה יִהְיוּ נֶעֱזָבִים וּמֻשְׁבָּתִים לְלֹא תֹקֶף וּבְלִי קִיּוּם, (במדבר טו) וְנִסְלַח לְכָל עֲדַת בְּנֵי יִשְׂרָאֵל. שֶׁחֶסֶד הוּא מַיִם, וּגְבוּרָה אֵשׁ, וְתִפְאֶרֶת אֲוִיר. וּמִשּׁוּם זֶה בֵּאֲרוּ בַּעֲלֵי הַמִּשְׁנָה, הֶתֵּר נְדָרִים פּוֹרְחִים בָּאֲוִיר.
Pinchas 808-809
Numbers 29:7
"וּבֶעָשׂוֹר לַחֹדֶשׁ הַשְּׁבִיעִי הַזֶּה, מִקְרָא-קֹדֶשׁ יִהְיֶה לָכֶם, וְעִנִּיתֶם, אֶת-נַפְשֹׁתֵיכֶם; כָּל-מְלָאכָה, לֹא תַעֲשׂוּ. "
"And on the tenth day of this seventh month ye shall have a holy convocation; and ye shall afflict your souls; ye shall do no manner of work "
On the tenth day of the seventh month, which is Tishrei (Libra) we have Yom Kippur. It is the holiest day of the year that is dedicated for spiritual connection with 5 prayers.
On this day we refrain from work to keep it holy because work is the aspect of the Tree of Knowledge good and bad. On this day the Tree of Life that is all good is in control and the negative side cannot hold to that high light. We follow five restrictions related to eating and drinking, wearing leather (shoes), physical cleaning, using oil and perfumes and sex.
The aspect of 5 is always about the vessel.
The Five Sefirot of Chessed, Gevurah, Tiferet, Netzach and Hod define the vessel. Yessod is the 'pipe' that channels the light from the vessel to Malchut.
The five books of the Torah are the vessel and conduit of Light to the world.
The word for soul 'נפש' appears 5 times in the instruction about Yom Kippur in the Torah.
The five senses that connect the soul to the material world
The five prayers of Yom Kippur
The Five time that the High Priest goes to the Mikveh to cleanse himself during the service of Yom Kippur.
Before we start the first prayer of Yom Kippurwe make a special connection called 'Kol Nidrei' to nullify all vows from us and the world. With that action we disconnect from all kinds of vessels that the negative side may have hold on, and enter into the holy day with purity.
The Zohar reveals to us that a full and proper connection on Yom Kippur helps us cling to the Tree of Life and remove any hold or influence that the other side may have on us.
Additional and recommended reading:
https://dailyzohar.com/yom-kippur-and-five-meals/
Daily Zohar # 1199 – Chew Satan away
Preparing for the fast of Yom Kippur and water meditation
{||}