Daily Zohar # 1371 – Pinchas – How to get on Noah's Ark
Zohar Pinchas, Vol. 20 (English)/Vol 15 (Hebrew)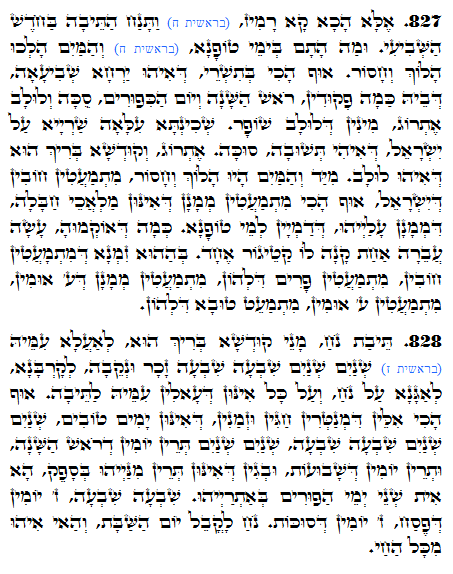 Hebrew translation:
827. אֶלָּא כָּאן הוּא רָמוּז, (בראשית ח) וַתָּנַח הַתֵּבָה בַּחֹדֶשׁ הַשְּׁבִיעִי. וּמַה שָּׁם בִּימֵי הַמַּבּוּל (שם) וְהַמַּיִם הָיוּ הָלוֹךְ וְחָסוֹר – אַף כָּךְ בְּתִשְׁרֵי, שֶׁהוּא הַחֹדֶשׁ הַשְּׁבִיעִי, שֶׁבּוֹ כַּמָּה מִצְווֹת: רֹאשׁ הַשָּׁנָה, וְיוֹם הַכִּפּוּרִים, סֻכָּה וְלוּלָב, אֶתְרוֹג, מִינִים שֶׁל הַלּוּלָב, שׁוֹפָר – הַשְּׁכִינָה הָעֶלְיוֹנָה שׁוֹרָה עַל יִשְׂרָאֵל, שֶׁהִיא תְּשׁוּבָה, סֻכָּה, אֶתְרוֹג, וְהַקָּדוֹשׁ בָּרוּךְ הוּא שֶׁהוּא לוּלָב. מִיָּד – וְהַמַּיִם הָיוּ הָלוֹךְ וְחָסוֹר. מִתְמַעֲטִים הַחֲטָאִים שֶׁל יִשְׂרָאֵל. אַף כָּךְ מִתְמַעֲטִים הַמְמֻנִּים, שֶׁהֵם מַלְאֲכֵי הַחַבָּלָה שֶׁמְּמֻנִּים עֲלֵיהֶם שֶׁדּוֹמִים לְמֵי הַמַּבּוּל. כְּמוֹ שֶׁפֵּרְשׁוּהוּ, עָשָׂה עֲבֵרָה אַחַת, קָנָה לוֹ קָטֵגוֹר אֶחָד. בְּאוֹתוֹ זְמַן שֶׁמִּתְמַעֲטִים הַחֲטָאִים, מִתְמַעֲטִים הַפָּרִים שֶׁלָּהֶם, מִתְמַעֲטִים הַמְמֻנִּים שֶׁל שִׁבְעִים אֻמּוֹת, מִתְמַעֲטִים שִׁבְעִים אֻמּוֹת, מִתְמַעֵט הַטּוֹב שֶׁלָּהֶם.
828. תֵּבַת נֹחַ, צִוָּה הַקָּדוֹשׁ בָּרוּךְ הוּא לְהַכְנִיס עִמּוֹ שְׁנַיִם שְׁנַיִם (בראשית ז) שִׁבְעָה שִׁבְעָה זָכָר וּנְקֵבָה, לְקָרְבָּן, לְהָגֵן עַל נֹחַ וְעַל כָּל אֵלּוּ שֶׁנִּכְנָסִים עִמּוֹ לַתֵּבָה. אַף כָּךְ אֵלּוּ שֶׁשּׁוֹמְרִים חַגִּים וּזְמַנִּים, שֶׁהֵם יָמִים טוֹבִים, שְׁנַיִם שְׁנַיִם שִׁבְעָה שִׁבְעָה. שְׁנַיִם שְׁנַיִם – שְׁנֵי יְמֵי רֹאשׁ הַשָּׁנָה וּשְׁנֵי יָמִים שֶׁל שָׁבוּעוֹת. וּמִפְּנֵי שֶׁאֵלּוּ שְׁנַיִם מֵהֶם בְּסָפֵק, הֲרֵי שְׁנֵי יְמֵי הַפּוּרִים בִּמְקוֹמָם. שִׁבְעָה שִׁבְעָה – שִׁבְעַת יְמֵי הַפֶּסַח, שִׁבְעַת יְמֵי הַסֻּכּוֹת. נֹחַ כְּנֶגֶד יוֹם הַשַּׁבָּת, וְזֶהוּ (שם ו) מִכָּל הָחַי.
Pinchas 827-828
During the seven days of Sukkot the priests brought seventy bulls to the altar as sacrifices for the benefit of the seventy nations of the world. On the first day they brought 13 bulls, on the second 12, on the third 11, on the fourth 10, on the fifth 9, on the sixth 8 and on the seventh 7. The Zohar asks "Why the numbers went down every day?" and explains by giving another example from the story of the Flood.
Genesis 8:4
"וַתָּנַח הַתֵּבָה בַּחֹדֶשׁ הַשְּׁבִיעִי, בְּשִׁבְעָה-עָשָׂר יוֹם לַחֹדֶשׁ, עַל, הָרֵי אֲרָרָט"
"and in the seventh month, on the seventeenth day of the month, the ark came to rest on the mountains of Ararat"
"וְהַמַּיִם, הָיוּ הָלוֹךְ וְחָסוֹר, עַד, הַחֹדֶשׁ הָעֲשִׂירִי; בָּעֲשִׂירִי בְּאֶחָד לַחֹדֶשׁ, נִרְאוּ רָאשֵׁי הֶהָרִים"
"And the waters decreased continually until the tenth month; in the tenth month, on the first day of the month, the tops of the mountains were seen"
Noah's Ark rested on the mountains of Ararat on the seventeenth day of the seventh month. It is the month of Tishrei (Libra), a time that we celebrate Rosh Hashanah, Yom Kippur, Shofar, and Sukkot with the Lulav and Etrog. The Seventeenth day was the third day (Tiferet) of Sukkot.
The waters of the flood started decreasing because the judgment on the world decreased by the light that was revealed on that time. When negativity removed so is the need for more sacrifices.
Genesis 7:2
" מִכֹּל הַבְּהֵמָה הַטְּהוֹרָה, תִּקַּח-לְךָ שִׁבְעָה שִׁבְעָה–אִישׁ וְאִשְׁתּוֹ; וּמִן-הַבְּהֵמָה אֲשֶׁר לֹא טְהֹרָה הִוא, שְׁנַיִם–אִישׁ וְאִשְׁתּוֹ"
"Of every clean beast you shall take for you seven and seven, each with his mate; and of the beasts that are not clean two and two, each with his mate"
God asked Noah to bring pairs of impure animals, male and female into the Arc. From the pure animals God asked to bring seven pairs. The Zohar reveals that they were brought for sacrifices to protect Noah and everyone inside the Ark.
Two and two is reference to the two days of Rosh Hashanah and two days of Shavuot (second day is celebrated outside Israel). Rabbi Ashlag explains that the doubts in celebrating the second days of Shavuot can be replaced with the two days of Purim. The Seven and Seven is for the seven days of Passover and seven days of Sukkot.
2+2+7+7 = 18, 'חי', 'life'. Those who keep the holidays are protected like the ones inside Noah's Ark.
{||}