Daily Zohar # 1391 – Pinchas – Make your food for Rosh Hashanah
Zohar Pinchas, Vol. 20 (English)/Vol 15 (Hebrew)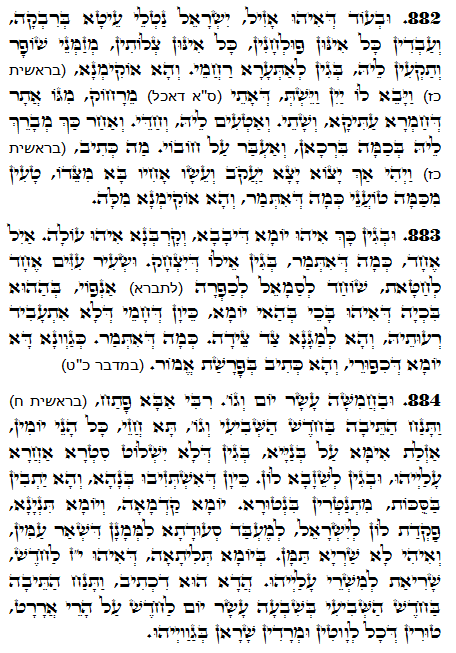 Hebrew translation:
882. וּבְעוֹד שֶׁהוּא הוֹלֵךְ, יִשְׂרָאֵל לוֹקְחִים עֵצָה מֵרִבְקָה וְעוֹשִׂים כָּל אֵלּוּ הָעֲבוֹדוֹת, כָּל אֵלּוּ הַתְּפִלּוֹת, מְזַמְּנִים שׁוֹפָר וְתוֹקְעִים בּוֹ כְּדֵי לְעוֹרֵר רַחֲמִים. וַהֲרֵי בֵּאַרְנוּ, (שם) וַיָּבֵא לוֹ יַיִן וַיֵּשְׁתְּ, שֶׁבָּא (שֶׁאָכַל) מֵרָחוֹק, מִתּוֹךְ מְקוֹם הַיַּיִן הָעַתִּיק, וְשׁוֹתֶה. וְטוֹעֵם אוֹתוֹ, וְשָׂמֵחַ. וְאַחַר כָּךְ מְבָרֵךְ אוֹתוֹ בְּכַמָּה בְרָכוֹת, וּמַעֲבִיר עַל חֲטָאָיו. מַה כָּתוּב? (שם) וַיְהִי אַךְ יָצֹא יָצָא יַעֲקֹב, וְעֵשָׂו אָחִיו בָּא מִצֵּידוֹ. טָעוּן מִכַּמָּה מַשָּׂאוֹת כְּמוֹ שֶׁנִּתְבָּאֵר, וַהֲרֵי בֵּאַרְנוּ הַדָּבָר.
883. וּמִשּׁוּם כָּךְ הוּא יוֹם שֶׁל יְבָבָה, וְהַקָּרְבָּן הוּא עוֹלָה. אַיִל אֶחָד, כְּמוֹ שֶׁנֶּאֱמַר, מִפְּנֵי אֵילוֹ שֶׁל יִצְחָק. וּשְׂעִיר עִזִּים אֶחָד לְחַטָּאת, שֹׁחַד לְסָמָאֵל לְכַפֵּר (לִשְׁבֹּר) פָּנָיו בְּאוֹתָהּ בְּכִיָּה שֶׁהוּא בּוֹכֶה בְּזֶה הַיּוֹם כֵּיוָן שֶׁרוֹאֶה שֶׁלֹּא נַעֲשָׂה רְצוֹנוֹ וַהֲרֵי לְחִנָּם צָד צִידָה, כְּמוֹ שֶׁנִּתְבָּאֵר. כְּמוֹ כֵן יוֹם הַכִּפּוּרִים, וַהֲרֵי כָּתוּב בְּפָרָשַׁת אֱמֹר.
884. וּבַחֲמִשָּׁה עָשָׂר יוֹם וְגוֹ' (במדבר כט). רַבִּי אַבָּא פָּתַח, (בראשית ח) וַתָּנַח הַתֵּבָה בַּחֹדֶשׁ הַשְּׁבִיעִי וְגוֹ'. בֹּא וּרְאֵה, כָּל אֵלּוּ הַיָּמִים הוֹלֶכֶת אִמָּא עַל הַבָּנִים כְּדֵי שֶׁלֹּא יִשְׁלֹט הַצַּד הָאַחֵר עֲלֵיהֶם וּבִכְדֵי לְהַצִּיל אוֹתָם. כֵּיוָן שֶׁנִּצְּלוּ בָנֶיהָ וַהֲרֵי יוֹשְׁבִים בַּסֻּכּוֹת, שְׁמוּרִים בִּשְׁמִירָה, יוֹם רִאשׁוֹן וְיוֹם שֵׁנִי צִוְּתָה לָהֶם לְיִשְׂרָאֵל לַעֲשׂוֹת סְעוּדָה לִמְמֻנֵּי שְׁאָר הָעַמִּים, וְהִיא לֹא שׁוֹרָה שָׁם. בְּיוֹם שְׁלִישִׁי, שֶׁהוּא י"ז לַחֹדֶשׁ, מַתְחִילָה לִשְׁרוֹת עֲלֵיהֶם. זֶהוּ שֶׁכָּתוּב וַתָּנַח הַתֵּבָה בַּחֹדֶשׁ הַשְּׁבִיעִי בְּשִׁבְעָה עָשָׂר יוֹם לַחֹדֶשׁ עַל הָרֵי אֲרָרָט. הָרִים שֶׁכָּל קְלָלוֹת וְיִסּוּרִים שְׁרוּיִים בְּתוֹכָם.
Pinchas 882-884
On the seventh month we come to Rosh Hashanah and there is a special instruction about the offerings on that day.
Numbers 29:2
" וַעֲשִׂיתֶם עֹלָה לְרֵיחַ נִיחֹחַ, לַיהוָה"
" and you shall make a burnt offering, for a pleasing aroma to YHVH"
The different word here is ' וַעֲשִׂיתֶם ', 'and you shall make'. The Zohar reveals that on that day Isaac asked Esau to go out for a hunt and make for him delicious food so he can bless him.
Genesis 27:4
"וַעֲשֵׂה-לִי מַטְעַמִּים כַּאֲשֶׁר אָהַבְתִּי, וְהָבִיאָה לִּי–וְאֹכֵלָה: בַּעֲבוּר תְּבָרֶכְךָ נַפְשִׁי, בְּטֶרֶם אָמוּת."
"and prepare a savory dish for me such as I love, and bring it to me that I may eat, so that my soul may bless you before I die"
Isaac sending out Esau is the aspect of letting the prosecutor go 'hunting' for the impure actions of the people and prepare them for prosecution. Isaac is the aspect of the left column and he gave permission to the other side to bring the impurities of the people before the upper court. The Sullam commentary explains that the upper three Sefirot of the left column are released to the other side to awaken judgments.
Jacob,with his purity, stayed back and prepared the food that is the prayers and the Shofar blowing that reveal the aspect of mercy. With the Shofar blowing the power of the left side over the upper three Sefirot is lessened and they get confused. When this happens the good food that Jacob brings with the power of Mercy takes over the judgment of the left.
The prayers and Shofar blowing on Rosh Hashanah are important tools that elevate upper and become the pleasant aroma before YHVH and turn judgment into mercy.
It is better to make 'food' of mercy during the year so when we come to Rosh Hashanah, the other side cannot find our impurities and release judgment on us. Since we can't tell for certain that we didn't hurt others unknowingly, we should make our best 'food' on Rosh Hashanah.
{||}