Daily Zohar # 1390 – Pinchas – Seven is for purity
Zohar Pinchas, Vol. 20 (English)/Vol 15 (Hebrew)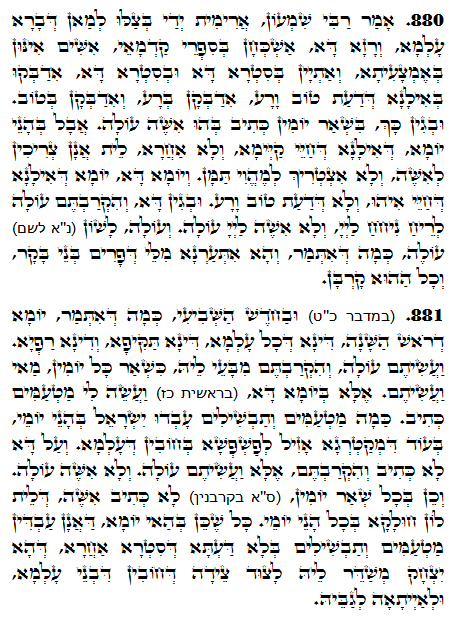 Hebrew translation:
880. אָמַר רַבִּי שִׁמְעוֹן, הֵרַמְתִּי יָדַי בִּתְפִלָּה לְמִי שֶׁבָּרָא הָעוֹלָם, וְסוֹד זֶה מָצָאנוּ בְּסִפְרֵי הָרִאשׁוֹנִים. אִשִּׁים הֵם בָּאֶמְצַע, וּבָאִים בְּצַד זֶה וּבְצַד זֶה, נִדְבָּקִים בְּעֵץ הַדַּעַת טוֹב וָרָע. נִדְבָּקִים בָּרָע וְנִדְבָּקִים בַּטּוֹב. וּמִשּׁוּם כָּךְ בִּשְׁאָר הַיָּמִים כָּתוּב בָּהֶם אִשֶּׁה עוֹלָה, אֲבָל בְּאֵלּוּ הַיָּמִים שֶׁעֵץ הַחַיִּים קַיָּם וְלֹא אַחֵר, אֵין אֲנַחְנוּ צְרִיכִים לְאִשֶּׁה, וְלֹא צָרִיךְ לִהְיוֹת שָׁם. וְיוֹם זֶה יוֹם שֶׁל עֵץ הַחַיִּים הוּא, וְלֹא שֶׁל דַּעַת טוֹב וָרָע. וּמִפְּנֵי זֶה, וְהִקְרַבְתֶּם עוֹלָה לְרֵיחַ נִיחֹחַ לַה', וְלֹא אִשֶּׁה לַה' עוֹלָה. וְעוֹלָה לְשׁוֹן (לְשֵׁם) עוֹלֶה, כְּמוֹ שֶׁנֶּאֱמַר, וַהֲרֵי הֵעַרְנוּ דְבָרִים שֶׁל פָּרִים בְּנֵי בָקָר, וְכָל אוֹתוֹ קָרְבָּן.
881. וּבַחֹדֶשׁ הַשְּׁבִיעִי (במדבר כט), כְּמוֹ שֶׁנֶּאֱמַר, יוֹם שֶׁל רֹאשׁ הַשָּׁנָה דִּין שֶׁל כָּל הָעוֹלָם, דִּין חָזָק וְדִין רָפֶה. וַעֲשִׂיתֶם עוֹלָה?! וְהִקְרַבְתֶּם הָיָה צָרִיךְ לוֹ, כִּשְׁאָר כָּל הַיָּמִים! מַהוּ וַעֲשִׂיתֶם? אֶלָּא בְּיוֹם זֶה כָּתוּב (בראשית כז) וַעֲשֵׂה לִי מַטְעַמִּים. כַּמָּה מַטְעַמִּים וְתַבְשִׁילִים עוֹשִׂים יִשְׂרָאֵל בְּאֵלּוּ הַיָּמִים, בְּעוֹד שֶׁהַמְקַטְרֵג הוֹלֵךְ לְפַשְׁפֵּשׁ בַּחֲטָאֵי הָעוֹלָם. וְעַל כֵּן לֹא כָתוּב וְהִקְרַבְתֶּם, אֶלָּא וַעֲשִׂיתֶם עוֹלָה, וְלֹא אִשֶּׁה עֹלָה. וְכֵן בְּכָל שְׁאָר הַיָּמִים (בַּקָּרְבָּנוֹת) לֹא כָתוּב אִשֶּׁה, שֶׁאֵין לָהֶם חֵלֶק בְּכָל אֵלּוּ הַיָּמִים. כָּל שֶׁכֵּן בְּזֶה הַיּוֹם, שֶׁאֲנַחְנוּ עוֹשִׂים מַטְעַמִּים וְתַבְשִׁילִים בְּלִי דַעַת הַצַּד הָאַחֵר, שֶׁהֲרֵי יִצְחָק שׁוֹלֵחַ אוֹתוֹ לָצוּד צִידָה שֶׁל חֲטָאֵי בְּנֵי הָעוֹלָם וּלְהָבִיא אֶצְלוֹ.
Pinchas 880-881
On the holiday of Shavuot the Torah asks to bring different kind of sacrifices.
Numbers 28:27
"וְהִקְרַבְתֶּם עוֹלָה לְרֵיחַ נִיחֹחַ, לַיהוָה"
"but ye shall present a burnt-offering for a sweet savour unto YHVH"
On Passover the sacrifices described as (Numbers 28:19)
"וְהִקְרַבְתֶּם אִשֶּׁה עֹלָה לַיהוָה"
"but ye shall present an offering made by fire"
The English translation can not reveal the secret but the Zohar explains that on Shavuot we receive the Torah after a cleansing process of seven weeks. The type of the sacrifice is on a higher level because on that day we achieve purification and Malchut can have unification with Zeir Anpin.
The bride comes to the groom after seven pure days in order to have pure unification and connect to the life aspect that is Binah.
We have six days to work on our vessels and prepare it for unification with the light of Shabbat. When we prepare it properly then we can elevate to Binah and connect to the Life of the Tree of Life. Without a good and pure vessel we stay at the lower level of Tree of Knowledge Good and Bad.