Daily Zohar # 1403 – Beshalach – 3 verses, 72 names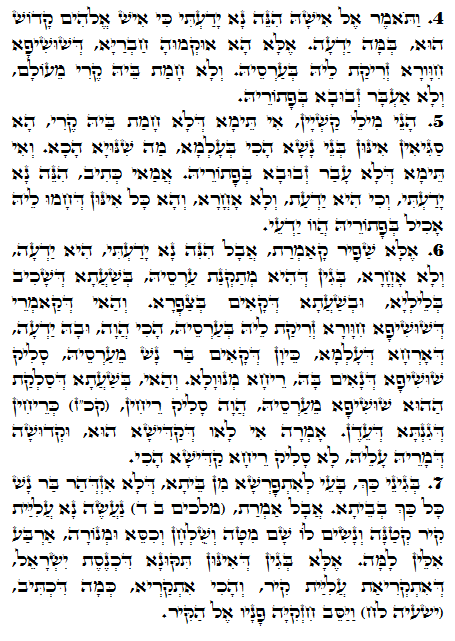 Hebrew translation:
4. וַתֹּאמֶר אֶל אִישָׁהּ הִנֵּה נָא יָדַעְתִּי כִּי אִישׁ אֱלֹהִים קָדוֹשׁ הוּא. בַּמֶּה יָדְעָה? אֶלָּא הֲרֵי פֵּרְשׁוּהָ הַחֲבֵרִים, שֶׁסָּדִין לָבָן שָׂמָה לוֹ בְּמִטָּתוֹ, וְלֹא רָאֲתָה בּוֹ קֶרִי מֵעוֹלָם, וְלֹא עָבַר זְבוּב עַל שֻׁלְחָנוֹ.
5. הַדְּבָרִים הַלָּלוּ קָשִׁים. אִם תֹּאמַר שֶׁלֹּא רָאֲתָה בּוֹ קֶרִי, הֲרֵי רַבִּים הֵם בְּנֵי אָדָם כָּאֵלֶּה בָּעוֹלָם. מָה הַשֹּׁנִי כָּאן? וְאִם תֹּאמַר שֶׁלֹּא עָבַר זְבוּב עַל שֻׁלְחָנוֹ, לָמָּה כָּתוּב הִנֵּה נָא יָדַעְתִּי? וְכִי הִיא יָדְעָה וְלֹא אַחֵר? וַהֲרֵי כָּל אֵלּוּ שֶׁרָאוּהוּ אוֹכֵל בְּשֻׁלְחָנוֹ הָיוּ יוֹדְעִים!
6. אֶלָּא יָפֶה אָמְרָה, אֲבָל הִנֵּה נָא יָדַעְתִּי – הִיא יָדְעָה וְלֹא אַחֵר, מִשּׁוּם שֶׁהִיא תִּקְנָה אֶת מִטָּתוֹ בְּשָׁעָה שֶׁשָּׁכַב בַּלַּיְלָה וּבְשָׁעָה שֶׁקָּם בַּבֹּקֶר. וְזֶה שֶׁאָמְרוּ שֶׁסָּדִין לָבָן שָׂמָה לוֹ בְּמִטָּתוֹ, כָּךְ הָיָה, וּבָזֶה הִיא יָדְעָה. שֶׁדֶּרֶךְ הָעוֹלָם, כֵּיוָן שֶׁעוֹמֵד אָדָם מִמִּטָּתוֹ, מַעֲלֶה הַסָּדִין שֶׁיָּשַׁן בּוֹ רֵיחַ מְנֻוָּל. וְזֶה, בְּשָׁעָה שֶׁלָּקְחָה אוֹתוֹ סָדִין מִמִּטָּתוֹ, הָיָה מַעֲלֶה רֵיחוֹת כְּרֵיחוֹת גַּן עֵדֶן. אָמְרָה, אִלּוּלֵי שֶׁקָּדוֹשׁ הוּא וּקְדֻשַּׁת אֲדוֹנוֹ עָלָיו, לֹא הָיָה מַעֲלֶה כָּזֶה רֵיחַ קָדוֹשׁ.
7. מִשּׁוּם כָּךְ צָרִיךְ לִפְרֹשׁ מִן הַבַּיִת, כִּי לֹא נִזְהָר אָדָם כָּל כָּךְ בַּבַּיִת. אֲבָל אָמְרָה, נַעֲשֶׂה נָּא עֲלִיַּת קִיר קְטַנָּה וְנָשִׂים לוֹ שָׁם מִטָּה וְשֻׁלְחָן וְכִסֵּא וּמְנוֹרָה. אַרְבָּעָה אֵלֶּה לָמָּה? אֶלָּא מִשּׁוּם שֶׁהֵם תִּקּוּן שֶׁל כְּנֶסֶת יִשְׂרָאֵל שֶׁנִּקְרֵאת עֲלִיַּת קִיר, וְכָךְ נִקְרֵאת, כְּמוֹ שֶׁכָּתוּב וַיַּסֵּב חִזְקִיָּה פָּנָיו אֶל הַקִּיר.
Portion of Beshalach
In the portion of Beshalach we find the three verses that is the root for the 72 names.
Exodus 14:19 " וַיִּסַּע מַלְאַךְ הָאֱלֹהִים, הַהֹלֵךְ לִפְנֵי מַחֲנֵה יִשְׂרָאֵל, וַיֵּלֶךְ, מֵאַחֲרֵיהֶם; וַיִּסַּע עַמּוּד הֶעָנָן, מִפְּנֵיהֶם, וַיַּעֲמֹד, מֵאַחֲרֵיהֶם"
14:20 " וַיָּבֹא בֵּין מַחֲנֵה מִצְרַיִם, וּבֵין מַחֲנֵה יִשְׂרָאֵל, וַיְהִי הֶעָנָן וְהַחֹשֶׁךְ, וַיָּאֶר אֶת-הַלָּיְלָה; וְלֹא-קָרַב זֶה אֶל-זֶה, כָּל-הַלָּיְלָה"
14:21 " וַיֵּט מֹשֶׁה אֶת-יָדוֹ, עַל-הַיָּם, וַיּוֹלֶךְ יְהוָה אֶת-הַיָּם בְּרוּחַ קָדִים עַזָּה כָּל-הַלַּיְלָה, וַיָּשֶׂם אֶת-הַיָּם לֶחָרָבָה; וַיִּבָּקְעוּ, הַמָּיִם"
English translation is in significant in this study but you can visit your favorite Bible on line for translation
These 3 verses that each of them has 72 letters construct the 72 names. The total number of letters is 216.
72 is numerically Chessed חסד and 216 is numerically גבורה. This is to teach us that the 72 names bring the two aspects of Chessed, Right column and Gevurah, Left column. The central column is actually forms when we use all the 72 names. As you may know the 72 names use two verses in their order from first to last letter and one verse is used from last letter to first. This means that we are involved in the process of building the 72 bridges of light to the world.
This link is to the 72 names chart. https://dailyzohar.com/wp-content/uploads/2010/12/72Names3.pdf
I do not recommend using individual names without scanning the entire chart first.
Start with the Ana B'Koach, make your mediation that must include others in it. If your prayer an or meditate for selfish reasons then you better stop immediately because that would increase the desire for the self and draw judgments.
Make your prayers with pure and truthful heart. You can include yourself only if you started with others sharing the same need or lack.
After meditation scan the 72 names and finish with "Baruch Shem…" like the last line of the Ana B'Koach. Remember that the 72 names are not magic bullets or Hocus Pocus tools. They are spiritual 'bridges' that channels light from Binah to Malchut. They would benefit those who have affinity with the light or with great desire to help others.
Remembers the lesson from previous DZ
Psalms 145:18
קָרוֹב יְקוָה, לְכָל-קֹרְאָיו– לְכֹל אֲשֶׁר יִקְרָאֻהוּ בֶאֱמֶת
G-d is near to all who call on him, to all who call on him in truth.