Daily Zohar # 1479 – Metzora – The blessings and freedom of life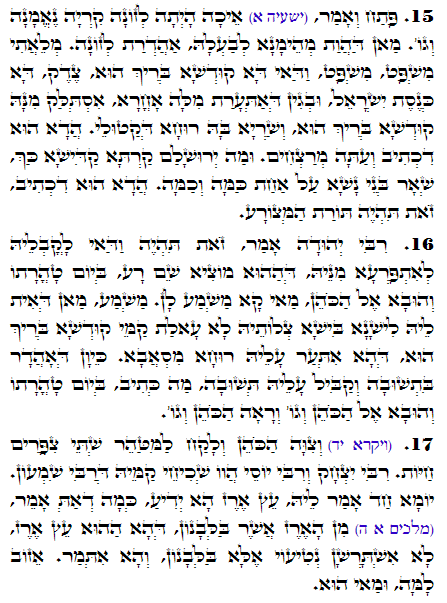 Hebrew translation:
15. פָּתַח וְאָמַר, (ישעיה א) אֵיכָה הָיְתָה לְזוֹנָה קִרְיָה נֶאֱמָנָה וְגוֹ'. מִי שֶׁהָיְתָה נֶאֱמָנָה לְבַעְלָהּ, הָפְכָה לְזוֹנָה. מְלֵאֲתִי מִשְׁפָּט. מִשְׁפָּט – זֶה וַדַּאי הַקָּדוֹשׁ בָּרוּךְ הוּא. צֶדֶק – זוֹ כְּנֶסֶת יִשְׂרָאֵל. וּמִשּׁוּם שֶׁהֵעִירָה דָּבָר אַחֵר, הִסְתַּלֵּק מִמֶּנָּה הַקָּדוֹשׁ בָּרוּךְ הוּא, וְשָׁרְתָה בָּהּ רוּחַ שֶׁל מְרַצְּחִים. זֶהוּ שֶׁכָּתוּב וְעַתָּה מְרַצְּחִים. וּמַה יְרוּשָׁלַיִם הַקְּדוֹשָׁה כָּךְ – שְׁאָר בְּנֵי אָדָם עַל אַחַת כַּמָּה וְכַמָּה. זֶהוּ שֶׁכָּתוּב זֹאת תִּהְיֶה תּוֹרַת הַמְּצֹרָע.
16. רַבִּי יְהוּדָה אָמַר, זֹאת תִּהְיֶה וַדַּאי כְּנֶגְדּוֹ לְהִפָּרַע מִמֶּנּוּ, שֶׁל אוֹתוֹ מוֹצִיא שֵׁם רַע. בְּיוֹם טָהֳרָתוֹ וְהוּבָא אֶל הַכֹּהֵן, מַה בָּא לְהַשְׁמִיעֵנוּ? מַשְׁמָע, מִי שֶׁיֵּשׁ לוֹ לָשׁוֹן הָרָע, תְּפִלָּתוֹ אֵינָהּ נִכְנֶסֶת לִפְנֵי הַקָּדוֹשׁ בָּרוּךְ הוּא, שֶׁהֲרֵי עוֹרֵר עָלָיו רוּחַ טֻמְאָה. כֵּיוָן שֶׁחָזַר בִּתְשׁוּבָה וְקִבֵּל עָלָיו תְּשׁוּבָה, מַה כָּתוּב? בְּיוֹם טָהֳרָתוֹ וְהוּבָא אֶל הַכֹּהֵן וְגוֹ', וְרָאָה הַכֹּהֵן וְגוֹ'.
17. וְצִוָּה הַכֹּהֵן וְלָקַח לַמִּטַּהֵר שְׁתֵּי צִפֳּרִים חַיּוֹת. רַבִּי יִצְחָק וְרַבִּי יוֹסֵי הָיוּ מְצוּיִים לִפְנֵי רַבִּי שִׁמְעוֹן. יוֹם אֶחָד אָמַר לוֹ, עֵץ אֶרֶז הֲרֵי יָדוּעַ, כְּמוֹ שֶׁנֶּאֱמַר (מלכים-א ה) מִן הָאֶרֶז אֲשֶׁר בַּלְּבָנוֹן, שֶׁהֲרֵי אוֹתוֹ עֵץ אֶרֶז לֹא נִשְׁרָשִׁים נְטִיעוֹתָיו אֶלָּא בַּלְּבָנוֹן, וַהֲרֵי נִתְבָּאֵר. אֵזוֹב לָמָּה? וּמַה הוּא?
.
Zohar Metzora
Leviticus 14:4
"וְצִוָּה, הַכֹּהֵן, וְלָקַח לַמִּטַּהֵר שְׁתֵּי-צִפֳּרִים חַיּוֹת, טְהֹרוֹת; וְעֵץ אֶרֶז, וּשְׁנִי תוֹלַעַת וְאֵזֹב"
"then the priest shall give orders to take two live clean birds and cedar wood and a scarlet worm and hyssop for the one who is to be cleansed."
The Zohar explains that when a person wishes to purify himself then the system supports him. The two live birds connect to Netzach and Hod, the cedar wood connects to Tiferet, the scarlet worm is for Gevurah and the hyssop for Yessod.
One of the birds is slaughtered by the priest over living water. Then the scarlet worm and the other living bird are dipped in the blood of the first bird. Then the living bird is released to freedom.
As we have learned before, the sacrifices and the slaughtering are connections to the upper three Sefirot. The neck is the bridge between the upper 3 and the lower 7. Slaughtering the animal or the bird in this case reveals a higher light that is used to sweeten the judgment represented by the blood and the scarlet worm. The living bird represents the one who is to be cleansed. His impurities are removed from him through the process and his soul is set free again.
The Zohar relates to the live bird and quotes Proverb 3:18
"עֵץ-חַיִּים הִיא, לַמַּחֲזִיקִים בָּהּ; וְתֹמְכֶיהָ מְאֻשָּׁר."
"She (The Torah) is a tree of life to those that lay hold upon her, and blessed is every one that retains (support) her."
The Torah study through the Zohar is a cleansing tool, like the live bird that frees the man from impurities. Those who may not able to study the Torah and Zohar but support those who do share the full blessings. The Ramchal (רמח"ל)(http://en.wikipedia.org/wiki/Moshe_Chaim_Luzzatto) says that those who support the study of Zohar and Torah can potentially be on a higher level. He explains that the study connects to Yessod but sustaining the study and the flow of light to the world is on the level of Binah that is the source of life and sustenance to the world.
{||}