Daily Zohar # 1602 – Shoftim – The Burning Bush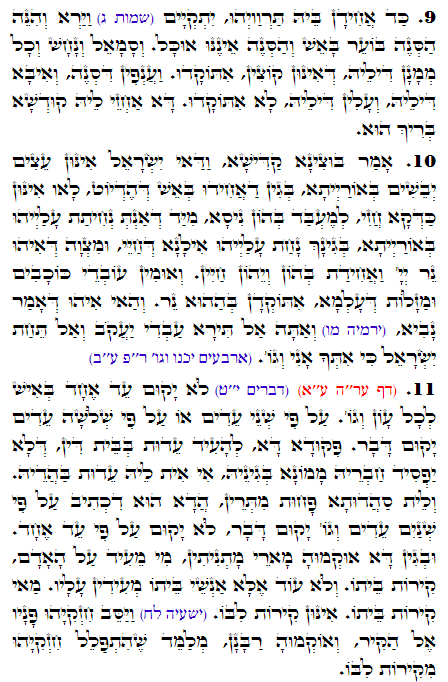 .
Hebrew translation:
9. כַּאֲשֶׁר (פְּרָט) בִּרְכוֹת הַתְּפִלָּה, שֶׁהֵן תִּקּוּן שֶׁל רִבּוֹנָם מִלְּמַטָּה לְמַעְלָה וּמִלְמַעְלָה לְמַטָּה. הַבְּרָכוֹת שֶׁאֵינָן בַּתְּפִלָּה עוֹלוֹת מִלְּמַטָּה לְמַעְלָה, עַד שֶׁמַּגִּיעוֹת לְתוֹךְ הָאוֹר שֶׁלֹּא מֵאִיר, וּמִתְעוֹרְרִים (לְמַעְלָה) בְּתֹקֶף לְאוֹתוֹ הָאוֹר שֶׁלֹּא מֵאִיר בְּאוֹתָהּ הַבְּרָכָה, וְעוֹלָה הִתְעוֹרְרוּת לְמַעְלָה, עַד שֶׁמַּגִּיעִים לַכִּסֵּא הָעֶלְיוֹן, מְקוֹר כָּל הַחַיִּים. וְאָז יוֹצְאוֹת מֵאוֹתוֹ הַמָּקוֹר הָעֶלְיוֹן בְּרָכוֹת אֲחֵרוֹת, וּפוֹגְשׁוֹת אֵלֶּה בְאֵלֶּה, וְנוֹשְׁקוֹת אֵלֶּה לְאֵלֶּה, וּבָאוֹת וְשׁוֹרוֹת עַל רֹאשׁ הַצַּדִּיק לְהָרִיק לְמַטָּה. וּכְשֶׁיּוֹרְדוֹת, מִתְבָּרְכִים הָאָבוֹת וְהַבָּנִים וְכָל נֵרוֹתֵיהֶם.
10. וְסוֹד הַבְּרָכוֹת הַלָּלוּ לְעוֹרֵר מִלְמַעְלָה לְמַטָּה בְּסוֹד זֶה: בָּרוּךְ: זֶה הַסּוֹד שֶׁל הַמָּקוֹר הָעֶלְיוֹן מֵהַכֹּל, לְהָרִיק וּלְהַמְשִׁיךְ וּלְהָאִיר אֶת כָּל הַמְּאוֹרוֹת. וְהוּא תָּמִיד בָּרוּךְ (מְבָרֵךְ), שֶׁלֹּא פוֹסְקִים מֵימָיו. וּמִשָּׁם הָרֵאשִׁית שֶׁנִּקְרֵאת הָעוֹלָם הַבָּא, וְהוּא קְצֵה הַשָּׁמַיִם, שֶׁאוֹתוֹ קָצֶה הוּא קָצֶה עֶלְיוֹן. מִשּׁוּם שֶׁיֵּשׁ קָצֶה כְּמוֹ זֶה לְמַטָּה, וְהוּא הָעוֹלָם הַתַּחְתּוֹן. וְגַם הוּא נִקְרָא בָּרוּךְ, כְּנֶגֶד הַתַּחְתּוֹנִים, לְהָרִיק לְמַטָּה, וּלְהִתְעוֹרֵר מִלְּמַטָּה לְמַעְלָה בְּבִרְכוֹת הַתְּפִלָּה. וְהַבָּרוּךְ (הָרִאשׁוֹן) הַזֶּה נִקְרָא כָּאן, בְּסוֹד הַחָכְמָה הָעֶלְיוֹנָה, שֶׁמְּמַלֵּא אוֹתוֹ הַמָּקוֹם, בִּשְׁבִיל אֶחָד דַּקִּיק שֶׁנִּכְנָס בּוֹ.
11. אַתָּה: אַחַר כָּךְ מַתְחִיל לְהִתְגַּלּוֹת, שֶׁהֲרֵי הַבָּרוּךְ הַזֶּה הוּא נִסְתָּר, וְלָכֵן נִקְרָא בְּדֶרֶךְ נִסְתָּר בָּרוּךְ, הַמָּקוֹר הָעֶלְיוֹן שֶׁלֹּא הִתְגַּלָּה. אַתָּה: הָרֵאשִׁית לְהִתְגַּלּוֹת בַּחוּץ, וְלָכֵן נִקְרָא אַתָּה. וּמִיהוּ? זֶה סוֹד הַיָּמִין, וְנִקְרָא כֹּהֵן אֵצֶל אוֹתוֹ מָקוֹם. וְזֶה סוֹד (תהלים קי) אַתָּה כֹהֵן לְעוֹלָם. מִי הַכֹּהֵן לְאוֹתוֹ עוֹלָם? אַתָּה. וְזֶהוּ הַיָּמִין הָעֶלְיוֹן, שֶׁהֲרֵי נִמְצָא לְהִתְגַּלּוֹת.
.
Zohar Shoftim
Exodus 3:2
"וַיֵּרָא מַלְאַךְ יְהוָה אֵלָיו, בְּלַבַּת-אֵשׁ–מִתּוֹךְ הַסְּנֶה; וַיַּרְא, וְהִנֵּה הַסְּנֶה בֹּעֵר בָּאֵשׁ, וְהַסְּנֶה, אֵינֶנּוּ אֻכָּל."
"And the angel of YHVH appeared to him in a flame of fire out of the midst of a bush. He looked, and behold, the bush was burning, yet it was not consumed."
The Zohar explains that the aspect of the Burning Bush will happen when God comes down to burn and remove the negativity.
The Torah brings Light to the world and is called the candle of God.
Rabbi Shimon, who is also called in the Zohar as "Holy Candle", discusses this issue with the 'Faithful Shepherd' who is Moses that experienced the effect of the 'Burning Bush' by himself.
The nations of the world that don't have connection to the Torah will burn with that candle but the Israelites will have its protection like the bush that was burning but not consumed.
With the ten Sefirot we are like the Tree of Life. Our actions and spiritual connections draw life force to our own tree. If we are far from the Light then our tree becomes dry like the negative side that doesn't have light of its own. The other side robs our Light and turns our positive to negative so they can nourish from the 'fruits' of our tree.
God will come down to remove all negativity and impurity from the world with His pure Light. Those who are 'dry', meaning without connection to the Torah, will be burnt and consumed by this Light because there is no affinity between them and the Light of God. Those who are pure and connected to the Tree of Life will enjoy the aspect of the Burning Bush. They will see the Light around them as protection while the others burn and disappear.
The Zohar quotes the words of the prophet Jeremiah 46:27-28
"וְאַתָּה אַל-תִּירָא עַבְדִּי יַעֲקֹב, וְאַל-תֵּחַת יִשְׂרָאֵל–כִּי הִנְנִי מוֹשִׁעֲךָ מֵרָחוֹק, וְאֶת-זַרְעֲךָ מֵאֶרֶץ שִׁבְיָם; וְשָׁב יַעֲקוֹב וְשָׁקַט וְשַׁאֲנַן, וְאֵין מַחֲרִיד."
"But fear not, O Jacob my servant, nor be dismayed, O Israel, for behold, I will save you from far away, and your offspring from the land of their captivity. Jacob shall return and have quiet and ease, and none shall make him afraid."
"אַתָּה אַל-תִּירָא עַבְדִּי יַעֲקֹב, נְאֻם-יְהוָה–כִּי אִתְּךָ, אָנִי: כִּי אֶעֱשֶׂה כָלָה בְּכָל-הַגּוֹיִם אֲשֶׁר הִדַּחְתִּיךָ שָּׁמָּה, וְאֹתְךָ לֹא-אֶעֱשֶׂה כָלָה, וְיִסַּרְתִּיךָ לַמִּשְׁפָּט, וְנַקֵּה לֹא אֲנַקֶּךָּ"
"Fear not, O Jacob my servant, declares YHVH, for I am with you. I will make a full end of all the nations to which I have driven you, but of you I will not make a full end. I will discipline you in just measure, and I will by no means leave you unpunished."
Read the entire prophecy of Jeremiah and you could find even description of what is going now in the world.
The Daily Zohar is delivered to your email box and gives you daily connection to the "Holy Candle" and the Tree of Life. Keep the flow and don't skip any of them. Use the Unity Zohar to connect in unity with people all over the world, creating a unified vessel for the Light to come down and complete the world correction.
[sexybutton size="medium" color="default" url="http://unityzohar.com/uzrm1.php" icon="noicon"]UnityZohar.com mobile[/sexybutton]
[sexybutton size="medium" color="default" url="http://UnityZohar.com" icon="noicon"]Unity Zohar[/sexybutton]
{}