Daily Zohar # 1935 – Sukkot – On the fifteenth of the seventh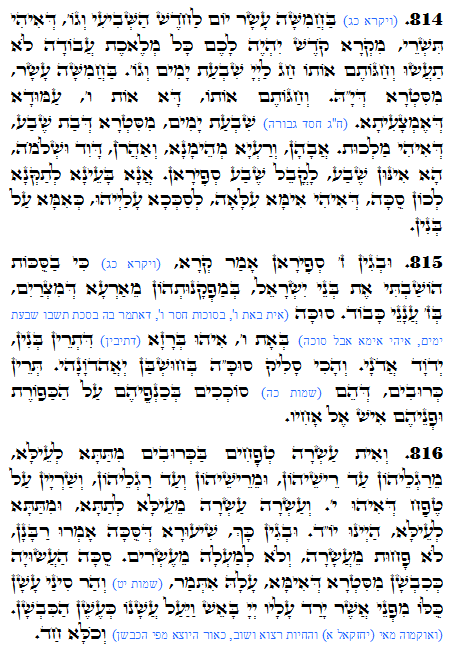 From Zohar Pinchas #814-816
Hebrew translation:
814. בַּחֲמִשָּׁה עָשָׂר יוֹם לַחֹדֶשׁ הַשְּׁבִיעִי וְגוֹ' (ויקרא כג), שֶׁהוּא תִּשְׁרֵי, מִקְרָא קֹדֶשׁ יִהְיֶה לָכֶם. כָּל מְלֶאכֶת עֲבֹדָה לֹא תַעֲשׂוּ. וְחַגֹּתֶם אֹתוֹ חַג לַה' שִׁבְעַת יָמִים וְגוֹ'. בַּחֲמִשָּׁה עָשָׂר – מִצַּד שֶׁל יָ"הּ. וְחַגֹּתֶם אֹתוֹ – זוֹ אוֹת ו', הָעַמּוּד הָאֶמְצָעִי. (חַ"ג – חֶסֶד גְּבוּרָה) שִׁבְעַת יָמִים – מִצַּד שֶׁל בַּת שֶׁבַע, שֶׁהִיא מַלְכוּת. הָאָבוֹת, וְהָרוֹעֶה הַנֶּאֱמָן, וְאַהֲרֹן, דָּוִד וּשְׁלֹמֹה – הֲרֵי הֵם שִׁבְעָה, כְּנֶגֶד שֶׁבַע סְפִירוֹת. אֲנִי רוֹצֶה לְתַקֵּן לָכֶם סֻכָּה, שֶׁהִיא אִמָּא עֶלְיוֹנָה, לְסַכֵּךְ עֲלֵיהֶם כְּאִמָּא עַל בָּנִים.
815. וּמִשּׁוּם שֶׁבַע סְפִירוֹת אָמַר הַפָּסוּק, (ויקרא כג) כִּי בַסֻּכּוֹת הוֹשַׁבְתִּי אֶת בְּנֵי יִשְׂרָאֵל, בְּצֵאתָם מֵאֶרֶץ מִצְרַיִם, בְּשִׁבְעָה עַנְנֵי כָבוֹד. סֻכָּה (יֵשׁ שֶׁכְּתוּבָה בְּאוֹת ו', בַּסֻּכֹּת חָסֵר ו', שֶׁנֶּאֱמַר בָּהּ בַּסֻּכֹּת תֵּשְׁבוּ שִׁבְעַת יָמִים. הִיא אִמָּא. אֲבָל סֻכָּה) בְּאוֹת ו' הִיא בְּסוֹד (הַתֵּבוֹת) שֶׁל שְׁנֵי בָנִים – יְהֹוָה אֲדֹנָי. וְכָךְ עוֹלָה סוּכָּ"ה בְּחֶשְׁבּוֹן יְאֲהדֹוָנָהי. שְׁנֵי כְרוּבִים, שֶׁהֵם (שמות כה) סֹכֲכִים בְּכַנְפֵיהֶם עַל הַכַּפֹּרֶת וּפְנֵיהֶם אִישׁ אֶל אָחִיו.
816. וְיֵשׁ עֲשָׂרָה טְפָחִים בַּכְּרוּבִים מִמַּטָּה לְמַעְלָה, מֵרַגְלֵיהֶם עַד רָאשֵׁיהֶם, וּמֵרָאשֵׁיהֶם עַד רַגְלֵיהֶם, וְשׁוֹרִים עַל טֶפַח שֶׁהוּא י'. וַעֲשָׂרָה עֲשָׂרָה מִמַּעְלָה לְמַטָּה, וּמִמַּטָּה לְמַעְלָה, כְּלוֹמַר יוֹ"ד. וּמִשּׁוּם זֶה שִׁעוּר סֻכָּה אָמְרוּ חֲכָמִים, לֹא פָחוֹת מֵעֲשָׂרָה, וְלֹא לְמַעְלָה מֵעֶשְׂרִים. סֻכָּה הָעֲשׂוּיָה כְּכִבְשָׁן מִצַּד שֶׁל אִמָּא, עָלֶיהָ נֶאֱמַר (שמות יט) וְהַר סִינַי עָשַׁן כֻּלּוֹ מִפְּנֵי אֲשֶׁר יָרַד עָלָיו ה' בָּאֵשׁ וַיַּעַל עֲשָׁנוֹ כְּעֶשֶׁן הַכִּבְשָׁן. (וּפֵרְשׁוּהוּ, מַהוּ (יחזקאל א) וְהַחַיּוֹת רָצוֹא וָשׁוֹב? כְּאוּר הַיּוֹצֵא מִפִּי הַכִּבְשָׁן) וְהַכֹּל אֶחָד.
Zohar Sukkot
Leviticus 23:39
"אַךְ בַּחֲמִשָּׁה עָשָׂר יוֹם לַחֹדֶשׁ הַשְּׁבִיעִי, בְּאָסְפְּכֶם אֶת-תְּבוּאַת הָאָרֶץ, תָּחֹגּוּ אֶת-חַג-יְהוָה, שִׁבְעַת יָמִים; בַּיּוֹם הָרִאשׁוֹן שַׁבָּתוֹן, וּבַיּוֹם הַשְּׁמִינִי שַׁבָּתוֹן"
"On the fifteenth day of the seventh month, when you have gathered in the produce of the land, you shall celebrate the feast of YHVH seven days. On the first day shall be a solemn rest, and on the eighth day shall be a solemn rest."
Leviticus 23:41
" וְחַגֹּתֶם אֹתוֹ חַג לַיהוָה, שִׁבְעַת יָמִים בַּשָּׁנָה: חֻקַּת עוֹלָם לְדֹרֹתֵיכֶם, בַּחֹדֶשׁ הַשְּׁבִיעִי תָּחֹגּוּ אֹתוֹ"
" You shall celebrate it as a feast to the LORD for seven days in the year. It is a statute forever throughout your generations; you shall celebrate it in the seventh month."
The fifteenth of the seventh month is the Holiday of Sukkoth and it's a seven days celebration.
'וְחַגֹּתֶם אֹתו' ' You shall celebrate it', The Zohar reveals that 'it' ' אֹתו' is את and ו, which means celebrate the ו Vav, that is Zeir Anpin. On Sukkoth we connect to Zeir Anpin through the use of the Sukkah, the Lulav and the Ushpizin.
The Sukkah is simple construction of four walls and a 'roof' that is made out of natural branches of tree or similar. It has six direction for the six Sefirot of Zeir Anpin. We are instructed to dwell in the Sukkah for seven days because inside it we become the aspect of Malchut and able to connect and draw the Light that comes from the six Sefirot of Zeir Anpin.
The text below is from the Holy Ari, describing how the Lights from Binah begin to reveal immediately after the Neilah (end) of Yom Kippur. On the fifteenth of Tishre (full moon), this Light is revealed fully in the Sukkah. Scan the text to make direct connection to these lights.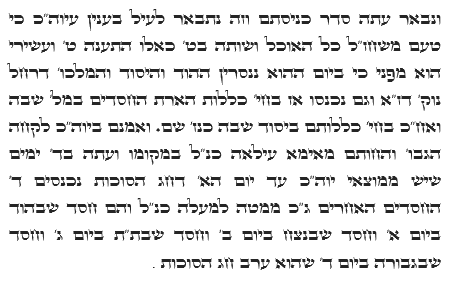 {||}