Daily Zohar # 2093 – Tazria – O my dove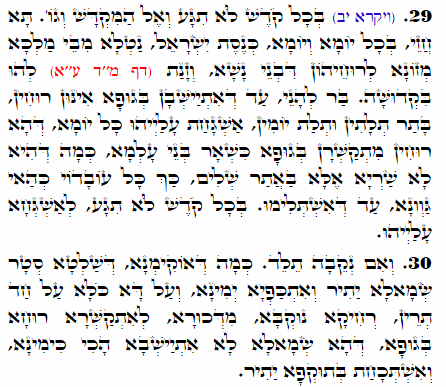 .
Hebrew translation:
29. בְּכָל קֹדֶשׁ לֹא תִגָּע וְאֶל הַמִּקְדָּשׁ וְגוֹ'. בֹּא רְאֵה, בְּכָל יוֹם וָיוֹם כְּנֶסֶת יִשְׂרָאֵל נוֹטֶלֶת מִבֵּית הַמֶּלֶךְ מָזוֹן לְרוּחוֹת בְּנֵי הָאָדָם וְזָנָה אוֹתָם בִּקְדֻשָּׁה, פְּרָט לְאֵלֶּה, שֶׁעַד שֶׁמִּתְיַשְּׁבוֹת בַּגּוּף אוֹתָן רוּחוֹת. אַחַר שְׁלֹשִׁים וּשְׁלֹשָׁה יָמִים הִיא מַשְׁגִּיחָה עֲלֵיהֶם כָּל יוֹם, שֶׁהֲרֵי הָרוּחוֹת נִקְשָׁרוֹת בַּגּוּף כִּשְׁאָר בְּנֵי הָעוֹלָם. כְּמוֹ שֶׁהִיא לֹא שׁוֹרָה אֶלָּא בְּמָקוֹם שָׁלֵם, כָּךְ כָּל מַעֲשָׂיו כְּגוֹן זֶה, עַד שֶׁנִּשְׁלָמִים. בְּכָל קֹדֶשׁ לֹא תִגָּע, לְהַשְׁגִּיחַ עֲלֵיהֶם.
30. וְאִם נְקֵבָה תֵלֵד. כְּמוֹ שֶׁבֵּאַרְנוּ, שֶׁיּוֹתֵר צַד הַשְּׂמֹאל שׁוֹלֵט, וְהַיָּמִין נִכְנָע. וְעַל כֵּן הַכֹּל, עַל כָּל אֶחָד שְׁנַיִם, רְחוֹקָה הַנְּקֵבָה מִן הַזָּכָר לְהִקָּשֵׁר הָרוּחַ בַּגּוּף, שֶׁהֲרֵי הַשְּׂמֹאל אֵינוֹ מִתְיַשֵּׁב כָּךְ כְּמוֹ הַיָּמִין, וְנִמְצָא יוֹתֵר בְּתֹקֶף.
.
Zohar Tazria
DZ 2093
29,30
Continued from previous DZ
Leviticus 12:5
"וְאִם-נְקֵבָה תֵלֵד, וְטָמְאָה שְׁבֻעַיִם כְּנִדָּתָהּ; וְשִׁשִּׁים יוֹם וְשֵׁשֶׁת יָמִים, תֵּשֵׁב עַל-דְּמֵי טָהֳרָה"
"But if she bears a female child, then she shall be unclean for two weeks, as in her menstruation; and she shall remain in the blood of her purification for sixty-six days."
Female is the aspect of left column and when a mother delivers a girl the impurity of the delivery affects the right and the left aspects of the mother. Delivery of a boy affects the left only and that is why the purification process is one week, having one Shabbat in between, and on the eighth day the boy is circumcised and receives a name.
For a girl the purification process requires two weeks so the mother and child go twice through the Light of Binah. For that reason a girl receives her name only on the second Shabbat of her life.
Before giving the name for the girl we read a verse from Song of Songs 2:14
"יוֹנָתִי בְּחַגְוֵי הַסֶּלַע, בְּסֵתֶר הַמַּדְרֵגָה, הַרְאִינִי אֶת-מַרְאַיִךְ, הַשְׁמִיעִנִי אֶת-קוֹלֵךְ: כִּי-קוֹלֵךְ עָרֵב, וּמַרְאֵיךְ נָאוֶה"
"O my dove, in the clefts of the rock, In the secret place of the steep pathway, Let me see your form, Let me hear your voice; For your voice is sweet, And your form is lovely."
The Dove is the aspect of the soul as a female part connecting to the Light. The verse invites the Light to connect to the soul.
{||}