Daily Zohar # 2092 – Tazria – Pure and impure blood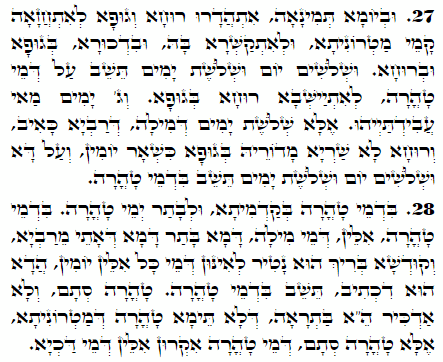 .
Hebrew translation:
27. וּבַיּוֹם הַשְּׁמִינִי חוֹזְרִים הָרוּחַ וְהַגּוּף לְהֵרָאוֹת לִפְנֵי הַגְּבִירָה וּלְהִקָּשֵׁר עִמָּהּ, וּבְזָכָר, בְּגוּף וּבְרוּחַ. וּשְׁלֹשִׁים יוֹם וּשְׁלֹשֶׁת יָמִים תֵּשֵׁב עַל (בִּ)דְּמֵי טָהֳרָה, שֶׁתִּתְיַשֵּׁב הָרוּחַ בַּגּוּף. וּשְׁלֹשָׁה יָמִים מָה עוֹשִׂים? אֵלּוּ שְׁלֹשֶׁת יְמֵי הַמִּילָה, שֶׁלַּתִּינוֹק כּוֹאֵב, וְהָרוּחַ לֹא שָׂמָה אֶת מְדוֹרָהּ בַּגּוּף כְּבִשְׁאָר הַיָּמִים, וְעַל כֵּן – וּשְׁלֹשִׁים יוֹם וּשְׁלֹשֶׁת יָמִים תֵּשֵׁב בִּדְמֵי טָהֳרָה.
28. בִּדְמֵי טָהֳרָה בָּרִאשׁוֹנָה, וְאַחַר כָּךְ יְמֵי טָהֳרָה. בִּדְמֵי טָהֳרָה – אֵלּוּ דְּמֵי מִילָה, דָּם אַחַר דָּם שֶׁבָּא מֵהַתִּינוֹק, וְהַקָּדוֹשׁ בָּרוּךְ הוּא שׁוֹמֵר אוֹתָם דָּמִים כָּל הַיָּמִים הַלָּלוּ. זֶהוּ שֶׁכָּתוּב תֵּשֵׁב בִּדְמֵי טָהֳרָה, טָהֳרָה סְתָם, וְלֹא הִזְכִּיר הֵ"א הָאַחֲרוֹנָה, שֶׁלֹּא תֹאמַר הַטָּהֳרָה שֶׁל הַגְּבִירָה, אֶלָּא טָהֳרָה סְתָם. דְּמֵי טָהֳרָה נִקְרָאִים יְמֵי הַטֹּהַר הַלָּלוּ.
.
Zohar Tazria
Continued from DZ 1796
This commentary is a continuation of the study from last year's DZ 1796 https://dailyzohar.com/daily-zohar-1796/
Leviticus 12:2
"דַּבֵּר אֶל-בְּנֵי יִשְׂרָאֵל, לֵאמֹר, אִשָּׁה כִּי תַזְרִיעַ, וְיָלְדָה זָכָר–וְטָמְאָה שִׁבְעַת יָמִים, כִּימֵי נִדַּת דְּו‍ֹתָהּ תִּטְמָא"
"Speak to the sons of Israel, saying: 'When a woman gives birth and bears a male child, then she shall be unclean for seven days, as in the days of her menstruation she shall be unclean."
When a woman completes her labor and if the pain increases, the Holy One, Bless be He, is next to her. He summons the snake to open the 'curtain' with two bites. The first one draws blood to satisfy the snake and the second releases the water. Because the Snake gets his share the woman becomes impure for seven days.
On the eighth day the soul of the child connects to Binah and on that day he goes through circumcision and receives a name, allowing the soul connection to the body.
The blood of the circumcision is considered pure because it comes from the process of removing the Klipot from the Yessod of the child. The Holy One Blessed be He, keeps the blood for the 33 days to support the rebuilding of the vessel of the mother.
{||}