Daily Zohar # 2109 – Acharei Mot – Choose Life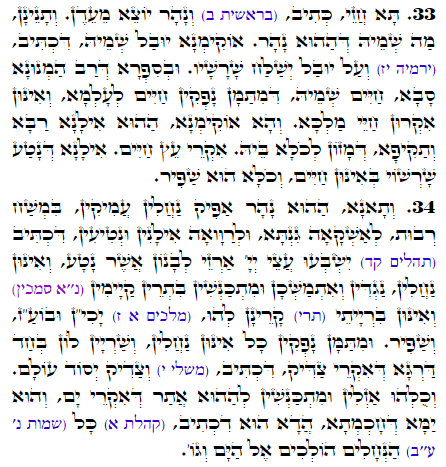 .
Hebrew translation:
33. בֹּא רְאֵה, כָּתוּב (בראשית ב) וְנָהָר יֹצֵא מֵעֵדֶן. וְשָׁנִינוּ, מַה שְּׁמוֹ שֶׁל אוֹתוֹ נָהָר? בֵּאַרְנוּ שֶׁשְּׁמוֹ יוּבַל, שֶׁכָּתוּב (ירמיה טז) וְעַל יוּבַל יְשַׁלַּח שָׁרָשָׁיו. וּבְסִפְרוֹ שֶׁל רַב הַמְנוּנָא סָבָא: חַיִּים שְׁמוֹ, שֶׁמִּשָּׁם יוֹצְאִים חַיִּים לָעוֹלָם, וְהֵם נִקְרָאִים חַיֵּי הַמֶּלֶךְ. וַהֲרֵי בֵּאַרְנוּ, אוֹתוֹ עֵץ גָּדוֹל וְחָזָק שֶׁבּוֹ יֵשׁ מָזוֹן לַכֹּל נִקְרָא עֵץ הַחַיִים. הָאִילָן שֶׁנָּטַע שָׁרָשָׁיו בְּאוֹתָם הַחַיִּים, וְהַכֹּל הוּא נָאֶה.
34. וְשָׁנִינוּ, אוֹתוֹ הַנָּהָר הוֹצִיא נְחָלִים עֲמֻקִּים בְּשֶׁמֶן הַמִּשְׁחָה, לְהַשְׁקוֹת אֶת הַגָּן וּלְהַרְווֹת עֵצִים וּנְטִיעוֹת, שֶׁכָּתוּב (תהלים קד) יִשְׂבְּעוּ עֲצֵי ה' אַרְזֵי לְבָנוֹן אֲשֶׁר נָטָע. וְאוֹתָם הַנְּחָלִים שׁוֹפְעִים וְנִמְשָׁכִים וּמִתְכַּנְּסִים לִשְׁנֵי עַמּוּדִים, וְאוֹתָן בָּרַיְתוֹת (שְׁתַּיִם) קוֹרְאִים לָהֶן יָכִי"ן וּבוֹעַ"ז, וְיָפֶה. וּמִשּׁוּם יוֹצְאִים כָּל אוֹתָם נְחָלִים, וּמַשְׁרִים אוֹתָם בְּדַרְגָּה אַחַת שֶׁנִּקְרֵאת צַדִּיק, שֶׁכָּתוּב (משלי י) וְצַדִּיק יְסוֹד עוֹלָם. וְכֻלָּם הוֹלְכִים וּמִתְכַּנְּסִים לְאוֹתוֹ מָקוֹם שֶׁנִּקְרָא יָם, וְהוּא יָם הַחָכְמָה. זֶהוּ שֶׁכָּתוּב (קהלת א) כָּל הַנְּחָלִים הֹלְכִים אֶל הַיָּם וְגוֹ'.
.
Zohar Acharei Mot
33, 34
Continued from previous DZ
Genesis 2:10
"וְנָהָר יֹצֵא מֵעֵדֶן, לְהַשְׁקוֹת אֶת-הַגָּן; וּמִשָּׁם, יִפָּרֵד, וְהָיָה, לְאַרְבָּעָה רָאשִׁים"
"Now a river flowed out of Eden to water the garden; and from there it divided and became four rivers."
The river is Binah with life force that nourishes all the lower levels. The Zohar reveals that the name of this is 'Life' and it nourishes the tree, which is Zeir Anpin and it is called Tree of Life, because his roots are in the source, that is 'Life'. From there the 'river' flows to Yessod and to the 'sea' that is Malchut.
The Zohar teaches us here that the roots of Life are in the upper three Sefirot. We connect to it through Binah. This can be achieved with prayers/spiritual connections, Shabbat and following the laws of the Torah.
The Torah is the aspect of Zeir Anpin that connects us to Binah and life. When we follow the laws of the Torah we connect to life.
{||}