Daily Zohar # 2139 – Bechukotai – He's watching on you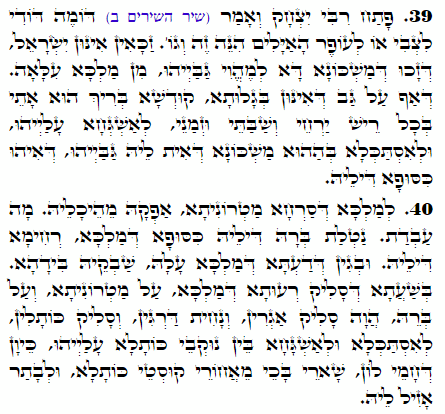 .
Hebrew translation:
39. פָּתַח רַבִּי יִצְחָק וְאָמַר, (שיר השירים ב) דּוֹמֶה דּוֹדִי לִצְבִי אוֹ לְעֹפֶר הָאַיָּלִים הִנֵּה זֶה וְגוֹ'. אַשְׁרֵיהֶם יִשְׂרָאֵל שֶׁזָּכוּ שֶׁמַּשְׁכּוֹן זֶה יִהְיֶה אֶצְלָם מֵהַמֶּלֶךְ הָעֶלְיוֹן. שֶׁאַף עַל גַּב שֶׁהֵם בַּגָּלוּת, הַקָּדוֹשׁ בָּרוּךְ הוּא בָּא בְּכָל רֹאשׁ חֹדֶשׁ וְשַׁבָּתוֹת וּזְמַנִּים לְהַשְׁגִּיחַ עֲלֵיהֶם, וּלְהִסְתַּכֵּל בְּאוֹתוֹ מַשְׁכּוֹן שֶׁיֵּשׁ לוֹ אֶצְלָם, שֶׁהוּא חֶמְדָּתוֹ.
40. לְמֶלֶךְ שֶׁסָּרְחָה הַגְּבִירָה, וְהוֹצִיאָהּ מֵהֵיכָלוֹ. מֶה עָשְׂתָה? לָקְחָה אֶת הַבֵּן שֶׁלּוֹ, חֶמְדַּת הַמֶּלֶךְ, אֲהוּבוֹ. וּמִשּׁוּם שֶׁדַּעַת הַמֶּלֶךְ עָלֶיהָ, הִשְׁאִירוֹ בְיָדֶיהָ. בְּשָׁעָה שֶׁעוֹלֶה רְצוֹן הַמֶּלֶךְ עַל הַגְּבִירָה וְעַל בְּנוֹ, הָיָה עוֹלֶה לַעֲלִיּוֹת וְיוֹרֵד מַדְרֵגוֹת, וְעוֹלֶה עַל הַכְּתָלִים, לְהִסְתַּכֵּל וּלְהַשְׁגִּיחַ בֵּין נִקְבֵי הַכֹּתֶל עֲלֵיהֶם. כֵּיוָן שֶׁרוֹאֶה אוֹתָם, הוּא מַתְחִיל לִבְכּוֹת מֵאֲחוֹרֵי חֲרַכֵּי הַכֹּתֶל, וְאַחַר כָּךְ הוֹלֵךְ לוֹ.
.
Zohar Bechukotai
The Zohar explains the separation of the Light and the Shechina as a King that let his Queen go be with the son (Israelites) who sinned and had to leave the palace.
Even though they are in exile, the King follows them into their synagogues and study rooms. He comes to visit them on Rosh Chodesh, Shabbat, and Holidays.
Song of Songs 2:9
"דּוֹמֶה דוֹדִי לִצְבִי, אוֹ לְעֹפֶר הָאַיָּלִים; הִנֵּה-זֶה עוֹמֵד, אַחַר כָּתְלֵנוּ–מַשְׁגִּיחַ מִן-הַחַלֹּנוֹת, מֵצִיץ מִן-הַחֲרַכִּים"
"My beloved is like a gazelle or a young stag. Behold, he is standing behind our wall, He is looking through the windows, He is peering through the lattice."
The Zohar tells us that we should be happy on these occasions because the Light watches us and his queen from the windows. For that reason the house of prayers should be with windows, preferably 12 windows on the east wall.
{||}