Daily Zohar # 2301 – Vayishlach – Stronger than magic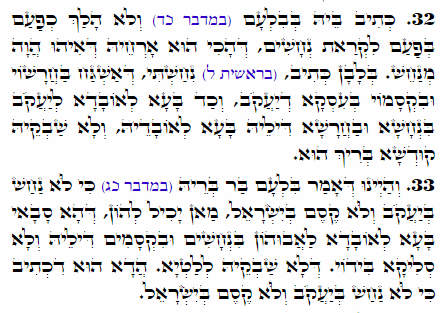 .
Hebrew translation:
32. כָּתוּב בְּבִלְעָם (במדבר כד) וְלֹא הָלַךְ כְּפַעַם בְּפַעַם לִקְרַאת נְחָשִׁים, שֶׁכָּךְ הוּא דַּרְכּוֹ – שֶׁהוּא הָיָה מְנַחֵשׁ. בְּלָבָן כָּתוּב (בראשית ל) נִחַשְׁתִּי, שֶׁהִשְׁגִּיחַ בִּכְשָׁפָיו וּבִקְסָמָיו בָּעֵסֶק שֶׁל יַעֲקֹב, וּכְשֶׁרָצָה לְהַאֲבִיד אֶת יַעֲקֹב בַּנְּחָשִׁים וּבַכִּשּׁוּפִים שֶׁלּוֹ, רָצָה לְאַבְּדוֹ, וְלֹא עֲזָבוֹ הַקָּדוֹשׁ בָּרוּךְ הוּא.
33. וְהַיְנוּ שֶׁאָמַר בִּלְעָם בֶּן בְּנוֹ, כִּי לֹא נַחַשׁ בְּיַעֲקֹב וְלֹא קֶסֶם בְּיִשְׂרָאֵל. מִי יָכוֹל לָהֶם? שֶׁהֲרֵי סָבִי רָצָה לְאַבֵּד אֶת אֲבִיהֶם בַּנְּחָשִׁים וּבַקְּסָמִים שֶׁלּוֹ וְלֹא עָלָה בְיָדוֹ, שֶׁלֹּא הִשְׁאִירוֹ לְקַלֵּל. זֶהוּ שֶׁכָּתוּב כִּי לֹא נַחַשׁ בְּיַעֲקֹב וְלֹא קֶסֶם בְּיִשְׂרָאֵל.
.
Zohar Vayishlach
Continued from DZ 1983
https://dailyzohar.com/daily-zohar-1983/
Genesis 30:27
"וַיֹּאמֶר אֵלָיו לָבָן, אִם-נָא מָצָאתִי חֵן בְּעֵינֶיךָ; נִחַשְׁתִּי, וַיְבָרְכֵנִי יְהוָה בִּגְלָלֶךָ"
"But Laban said to him, "If now it pleases you, stay with me; I have divined (with omens) that YHVH has blessed me on your account."
The root of the Hebrew word 'נִחַשְׁתִּי' that is translated to 'Omens' is "נחש" and it means 'Snake'.
He knew that he was blessed because of Jacob. Laban tried like the snake to use different omens against Jacob and control him and enslave his energy but couldn't.
Laban's grandson, Balaam, tried to use similar omens against the Israelites but realized that the blessings of Jacob provided them with strong protection so he tried different magics.
Numbers 24:1
"וַיַּרְא בִּלְעָם, כִּי טוֹב בְּעֵינֵי יְהוָה לְבָרֵךְ אֶת-יִשְׂרָאֵל, וְלֹא-הָלַךְ כְּפַעַם-בְּפַעַם, לִקְרַאת נְחָשִׁים; וַיָּשֶׁת אֶל-הַמִּדְבָּר, פָּנָיו"
"When Balaam saw that it pleased YHVH to bless Israel, he did not go as at other times to seek omens but he set his face toward the wilderness."
Balaam failed his contract with Balak to curse the children of Israel. He gave up and made a statement (Numbers 23:23)
"כִּי לֹא-נַחַשׁ בְּיַעֲקֹב, וְלֹא-קֶסֶם בְּיִשְׂרָאֵל"
"For there is no omen against Jacob, Nor is there any magic against Israel;"
Jacob received the name Israel after leaving Laban and overcoming the angel of the negative side. His statement above is admitting that his grandfather cannot affect Jacob and now he cannot cause any harm on the children of Israel, who is Jacob.
Lesson: The blessings from God are stronger than any magic.
{||}