Daily Zohar # 2827 – Ki Tetze – A star out of Jacob
Daily Zohar 2827
Daily Zohar 2827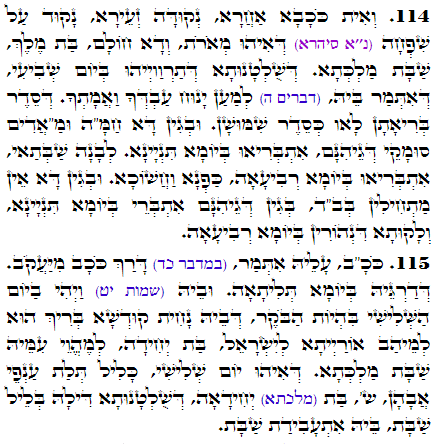 .
Hebrew translation:
114. וְיֵשׁ כּוֹכָב אַחֵר, נְקֻדָּה קְטַנָּה, נָקוּד עַל שִׁפְחָה (הַלְּבָנָה), שֶׁהוּא מְאֹרֹת, וְזֶה חוֹלָם, בַּת מֶלֶךְ, שַׁבָּת הַמַּלְכָּה. שֶׁשִּׁלְטוֹן שְׁנֵיהֶם בַּיּוֹם הַשְּׁבִיעִי, שֶׁנֶּאֱמַר בּוֹ (דברים ה) לְמַעַן יָנוּחַ עַבְדְּךָ וַאֲמָתְךָ. שֶׁסֵּדֶר בְּרִיאָתָם לֹא כְסֵדֶר שִׁמּוּשָׁם. וְלָכֵן חַמָּ"ה וּמַאְדִּי"ם, אֲדֻמִּים שֶׁל הַגֵּיהִנֹּם, נִבְרְאוּ בְּיוֹם שֵׁנִי. לְבָנָה שַׁבְּתַאי נִבְרְאוּ בְּיוֹם רְבִיעִי, רָעָב וְחֹשֶׁךְ. וְלָכֵן אֵין מַתְחִילִים בְּשֵׁנִי וּרְבִיעִי, מִשּׁוּם שֶׁגֵּיהִנֹּם נִבְרָא בְּיוֹם שֵׁנִי, וְלִקּוּי מְאוֹרוֹת בְּיוֹם רְבִיעִי.
115. כֹּכָ"ב, עָלָיו נֶאֱמַר (במדבר כד) דָּרַךְ כּוֹכָב מִיַּעֲקֹב. שֶׁדַּרְגָּתוֹ בְּיוֹם שְׁלִישִׁי, וּבוֹ (שמות יט) וַיְהִי בַיּוֹם הַשְּׁלִישִׁי בִּהְיוֹת הַבֹּקֶר, שֶׁבּוֹ יָרַד הַקָּדוֹשׁ בָּרוּךְ הוּא לָתֵת אֶת הַתּוֹרָה לְיִשְׂרָאֵל, בַּת יְחִידָה, לִהְיוֹת עִמּוֹ שַׁבָּת הַמַּלְכָּה, שֶׁהוּא יוֹם שְׁלִישִׁי, כּוֹלֵל שְׁלֹשֶׁת עַנְפֵי הָאָבוֹת, ש', הַבַּת (הַמַּלְכָּה) הַיְחִידָה, שֶׁשִּׁלְטוֹנָהּ בְּלֵיל שַׁבָּת, בּוֹ נַעֲשֵׂית שַׁבָּת.
.
Zohar Ki tetze
#114
The word 'מְאֹרֹת' 'lights' represents the moon that doesn't have light of its own. The dot of the 'Cholam'
that we see between the letters is called Shabbat, the King's daughter.
Planet Saturn and Shabbat control the seventh day of rest. The order the elements were created is not the order of their importance or effect. The Sun and Mars are reddish and created on the second day of Creation and for that they have the aspect of Gehenna (hell). The moon, Saturn and eclipses created on the fourth day of Creation. Saturn brings aspects of hunger and darkness, and for that reason we don't start new activities on the second and fourth days of the week.


#115
"there shall step forth a star out of Jacob" (Numbers 24:17), is the Central column and at the level of the third day of Creation.
Exodus 19:16
"וַיְהִי בַיּוֹם הַשְּׁלִישִׁי בִּהְיֹת הַבֹּקֶר וַיְהִי קֹלֹת וּבְרָקִים וְעָנָן כָּבֵד עַל הָהָר וְקֹל שֹׁפָר חָזָק מְאֹד וַיֶּחֱרַד כָּל הָעָם אֲשֶׁר בַּמַּחֲנֶה"
"So it came about on the third day, when it was morning, that there were thunder and lightning flashes and a thick cloud upon the mountain and a very loud trumpet sound, so that all the people who were in the camp trembled."
The Torah that is also called 'בת','daughter' was given to the Israelites in Malchut on the third day that is Central column, Tiferet. The third day represents the three Patriarchs and the letters ש Shin that is constructed from three ווו Vavs. The letter ש for the three columns of Chessed, Gevurah and Tiferet with the Torah, 'daughter', 'בת', form the word 'שבת','Shabbat'. On Shabbat the upper sefirot of Zeir Anpin and Malchut are joined together.


{||}