Daily Zohar # 3200 – Toldot – The world before and after the Resurrection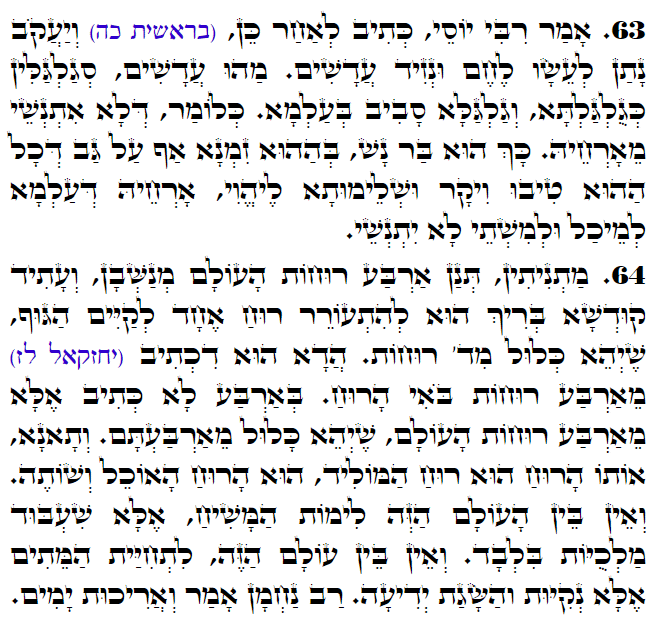 .
Hebrew translation:
63. אָמַר רַבִּי יוֹסֵי, כָּתוּב לְאַחַר כֵּן, וְיַעֲקֹב נָתַן לְעֵשָׂו לֶחֶם וּנְזִיד עֲדָשִׁים. מַה זֶּה עֲדָשִׁים? עֲגַלְגַּלִּים כְּגֻלְגֹּלֶת, וְהַגַּלְגַּל סוֹבֵב בָּעוֹלָם, כְּלוֹמַר שֶׁלֹּא נִשְׁכָּח מִדַּרְכּוֹ. כָּךְ הוּא בֶּן אָדָם, בְּאוֹתוֹ זְמַן, אַף עַל גַּב שֶׁכָּל אוֹתוֹ חֶסֶד וְכָבוֹד וּשְׁלֵמוּת יִהְיוּ, דַּרְכּוֹ שֶׁל הָעוֹלָם לֶאֱכֹל וְלִשְׁתּוֹת לֹא יִשְׁתַּכַּח.
64. מִשְׁנָה. שָׁנִינוּ, אַרְבַּע רוּחוֹת הָעוֹלָם מְנַשְּׁבוֹת, וְעָתִיד הַקָּדוֹשׁ בָּרוּךְ הוּא לְהִתְעוֹרֵר רוּחַ אֶחָד לְקַיֵּם הַגּוּף שֶׁיִּהְיֶה כָּלוּל מֵאַרְבַּע רוּחוֹת. זֶהוּ שֶׁכָּתוּב (יחזקאל לז) מֵאַרְבַּע רוּחוֹת בֹּאִי הָרוּחַ. בְּאַרְבַּע לֹא כָתוּב, אֶלָּא מֵאַרְבַּע רוּחוֹת הָעוֹלָם, שֶׁיְּהֵא כָּלוּל מֵאַרְבַּעְתָּם.וְלָמַדְנוּ, אוֹתוֹ הָרוּחַ הוּא רוּחַ הַמּוֹלִיד, הוּא הָרוּחַ הָאוֹכֵל וְשׁוֹתֶה, וְאֵין בֵּין הָעוֹלָם הַזֶּה לִימוֹת הַמָּשִׁיחַ אֶלָּא שִׁעְבּוּד מַלְכֻיּוֹת בִּלְבַד, וְאֵין בֵּין עוֹלָם הַזֶּה לִתְחִיַּת הַמֵּתִים אֶלָּא נְקִיּוּת וְהַשָּׂגַת יְדִיעָה. רַב נַחְמָן אָמַר, וַאֲרִיכוּת יָמִים.
.
Zohar Toldot
#63
Genesis 25:34
"וְיַעֲקֹב נָתַן לְעֵשָׂו, לֶחֶם וּנְזִיד עֲדָשִׁים, וַיֹּאכַל וַיֵּשְׁתְּ, וַיָּקָם וַיֵּלַךְ; וַיִּבֶז עֵשָׂו, אֶת-הַבְּכֹרָה"
"And Jacob gave Esau bread and stew of lentils; then he ate and drank, arose, and went his way. Thus Esau despised his birthright."
Lentils are circular like the orbit that earth follows and never leave its course. Men are the same. Even if a person achieves perfection in this world they must eat and drink because it's the ways of this world.
#64
The word for 'wind' is 'רוח' 'Ruach' and it represents the force of life inside us. Ruach also means 'direction'
There are four winds that 'breath' life in the world. In the future, the Holy One Blessed be He, would awaken one wind to bring life into the body at the time of the Resurrection.
Ezekiel 37:9 (From the vision and prophecy of the 'Dry Bones', related to the Resurrection)
"וַיֹּאמֶר אֵלַי הִנָּבֵא אֶל הָרוּחַ הִנָּבֵא בֶן אָדָם וְאָמַרְתָּ אֶל הָרוּחַ כֹּה אָמַר אֲדֹנָי יְהוִה מֵאַרְבַּע רוּחוֹת בֹּאִי הָרוּחַ וּפְחִי בַּהֲרוּגִים הָאֵלֶּה וְיִחְיוּ."
"Then He said to me, "Prophecy to the breath, prophesy, son of man, and say to the breath, 'Thus says YHVH GOD, "Come from the four winds, O Wind, and breathe on these

slain, that they come to life."'"
The wind of the Resurrection would be included from the four winds. It is a wind of life that eats and drinks.
There will be no change between the world we live in now and the world after the Resurrection. The difference would be in the type of governance. In this world, we are under the control of human rulers but after the Resurrection, the whole world will be governed by Mashiach.
The Zohar says that the bridge between this world and the Resurrection is purity and knowledge.
Lesson;
The world would continue to be as it is now but without politics and fight for control. Mashiach would remove all the negativity and rule the world. We will still be eating and drinking and life of pleasures would be without negativity.
Until then we need to purify ourselves from all negativity and study the Torah so we will have the merits to live at that time.
{||}