Daily Zohar # 1632 – Yom Kippur – The Final Shofar blowing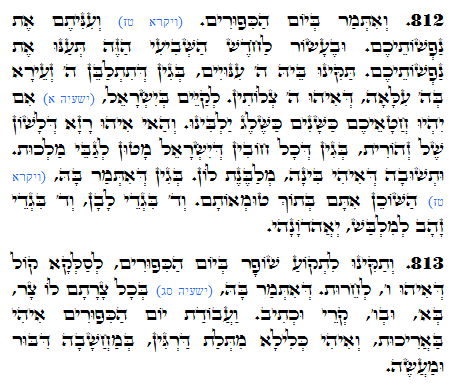 Hebrew translation:
812. וְנֶאֱמַר בְּיוֹם הַכִּפּוּרִים, (ויקרא טז) וְעִנִּיתֶם אֶת נַפְשֹׁתֵיכֶם. וּבֶעָשׂוֹר לַחֹדֶשׁ הַשְּׁבִיעִי הַזֶּה תְּעַנּוּ אֶת נַפְשֹׁתֵיכֶם. תִּקְּנוּ בוֹ חֲמִשָּׁה עִנּוּיִים, כְּדֵי שֶׁתִּתְלַבֵּן ה' קְטַנָּה בְּה' עֶלְיוֹנָה, שֶׁהִיא חָמֵשׁ תְּפִלּוֹת. לְקַיֵּם בְּיִשְׂרָאֵל, (ישעיה א) אִם יִהְיוּ חֲטָאֵיכֶם כַּשָּׁנִים כַּשֶּׁלֶג יַלְבִּינוּ. וְזֶהוּ סוֹד שֶׁל לְשׁוֹן זְהוֹרִית, מִשּׁוּם שֶׁכָּל הַחוֹבוֹת שֶׁל יִשְׂרָאֵל מַגִּיעִים אֵצֶל הַמַּלְכוּת, וּתְשׁוּבָה, שֶׁהִיא בִּינָה, מְלַבֶּנֶת אוֹתָם, מִשּׁוּם שֶׁנֶּאֱמַר בָּהּ (ויקרא טז) הַשֹּׁכֵן אִתָּם בְּתוֹךְ טֻמְאֹתָם. וְאַרְבָּעָה בִּגְדֵי לָבָן וְאַרְבָּעָה בִּגְדֵי זָהָב לְהַלְבִּישׁ – יְאֲהדֹוָנָהי.
813. וְתִקְּנוּ לִתְקֹעַ שׁוֹפָר בְּיוֹם הַכִּפּוּרִים, לְהַעֲלוֹת קוֹל, שֶׁהוּא אוֹת ו', לְחֵרוּת, שֶׁנֶּאֱמַר בָּהּ (ישעיה סג) בְּכָל צָרָתָם לוֹ צָר – בְּא' וּבְו', קְרִי וּכְתִיב. וַעֲבוֹדַת יוֹם הַכִּפּוּרִים הִיא בַּאֲרִיכוּת, וְהִיא כְּלוּלָה מִשָּׁלֹשׁ מַדְרֵגוֹת – בְּמַחֲשָׁבָה, דִּבּוּר וּמַעֲשֶׂה.
From Zohar Pinchas #812-813
Previously published as DZ 1365
Leviticus 16:16
"וְכִפֶּר עַל-הַקֹּדֶשׁ, מִטֻּמְאֹת בְּנֵי יִשְׂרָאֵל, וּמִפִּשְׁעֵיהֶם, לְכָל-חַטֹּאתָם; וְכֵן יַעֲשֶׂה, לְאֹהֶל מוֹעֵד, הַשֹּׁכֵן אִתָּם, בְּתוֹךְ טֻמְאֹתָם"
"And he shall make atonement for the holy place, because of the uncleannesses of the children of Israel, and because of their transgressions, even all their sins; and so shall he do for the tent of meeting, that dwelled with them in the midst of their uncleannesses."
On Yom Kippur we cleanse our vessels through the five restrictions and the spiritual connections. The five is the aspect of the H ה of Malchut that goes up to the H ה of Binah and get cleansed.
The Holy Tabernacle was the dwelling place for the Shechinah that is the aspect of the H ה of Malchut. The verse above reveals that cleansing process of Yom Kippur cleanses the entire world.
The high priest was wearing four pieces of white garments that represented Binah and the Light at the higher level of יהוה YHVH and four garments of gold that represented the lower name of Malchut, ADNY אדני . The high priest created the unification of the two names יאהדונהי to bring cleansing to the lower levels.
Isaiah 1:18
"אִם-יִהְיוּ חֲטָאֵיכֶם כַּשָּׁנִים כַּשֶּׁלֶג יַלְבִּינוּ"
"though your sins be as scarlet, they shall be as white as snow"
This verse teaches us that white לבן is the aspect of Binah. The two words share the letters בנ that is the aspect of the name of the world of Action, Malchut, יוד-הה-וו-הה. This name is called the double name because the spelled name in that form shows יוד, numerically 20 as two Yods and the rest are exactly the same. It reveals to us the ability of Malchut to ascend to Binah by creating affinity with it from below.
The sound of the Shofar at the end of Yom Kippur represents the freedom that we can achieve after doing the proper work of Yom Kippur. This aspect relates also to the Final Redemption.
In our prayer we say "תְּקַע בְּשׁוֹפָר גָּדוֹל לְחֵרוּתֵנוּ" "blow a big Shofar for our freedom". We use this to connect to the prophecy of Isaiah 27:13
" וְהָיָה בַּיּוֹם הַהוּא, יִתָּקַע בְּשׁוֹפָר גָּדוֹל, וּבָאוּ הָאֹבְדִים בְּאֶרֶץ אַשּׁוּר, וְהַנִּדָּחִים בְּאֶרֶץ מִצְרָיִם; וְהִשְׁתַּחֲווּ לַיהוָה בְּהַר הַקֹּדֶשׁ, בִּירוּשָׁלִָם"
"And it shall come to pass in that day, that a great horn (Shofar) shall be blown; and they shall come that were lost in the land of Assyria, and they that were dispersed in the land of Egypt; and they shall worship YHVH in the holy mountain at Jerusalem"
After the final cleansing process the Shofar will be blown and everyone will be freed from negativity. There will be no more obstacles to connect to the Light of YHVH. It will shine on the entire world from Jerusalem.
May we all merit this day, today, Amen.
{||}