Daily Zohar # 3485 – Vayera – The burnt offering in your studies
Daily Zohar 3485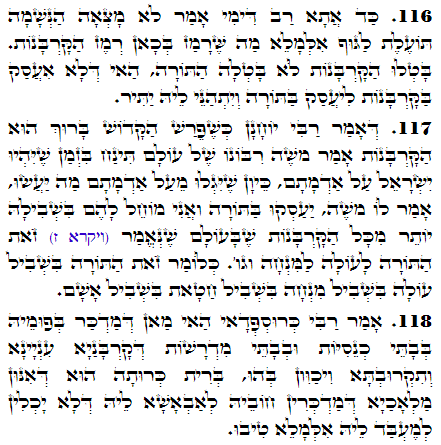 .
Hebrew translation:
116. כְּשֶׁבָּא רַב דִּימֵי, אָמַר, לֹא מָצְאָה הַנְּשָׁמָה תּוֹעֶלֶת לַגּוּף אִלְמָלֵא מַה שֶּׁרָמַז בְּכָאן רֶמֶז הַקָּרְבָּנוֹת. בָּטְלוּ הַקָּרְבָּנוֹת – לֹא בָטְלָה הַתּוֹרָה. זֶה שֶׁלֹּא מִתְעַסֵּק בְּקָרְבָּנוֹת, שֶׁיַּעֲסֹק בַּתּוֹרָה וְיוֹעִיל לוֹ יוֹתֵר.
117. שֶׁאָמַר רַבִּי יוֹחָנָן, כְּשֶׁפֵּרַשׁ הַקָּבָּ"ה הַקָּרְבָּנוֹת, אָמַר מֹשֶׁה: רִבּוֹנוֹ שֶׁל עוֹלָם, תִּינַח בִּזְמַן שֶׁיִּהְיוּ יִשְׂרָאֵל עַל אַדְמָתָם, כֵּיוָן שֶׁיִּגְלוּ מֵעַל אַדְמָתָם מַה יַּעֲשׂוּ? אָמַר לוֹ: מֹשֶׁה, יַעַסְקוּ בַּתּוֹרָה, וַאֲנִי מוֹחֵל לָהֶם בִּשְׁבִילָהּ יוֹתֵר מִכָּל הַקָּרְבָּנוֹת שֶׁבָּעוֹלָם, שֶׁנֶּאֱמַר (ויקרא ז) זֹאת הַתּוֹרָה לָעֹלָה לַמִּנְחָה וגו'. כְּלוֹמַר, זֹאת הַתּוֹרָה בִּשְׁבִיל עוֹלָה, בִּשְׁבִיל מִנְחָה, בִּשְׁבִיל חַטָּאת, בִּשְׁבִיל אָשָׁם.
118. אָמַר רַבִּי כְּרוּסְפְּדַאי, זֶה מִי שֶׁמַּזְכִּיר בְּפִיו בְּבָתֵּי כְנֵסִיּוֹת וּבְבָתֵּי מִדְרָשׁוֹת עִנְיַן הַקָּרְבָּנוֹת וְתִקְרֻבְתָּם וִיכַוֵּן בָּהֶם, בְּרִית כְּרוּתָה הִיא שֶׁאוֹתָם הַמַּלְאָכִים הַמַּזְכִּירִים חֶטְאוֹ כְּדֵי לְהָרַע לוֹ, שֶׁלֹּא יְכוֹלִים לַעֲשׂוֹת לוֹ אֶלָּא רַק טוֹב.
.
Zohar Vayera
Special note: In DZ 3483 I forgot to add commentary to paragraph #112. Please go back and study it https://dailyzohar.com/daily-zohar-3483/.
#116
Rabbi Dimi says that the words in the verse above "let a little water be brought" implies the offerings in the Holy Temple. Because of the destruction of the Holy Temple, the sacrifices and offerings were canceled, but not the Torah. When we are not able to bring offerings to the Holy Temple, we study the Torah and it draws greater benefits.
#117
Rabbi Yochanan said; when the Holy One Blessed be He explained the different sacrifices and offerings, Moses asked him about what would Israel do when they are in exile. The answer Moses received was that Israel would study the Torah and he would forgive them more than all the sacrificial offerings in the world as we read in Leviticus 7:37
"זֹאת הַתּוֹרָה לָעֹלָה לַמִּנְחָה וְלַחַטָּאת וְלָאָשָׁם וְלַמִּלּוּאִים וּלְזֶבַח הַשְּׁלָמִים."
"This is the law (Torah) of the burnt offering, the grain offering, the sin offering, the trespass offering, the consecrations, and the sacrifice of the peace offering,"
This verse means that the Torah is for the purpose of all types of sacrifices and offerings.
#118
Rabbi Cruspedai says that whoever mentions the matters of the sacrificial offerings, with his mouth in synagogues or places of studies, it is a law that the angels that hold judgments against him for his sins, they can't harm him, but do good for him.
Lesson;
During the time of the Holy Temple, there were no books of prayers. The services of the priests making daily sacrifices and the Red Heifer were sufficient to purify the world and allow the continuation of light to the world.
After the destruction of the Holy Temple, we lost the direct connection to the Light through the work of the priests and we had to find a way to draw the Light. The prophets arranged the prayers according to the times of day as a replacement to the sacrifices that were done in the Holy Temple. We read that from the words of the prophet Hosea; "we will offer the sacrifices of our lips".
Hosea 14:3
"קְחוּ עִמָּכֶם דְּבָרִים וְשׁוּבוּ אֶל יְהוָה אִמְרוּ אֵלָיו כָּל תִּשָּׂא עָו‍ֹן וְקַח טוֹב וּנְשַׁלְּמָה פָרִים שְׂפָתֵינוּ."
"Take words with you, And return to YHVH. Say to Him, "Take away all iniquity; Receive us graciously, For we will offer the sacrifices of our lips."
Before the prayer of Mincha, which is the afternoon prayer we say a verse from Psalms 141:2 that connects us to the Ketoret that the priest was preparing daily, in the afternoon.
"תִּכּוֹן תְּפִלָּתִי קְטֹרֶת לְפָנֶיךָ; מַשְׂאַת כַּפַּי, מִנְחַת-עָרֶב."
"Let my prayer be counted as incense(Ketoret) before you, and the lifting up of my hands as the evening sacrifice!"
When we study from the Zohar and Rabbi Shimon we make spiritual connections to the moment of the original study. There was a great light revealed through the study and we are tapping into that channel and force of Light.
Read more: https://dailyzohar.com/daily-zohar-1315-2/
{||}